Bok choy (aka pak choy/choi) is a type of Chinese cabbage that is often used in Asian cuisine, and since it is quite delicious you can find many tasty bok choy recipes. If you find it hard to believe that a type of cabbage can be delicious, you must try bok choy. It does not taste like regular cabbage. In fact, it almost has a slight sweetness. Personally, it is the only cabbage variety that I like. Aside from being tasty, bok choy is also extremely healthy as it has quite a bit of calcium and other minerals! If hearing about how great bok choy tastes and how healthy it is has you wanting to try some, you will definitely want to try a few of the following tasty bok choy recipes.
1. Bok Choy Tempeh Tacos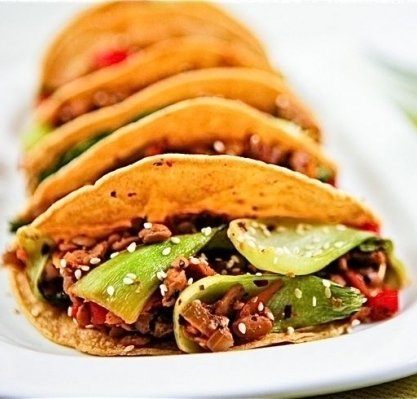 Since most bok choy recipes are Asian, it is nice to see a bok choy recipe featuring some Mexican influence. You do need to prepare in advance to make these tacos since the tempeh needs to marinate for an hour. However, it is well worth the wait to dos so as these tacos are absolutely delicious. The filling is so tasty; you may be tempted to eat it by itself.
Ingredients:
For tempeh
u00bd cup vegetable broth
u00bc cup tamari
2 minced garlic cloves
1 tbs. apple cider vinegar
1 Tbs.dried basil
1 tsp cumin
u00bd tsp smoked paprika
8 oz package of tempeh, crumbled
For rest of taco
3 chopped bunches bok choy
u00bd thinly sliced red bell pepper
1 grated carrot
2 cups grated jicama
1 cup chopped tomatoes
1 tbs. sesame seeds
u00bc chopped cilantro
8 taco shells
Directions:
In a shallow bowl mix together all of the ingredients for the tempeh. Marinate mixture for at least one hour in the refrigerator. Heat a large saucepan over medium heat, then add the tempeh, marinate, and bell pepper. Sautu00e9 for 10 minutes, until most of liquid is gone. Lower heat to medium low and add bok choy and carrots. Sautu00e9 until bok choy wilts.
Remove from heat and stir in sesame seeds. Fill taco shells with filling and top with the jicama, tomatoes, and cilantro. Enjoy!
2. Braised Bok Choy Noodle Bowl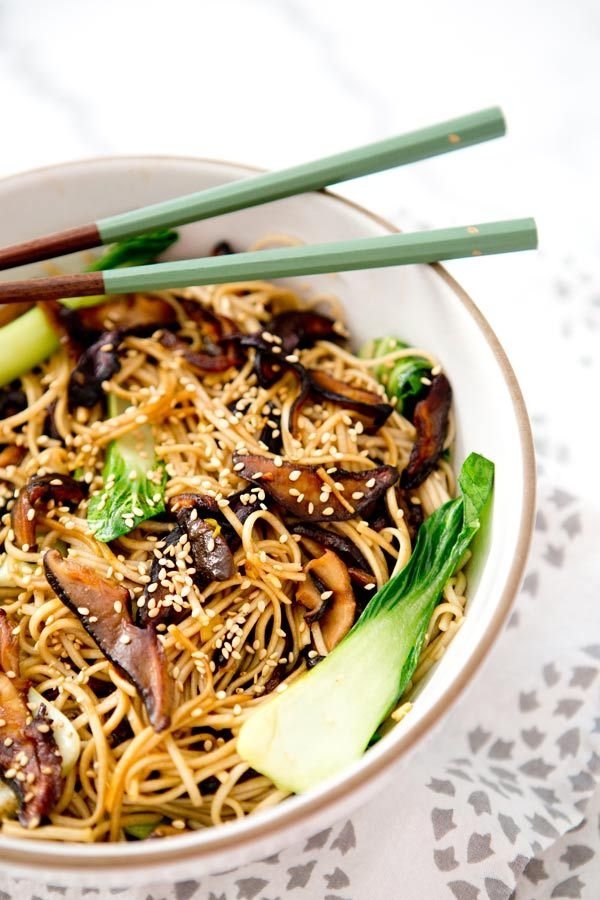 For a gluten free recipe that tastes fantastic, you should try the braised bok choy noodle bowl. The recipe uses buckwheat noodles which are gluten free and very delicious. In fact, they are my favorite kind of noodle. This recipe is simple and very flavorful. Cooking this recipe takes very little time, which is great because you can enjoy all of the wonderful flavors sooner rather than later.
Ingredients:
1 lb. baby bok choy, rinsed and left damp
8 oz sliced cremini mushrooms
1 u00bd cups chopped broccoli
2 cups bean sprouts
u00bd cup chopped green onions
2 packages 100% buckwheat noodles
1 Tbs. coconut oil (divided)
1 Tbs. sesame oil (divided)
4 minced garlic cloves
1 inch piece of ginger, grated
1 lemon, juiced
2 tbs. rice wine vinegar
1 tsp. salt
2 tsp. lemon zest
3 Tbs. hemp seeds
Directions:
Bring a large pot of water to a boil, and add buckwheat noodles. Cook noodles for 8 minutes, and rinse under cold water when done. Heat a heavy pan on medium high heat and add half of the coconut oil and half of the sesame oil with the garlic and ginger. Cook the garlic and ginger for one minute, then add the bok choy leaves and broccoli. Braise bok choy and broccoli for five minutes. Remove the bok choy from the pan and add in the mushrooms. Sautu00e9 mushrooms until they cook down, then remove from pan and add to bok choy. Add the rest of the coconut oil and sesame oil to the pan with the lemon juice and vinegar and simmer. Add the noodles and bean sprouts to the pan with the lemon juice to warm through. In a large bowl, place noodles on the bottom and top with bok choy, mushrooms, lemon zest, and hemp seeds. Enjoy!
3. Herbed Polenta and Beans with Bok Choy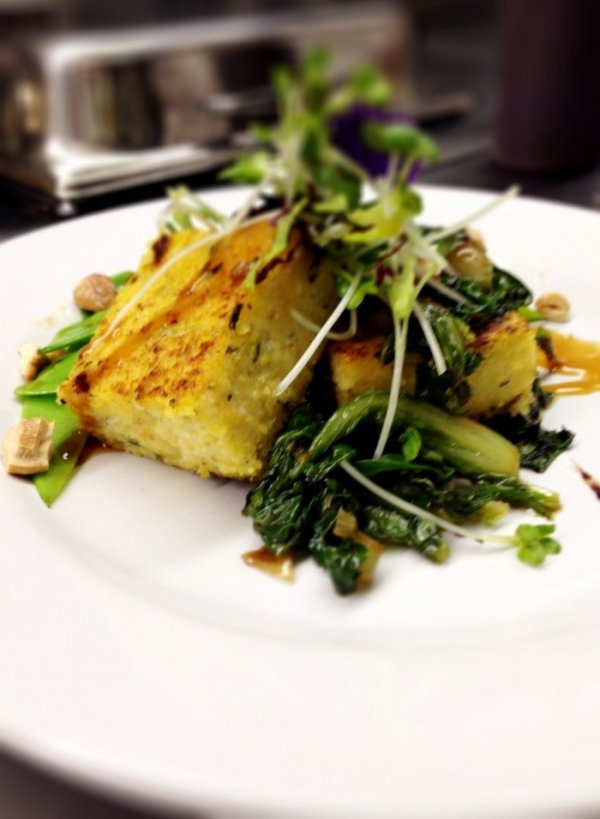 Polenta is such a comforting thing to eat, but it can be a little bland.This recipe is anything but bland. The herbs added to the polenta make it taste fantastic. Also, the bok choy adds a very nice flavor, especially since it is paired with such tasty ingredients like onions and garlic. This dish is so delicious, it may become your new favorite way to eat polenta.
Ingredients:
Herbed polenta:
4 1/4 cups water
1 cup instant polenta
2 tsp minced garlic
u00bd tsp salt
1 bay leaf
1 tbs. dried basil
2 tbs. chopped Italian parsley
2 tsp dried oregano
1 tsp dried rosemary
Beans and Bok Choy:
1 small onion, chopped
2 cloves garlic, minced
1 red bell pepper, chopped
1 chopped fennel bulb
1 15 oz can chopped tomatoes
1/2 cup vegetable broth
6 ounces baby bokchoy, sliced
1 14-ounce can kidney beans
1 tsp dried basil
2 tsp fennel seeds
Sprinkle of salt
Directions
For the herbed polenta: Bring the water to a boil and slowly stir in the polenta. Add the rest of the ingredients to the polenta, continuing to stir. Cook for 15 minutes then remove the bay leaf when finished. Place polenta in baking dish to cool. When polenta is firm, cut into cubes and broil in oven until brown.
For the beans and bok choy: In a large non-stick skillet, sautu00e9 the onion until translucent. Add the garlic, bell pepper, fennel, chopped tomatoes, and sprinkle of salt. Cook until vegetables soften, and add broth, bok choy, beans, basil, and fennel seeds. Cover and cook for 5 minutes, or until bok choy is wilted but still bright green. Serve over polenta cubes.
4. Braised Winter Squash with Black Bean Sauce and Bok Choy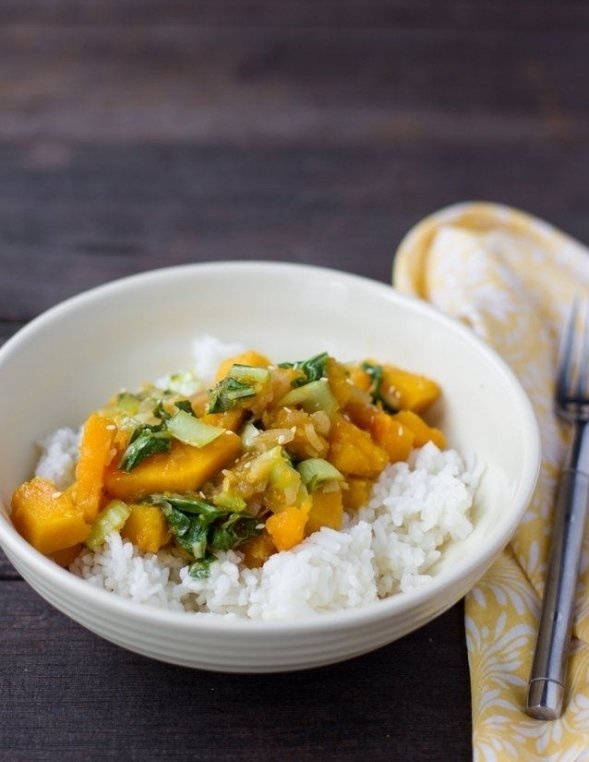 Winter squash and bok choy are two of my favorite things to eat. They are both so tasty, and when paired together with a delightful black bean sauce, they really taste great. This recipe is fairly simple, especially if you buy precut squash.
Ingredients:
2 Tbs. grapeseed oil
1/4 cup shallots minced
2 cloves garlic, minced
1-inch hunk ginger, peeled and minced
1 tbs. Asian black bean-garlic sauce
3 cups butternut squash peeled and cut into 1- to 2-inch chunks
2 tbs. rice wine vinegar
2 tbs. soy sauce
1/2 tsp granulated sugar
1 cup vegetable broth
1 large bunch bok choy, cleaned thoroughly and cut into 2 inch pieces
Sesame oil for drizzling
Directions:
In deep skillet, heat grapeseed oil over medium heat and add shallots. Cook shallots until soft, and add garlic and ginger. Cook for an additional minute, and add black bean sauce. Add the squash to the skillet and cook 2 to 3 minutes. In a bowl whisk together the rice wine vinegar, soy sauce, sugar, and vegetable broth. Then add the liquid mixture to the skillet with the squash, and cook, covered for 15 minutes. Remove lid, and place bok choy on top of squash, drizzle with sesame oil, and cover until bok choy wilts. Enjoy!
5. Quinoa and Bok Choy Veggie Stir-Fry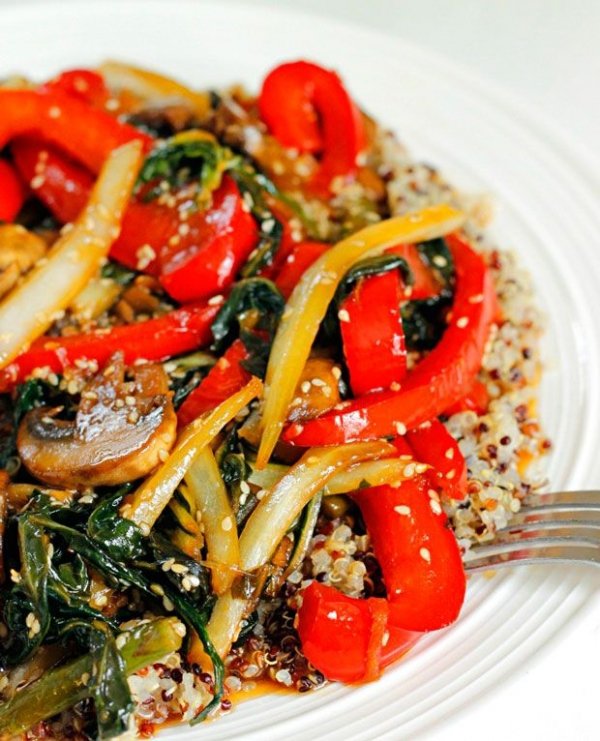 Quinoa is such a great pseudo-grain to include in your diet. It is a complete protein, and it has a fantastic flavor, especially when paired with bok choy. This recipe featuring quinoa and bok choy is one you will come back to over and over because it has such a wonderful sweet and tangy sauce.
Ingredients:
1/2 cup quinoa, cooked
1 tbs. olive oil
1 cup sliced red pepper
1 head baby bok choy, sliced
1 inch fresh ginger, peeled and minced
1 cup sliced mushrooms
5 spears asparagus, chopped
2 tbs. sesame seeds, toasted
For the Sauce
5 tbs. soy sauce
1/2 tbs. sesame oil
1-2 tsp honey
1/2 tbs. lime juice
1 3/4 tsp arrowroot
Directions:
In a large wok, heat the vegetable oil over medium-high heat. Add in the sliced red pepper, bok choy, minced ginger, mushrooms, and asparagus, and cook until softened, about 5-6 minutes. In a bowl, whisk together the soy sauce, sesame oil, honey, lime juice, and cornstarch. Pour the sauce into the vegetable mixture, reduce the heat, and stir.
Allow the sauce to simmer until slightly thickened. Add in the cooked quinoa and sesame seeds, and toss until thoroughly coated. Enjoy!
6. Bok Choy Skillet Supper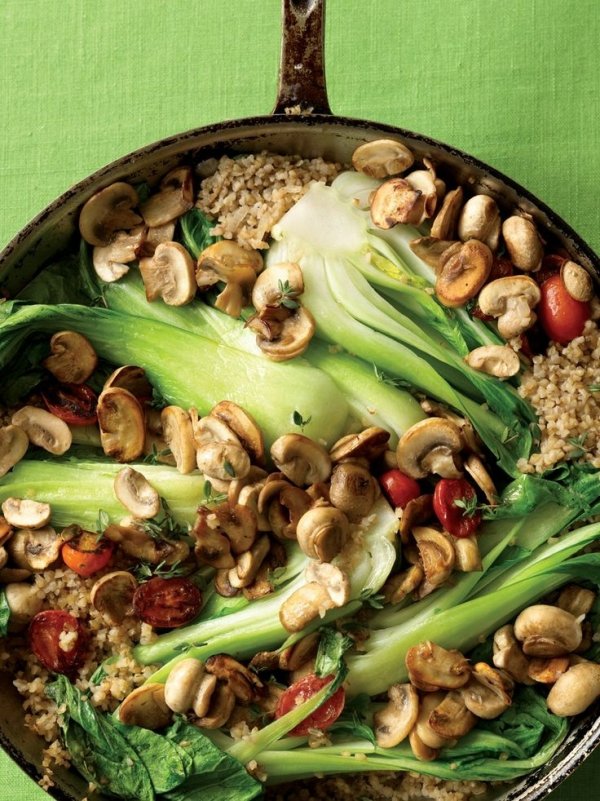 If you are looking for a quick and easy dinner, this recipe is for you. It takes less than 30 minutes to make, and it doesn't have a laundry list of ingredients. Not only is it easy, but it also is very filling and tastes great! What more could you want from a recipe?
Ingredients:
2 tsp olive oil, divided
1 garlic clove, minced
8 oz. button mushrooms, sliced
8 cherry or grape tomatoes, halved
2 shallots, finely chopped
1 cup bulgur
1 cup vegetable broth
1 sprig fresh thyme plus 1 tsp. fresh thyme leaves, divided
4 small bok choy, halved
Heat half of oil in skillet over medium-high heat. Add garlic and mushrooms, and cook 5 minutes. Transfer to plate. Add tomatoes to skillet, and cook 2 minutes. Transfer to plate with mushrooms and garlic. Add remaining oil to skillet. Stir in shallots, and sautu00e9 2 to 3 minutes. Stir in bulgur until grains are coated with oil. Add broth, thyme sprig, and 1 1/2 cups water to bulgur; season with salt and pepper. Cover, reduce heat to medium-low, and simmer 5 minutes. Arrange bok choy halves, mushrooms, tomatoes, and garlic on top of bulgur. Cover, and simmer 5 minutes more. Remove from heat, and let stand 10 minutes. Sprinkle with thyme leaves, and enjoy.
7. Macro Greens Bowl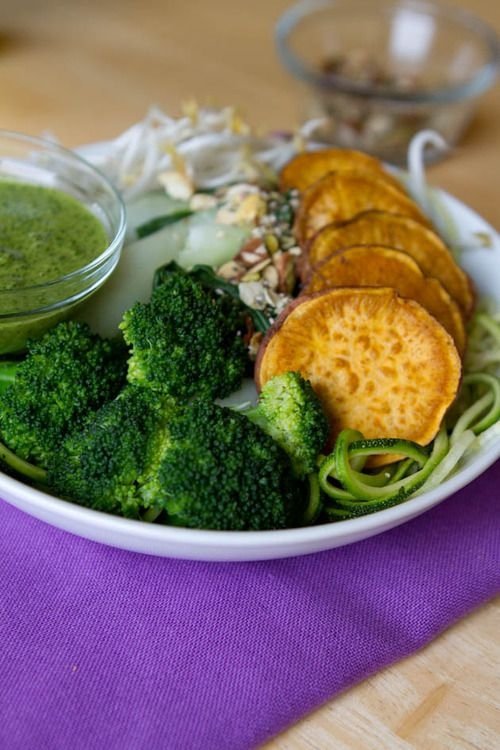 This is a yummy meal that features sweet potatoes, bok choy, and vegetables. You won't be sorry if you make this recipe. It is both hearty and healthy, and it will leave you feeling very satisfied. This is a great meal to eat for lunch, but it would also make a fantastic dinner. Whether you eat it for lunch or dinner, you will be very happy you decided to make this meal.
Ingredients
1 medium sweet potato, sliced into rounds about u00bc-inch thick
u00bd teaspoon extra-virgin olive oil
u00bc teaspoon ground cumin
Pinch sea salt
2 zucchini, cut into noodle shape with a spiralizer
4 cups chopped bok choy
2 cups broccoli florets
2 handfuls bean sprouts
u00bc cup of pumpkin seeds
Green power dressing:
3 tbs. water
2 cloves garlic
Juice from 1 lemon
1 tbs. extra-virgin olive oil
u00bd cup packed cilantro leaves
1 tsp ground cumin
u00bd tsp tamari
u00bd tsp dried oregano
Directions:
For dressing:
Combine all ingredients in the bowl of your food processor or blender and process until smooth. Refrigerate until needed.
Preheat oven to 400F and line a baking sheet with parchment paper. Brush sweet potato rounds in oil and sprinkle with cumin. Place on baking sheet and cook in the oven for 25 minutes, flipping halfway through. Meanwhile, place zucchini noodles on a large plate. Set aside. Place bok choy and broccoli in the bowl of your steamer and steam for 2 minutes. Remove and spread over the top of the zucchini noodles.
Garnish with bean sprouts, cooked potato rounds, pumpkin seeds, and green power dressing. Enjoy.
All of these recipes featuring bok choy are fantastic. You will be happy cooking any one of them. Which bok choy recipe are you going to cook?