Share
Why does it often seem a bit taboo to make meal recipes with fruit? Fruit is delicious, colorful, and one of the healthiest things you can eat, so why are we reluctant to throw it on our sandwich or toss it on the grill? I'm here to help you all get over your fruit recipe phobia with these 9 creative meal recipes that involve fruit. Once you have that first bite bite, you'll be wondering why you never included fruit in your regular dishes this whole time!
---
1

Turkey, Apple and Brie Panini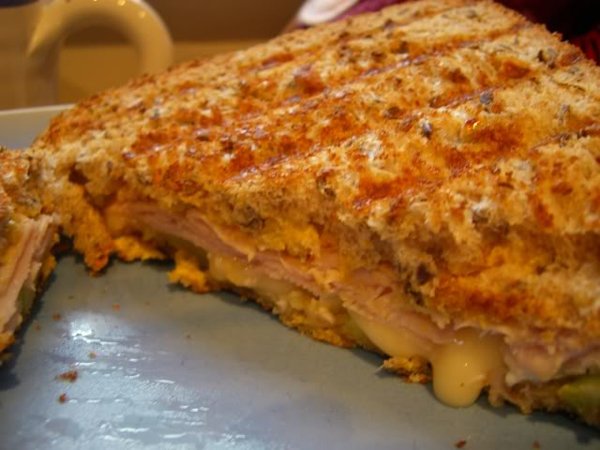 Source: foodallaputtanesca.blogspot.com
Anybody can make a turkey sandwich, but this French-inspired dish involves apples that makes it really special! When you're in the mood for something quick and easy, pull out your panini maker and cook up a warm and toasty roasted turkey, apple, and brie sandwich! This is seriously one of the most delicious sandwich combinations you will come across. It's the perfect sandwich to eat on a crisp fall day, and not to mention one of the most beautiful looking lunches you can make to match the beautiful fall leaves around you.
Ingredients:
Bread
Sliced turkey breast deli meat
Thinly sliced green apple
Dijon mustard
Thin slices of Brie
Directions:
---
1

Spread a Thin Coat of Dijon Mustard on Each Slice of Bread
---
2

Layer Turkey, Brie, and then Apple. Heat George Foreman Grill or Your Panini Grill
---
3

Spray with Cooking Spray and Cook until Bread is Browned and Cheese is Melted
---
2

Grilled Watermelon with Blue Cheese and Prosciutto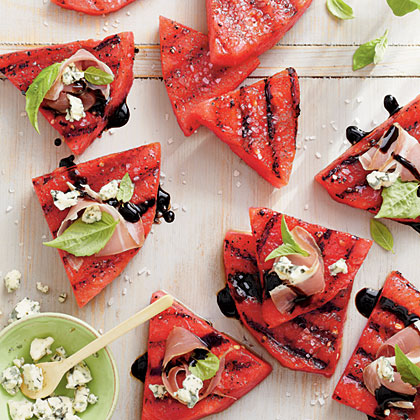 Source: myrecipes.com
This is definitely a dish for the adventurous foodie as it isn't seen too often. Believe it or not, the blue cheese and salty prosciutto pair well with sweet watermelon in this savory side dish. The reason you want to grill the watermelon is that it enhances the melon's sweetness and adds a touch of smoky flavor. Also, brushing the wedges with oil keeps them from sticking to the grill. This grilled watermelon recipe is easy to prepare and will add a slightly exotic flavor to any BBQ.
Ingredients:
3 (1/2-inch-thick) watermelon rounds, quartered
1 tablespoon olive oil
Kosher salt
Freshly ground pepper
4 ounces thinly sliced prosciutto
4 ounces blue cheese, crumbled
Fresh basil leaves
2 teaspoons bottled balsamic glaze
Preparation:
---
1

Preheat Grill to 350° to 400° (medium-high) Heat. Brush Both Sides of Each Watermelon Quarter with Olive Oil, and Season with Desired Amount of Salt and Pepper. Cut Prosciutto into Thin Strips
---
2

Grill Watermelon Quarters, without Grill Lid, 1 Minute on Each Side or until Grill Marks Appear
---
3

Transfer Watermelon to a Serving Plate; Top with Blue Cheese, Prosciutto Strips, and Fresh Basil. Drizzle Watermelon with Balsamic Glaze. Serve Immediately
---
3

Hawaiian Burger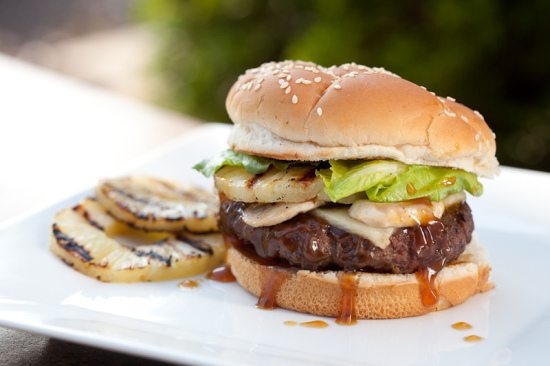 Source: chewoutloud.com
You may be familiar with the Hawaiian burger or pizza menu item out at a restaurant, but how often do you actually make it at your house? It is a great summer BBQ favorite that you can enjoy even in the winter months! Incorporate a little bit of paradise in your meal by grilling up the pineapple along with your burger! As we learned in the last recipe, grilling fruit enhances it's sweetness and adds a touch of smoky flavor. This is a great recipe that involves fruit to start off with!
Ingredients:
2 lbs ground beef (80/20)
mushrooms, sliced (any varietal will do)
1 can sliced pineapples, drained
1 recipe homemade teriyaki sauce*
Havarti cheese, sliced
sesame buns
romaine lettuce
salt and pepper to taste
2 tablespoons butter
Directions:
---
1

Season Ground Beef with Salt and Pepper. Shape Ground Beef into Thick Patties. Set Aside at Room Temp
---
2

Sauté Mushrooms in 2 Tbsp Butter, Adding a Pinch of Salt and Pepper While Cooking. Don't Overcook; Just until Soft. Remove from Heat and Set Aside. Make Teriyaki Sauce (recipe below), and Set Aside
---
3

Grill Beef Patties to Medium, or However You like It. Grill Pineapples until Nice Grill Marks Appear
---
4

Assemble Your New Teriyaki Burger, and Generously Pour on the Teriyaki Sauce – It is What Makes This Burger!
---
4

Peach Chicken Sandwich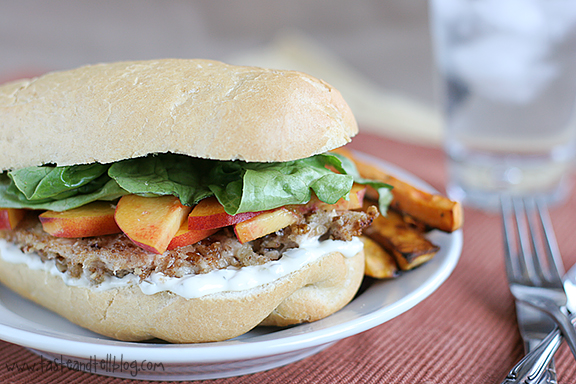 Source: tasteandtellblog.com
Get ready for a fruit recipe that involves peaches! These peach chicken sandwiches feel like a sandwich that was made for Spring time. They also incorporate jalapenos which gives the sandwich enough heat to pair well with the sweet from the peaches. This chicken sandwich somehow hits every single flavor you could want! The savory, crunchy, nutty chicken, the sweet, soft peach, the spicy jalapeño, and the cool, creamy, tangy mayonnaise. It's just too interesting of a sandwich not to try!
Ingredients:
1 pound chicken breast cutlets, or 2 large chicken breast halves, cut open like a book to make 4 pieces
1 cup buttermilk
1/2 cup mayonnaise
3 tablespoons finely chopped pickled jalepeño peppers
1/2 cup pecans, finely ground
1/2 cup breadcrumbs
1/2 cup vegetable oil
4 rolls, split
1 peach, thinly sliced
8 lettuce leaves
Directions:
---
1

In a Medium Bowl, Combine the Chicken and the Buttermilk. Set Aside to Marinate for a Few Minutes
---
2

In a Small Bowl, Mix Together the Mayonnaise and the Jalepeños. Set Aside
---
3

In a Large Skillet, Heat the Oil over Medium Heat
---
4

In a Shallow Bowl, Combine the Pecans and Breadcrumbs. Dip One Piece of the Chicken into the Pecans Mixture, Pressing in to Coat if Needed. Add the Chicken to the Hot Oil and Cook, Turning Once, until Cooked through, 2-3 Minutes on Each Side. 4. Drain on Paper Towels. Repeat until All the Chicken is Cooked
---
5

Spread the Jalepeño Mayonnaise on the Roll. Layer the Chicken, Peaches and Lettuce. Serve
---
5

Chicken and Mango Kebabs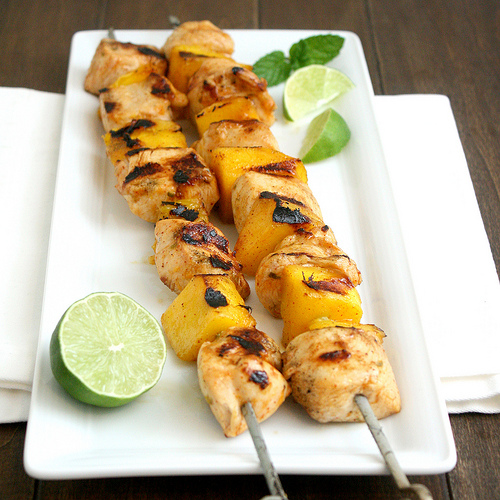 Source: traceysculinaryadventures.blogspot.com
Going back to the grill, these chicken and mango kebabs are a great weeknight dinner, or perfect for summer parties! They're super easy and not to mention healthy too. The chicken and mango are marinated in a simple, but flavorful marinade that includes lime juice and zest for a little tang and cayenne pepper for just the tiniest touch of heat. The mangoes will get a bit of that smoky grill flavor, and the outside will caramelize. Just be sure to cut the mangoes into large cubes as they will soften and shrink on the grill!
Ingredients:
6 tablespoons olive oil
1/4 cup fresh lime juice
Zest of 1 lime
1 teaspoon chili powder
1/2 teaspoon cayenne pepper
1/2 teaspoon salt
1 tablespoon sugar
4 boneless, skinless chicken breast halves, cut into 1-inch cubes
3 ripe but firm mangoes, peeled and cut into 2-inch cubes
Directions:
---
1

Whisk the Olive Oil, Lime Juice, Lime Zest, Chili Powder, Cayenne Pepper, Salt and Sugar Together in a Large Bowl. Add the Chicken Cubes and the Mango Pieces and Toss to Coat. Cover the Bowl and Refrigerate for at Least 2 Hours, or up to 4
---
2

Preheat Your Grill to Medium-high Heat (400-450 F). Oil the Grates Lightly (I Use the Tongs to Hold a Paper Towel That's Been Dipped in Oil and Rub It over the Grates). While the Grill is Heating, Thread the Chicken and Mango Cubes onto Skewers (we Used Metal Ones, but if You're Going with Wood Skewers, You Might Want to Soak Them in Cold Water Beforehand)
---
3

Place the Kebabs on the Grill and Cook, Giving Them a Quarter Turn Every 2-3 Minutes, until They Are Slightly Charred on All Sides and the Chicken is Cooked through, about 8-10 Minutes. Transfer the Kebabs to a Platter and Let Rest for 5 Minutes before Serving
---
6

Fish Tacos with Strawberry Salsa

Believe it or not, seafood is just as delicious when combined with fruit! Haven't you ever had mahi mahi with mango salsa? Well this is a more unique spin on fish and fruit. Strawberries give fish that little extra sweet kick that it's missing. Plus, strawberries vitamin C helps you melt up to 30 percent more fat during exercise! Use that fact along to persuade you to give these fish tacos a try!

Ingredients:
Olive oil cooking spray
1 pound halibut fillets or steaks (or other firm white fish such as cod or catfish)
1/2 teaspoon ground cumin
1/2 teaspoon salt (preferably kosher), divided
1/4 teaspoon freshly ground black pepper, divided
8 small (6-inch) corn tortillas
2 pints strawberries, hulled and chopped
1 small green jalapeño pepper, seeded and chopped
3 tablespoon chopped fresh chives
1 tablespoon fresh lemon juice
2 cups chopped Napa cabbage

Directions:
---
1

Heat Oven to 450°f. Coat a Rimmed Baking Sheet with Cooking Spray. Place Fish on Baking Sheet, Smooth Side down (if Fillets); Coat with Cooking Spray; Season with Cumin, 1/4 Teaspoon Salt and 1/8 Teaspoon Pepper. Stack Tortillas, Sprinkle with a Few Drops of Water, and Wrap Tightly in Foil. Cook Fish and Tortillas until Fish is Opaque and Flakes Easily with a Fork but is Still Moist, and Tortillas Are Hot, 10 to 15 Minutes
---
2

In a Bowl, Combine Strawberries, Jalapeño, Chives, Lemon Juice, Remaining 1/4 Teaspoon Salt and Remaining 1/8 Teaspoon Pepper; Stir
---
3

Flake Fish into Big Pieces; Unwrap Tortillas
---
4

Divide Fish, Strawberry Salsa and Cabbage Evenly among Tortillas. Fold and Serve
---
7

Blueberry Balsamic Salmon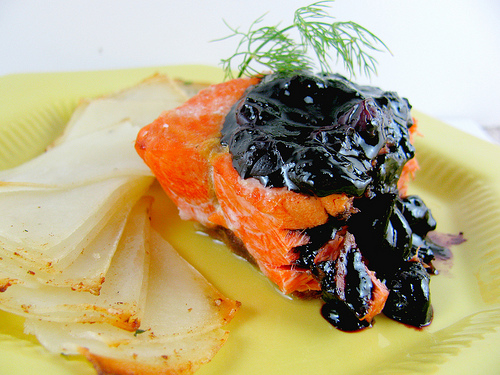 Source: eatingrichly.com
Let's move on to blueberries but stick with seafood. Talk about a super healthy meal when you pair blueberry and salmon together! This dish is super easy to make and doesn't involve that many ingredients. You can make this dish with frozen blueberries, but it will just take a little longer for them to soften. Blueberries are actually has the highest antioxidant capacity of all fresh fruit and salmon is packed with omega-3. So after this meal you will be feeling full as well as healthy!
Ingredients:
1 salmon fillet the size of a deck of cards
3/4 cup balsamic vinegar (cheap stuff's okay!)
1/2 cup blueberries
2 Tbs chopped fresh dill (1 tsp dried)
2 sprigs dill
Directions:
---
1

Preheat Oven to 375 Degrees. Cut Salmon Fillet in Half and Place in a Shallow Baking Dish. Bake for about 20 Minutes or until Juices Run Clear and It Flakes Easily with a Fork
---
2

While Salmon is Cooking, Add Vinegar and Blueberries to a Saucepan. Bring to Boil and then Turn Heat to Low. Stir and Smush Berries with a Wooden Spoon. Stir Occasionally for 5-10 Minutes or until It is Thick and Reduced in Volume
---
3

Stir Chopped Dill into Sauce. when Salmon is Done, Place on Plate, Pour Half of Sauce over Each Half a Fillet. Garnish Each with a Sprig of Dill
---
8

Fruit Chicken Salad
Source: damndelicious.tumblr.com
Having fruit in chicken salad is usually not that uncommon. This recipe that I came across though is the ultimate healthy fruit chicken salad sandwich I've seen. Instead of using mayonnaise, you use Greek yogurt for a healthier base. Then you just combine chicken, Greek yogurt, apples, cranberries, grapes, almonds, and red onion to create the perfect mixture that is packed with healthy vitamins from every ingredient! With some freshly squeezed lemon juice and garlic powder, you won't be missing the mayo at all. This dish is so simple, it doesn't even have an actual recipe to follow.
---
9

Kiwi Bruschetta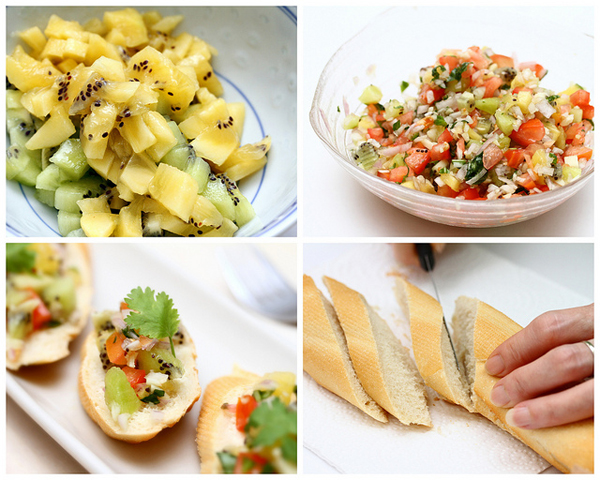 Source: misstamchiak.com
Looking for a healthy and fruity appetizer? Then why not try kiwi bruschetta on some fresh Italian bread? The most popular recipe outside of Italy for bruschetta involves basil, fresh tomato, garlic and onion. Kiwis are pretty sweet and tangy so they actually go pretty well with the normal bruschetta mix. Some people can even add balsamic vinegar to give it a little more of a bite!
Ingredients:
1 Zespri Green Kiwi, diced
1 Zespri Gold Kiwi, diced
2 fresh tomatoes, diced
1/2 fresh onion, minced
4 cloves fresh garlic, minced
1 bunch fresh basil, chopped
1 bunch Chinese Parsley
2 tablespoons extra virgin olive oil
some sea salt
some ground pepper
Baguette, cut it diagonally into small pieces
Directions:
---
1

Mix All of the Ingredients Together
---
2

Add in Olive Oil, Salt and Pepper
---
3

Spread Some Butter on Baguette, Toast It for 3 Minutes
---
4

Pile as Much of the Bruschetta as Possible onto the Freshly Toasted Bread. Decorate It with Chinese Parsley and Serve!

While writing this article I can't say that I wasn't weirded out by some of these recipes with fruit but I can say that I am intrigued enough to want to try every dish! Adding fruit to your meals is a healthy way to give your boring dinner a little sweet exotic kick. Do you use fruits in some of your recipes that others think is weird but you find delicious?

Top Image Source: mytasteinwomen.com
More