Share
While in the past I stuck to eating Nutella out of the jar with a spoon, I recently have been searching for new recipes that use Nutella to get my fix of this delicious hazelnut spread. Nutella is no longer reserved for spreading on toast in the morning. There are hundreds upon hundreds of recipes that use Nutella to create a unique and delicious snack. Trust me, once you try some of these recipes that use Nutella, you might just become addicted to having Nutella as a main food group in your diet.
---
1

Nutella Oatmeal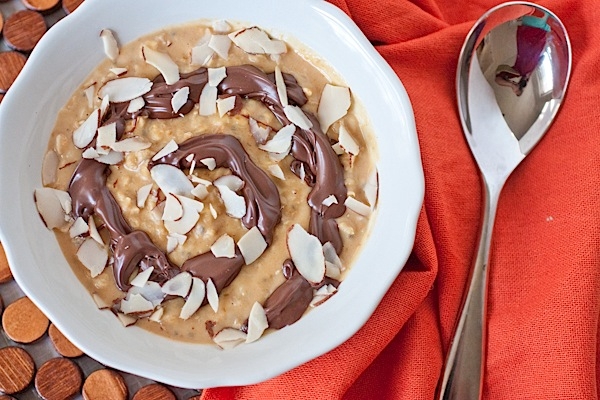 If you want some mouthwatering recipes that use Nutella, look no further than this delicious Nutella Oatmeal. It is a great way to combine the taste of a hearty breakfast with the deliciousness of Nutella as a delightful dessert.
Ingredients:
3 cups rolled oats
1 cup milk
3/4 cup Nutella
2 eggs
2 tablespoons ground flax or chia seed
2 teaspoons baking powder
1 teaspoon vanilla
1/2 teaspoon salt
1/2 cup sliced almonds or other nuts or seeds
Directions:
Preheat oven to 350 degrees F. Mix together oats, milk, Nutella, eggs, ground flax, baking powder, vanilla and salt until incorporated. Stir in almonds. Smooth evenly in a greased 8″ baking pan and bake at 350 degrees F for 20 minutes until center bounces back when touched.
Serve warm with cream or an extra dollop of Nutella.
Source: babble.com
---
2

Nutella Banana Bread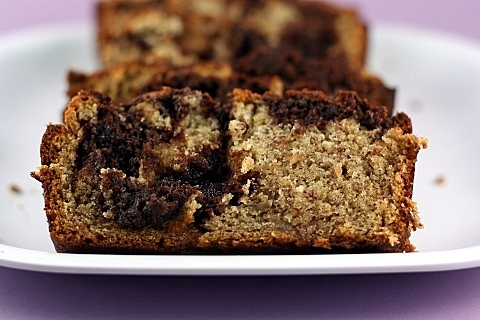 Everyone loves banana bread. But add in Nutella and you have just made a whole new level of love for banana bread. Follow this recipe and you are on your way to creating a level of mouthwatering Nutella foods that you didn't even know were possible.
Ingredients:
1/4 cup butter, softened
3/4 cup sugar
1 1/2 cups mashed very ripe banana (about 3 bananas)
2 large eggs
1/3 cup plain low fat yogurt, low fat sour cream or buttermilk
1 tsp. vanilla
2 cups all-purpose flour, or half all-purpose and half whole wheat flour
1 tsp. baking soda
1/2 tsp. salt
1/3 cup chopped walnuts or pecans (optional)
1/2 cup Nutella (or to taste)
Directions:
Preheat the oven to 350°F. Spray an 8″x4″ or 9″x5″ loaf pan with non-stick spray.
In a large bowl, beat the butter and sugar until well combined – the mixture will have the consistency of wet sand. Add the banana, eggs, yogurt and vanilla and beat until well blended. Don't worry about getting all the lumps of banana out.
Add the flour, baking soda and salt and gently stir with a spatula just until combined. If you are adding nuts or other optional ingredients, throw them in before the batter is completely blended.
Pour about half the batter into your prepared pan, top with spoonfuls of Nutella, spreading it gently over the batter (don't worry about getting it even), and top with the remaining batter. Bake in the middle of the oven for 1 hour and 10 minutes, until the top is cracked and springy to the touch. Cool in the pan on a wire rack. Makes 1 loaf.
Source: babble.com
---
3

Nutella Pizza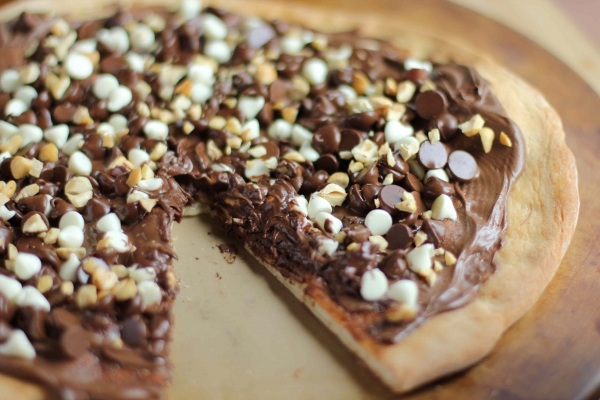 Who said that pizza was reserved for cheese and tomatoes? While many of the recipes that use Nutella are reserved for dessert, this Nutella pizza is the perfect combination of dessert Nutella and lunch foods.
Ingredients:
1 whole wheat pizza shell
5 tablespoons Nutella spread
1 tablespoon ground flax seed
1/4 cup toasted sliced almonds, gently crushed
1/3 cup organic white chocolate morsels
Directions:
Preheat oven to 400 degrees. Spread Nutella over most of the pizza, leaving a 1/2 inch of the crust uncovered. Then evenly distribute the flax seeds, almonds, and white chocolate on top. Place the pizza on a middle oven rack and bake for 8 minutes. Allow to cool slightly and cut into slices using a quality pizza cutter.
******Source:** babble.com
---
4

Strawberry Nutella Cake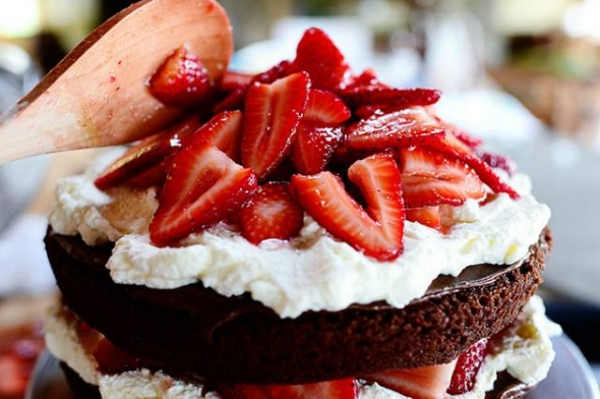 You love cake. You love strawberries. You love Nutella. So why not combine the three? Strawberries and Nutella already pair together so well, and the combination of the two on top of a cake is the perfect summertime dessert. Serve this at your next party and wow your friends with this delicious cake.
Ingredients:
1 box yellow cake mix
1 pint fresh strawberries, washed, hulled and sliced
3 cups fresh whipped cream
1/2 cup Nutella
Directions:
Bake the cake according to directions and allow both rounds to cool completely.
Swipe a thin layer of Nutella on top of one of the cake halves, then add 1/2 of the whipped cream. Finally, layer the strawberries around the edge of the circle. Top the berries with the second cake and repeat the layer of Nutella, whipped cream and strawberries. Slice and serve!
Source: babble.com
---
5

Vegan Nutella Bites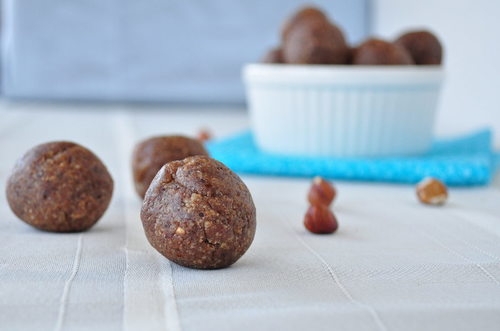 Just because you are vegan doesn't mean you have to give up on the delicious taste of Nutella. These vegan Nutella bites are a healthier vegan option that don't require you to use Nutella. They are also super easy to make.
Ingredients:
2 cups hazelnuts
2 tablespoons cocoa powder
10-12 medjool dates pitted
1-2 tablespoons milk of choice (I used oatmilk)
Directions:
If you are using raw hazelnuts, preheat oven to 375 and roast the nuts for about 7-10 minutes. If using roasted hazelnuts, skip this first step. In a food processor, grind the hazelnuts into a fine powder. Then add the dates, cocoa powder and milk and process until a dough forms. Roll the dough into balls and place in the fridge to set. Or, you can just eat them right out of the food processor.
Source: mywholefoodlife.com
---
6

Nutella Peanut Butter Cups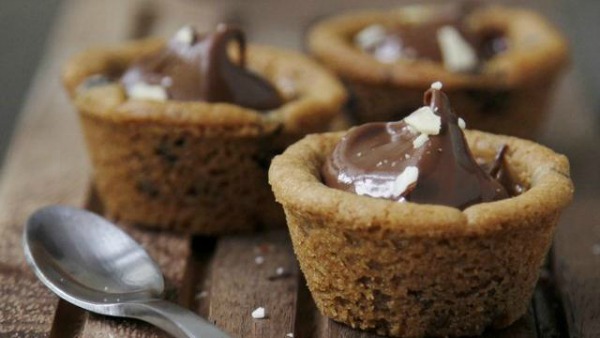 There will never be a bigger power couple than Nutella and peanut butter. They complement each other so well. To get the full grasp of how amazing these two spreads are, you have to try these Nutella Peanut Butter Cups. But as a warning, they are borderline addictive.
Ingredients:
1 roll (16.5 oz) Pillsbury® refrigerated chocolate chip cookies
12 tablespoons peanut butter
12 tablespoons hazelnut spread with cocoa
Directions:
Heat oven to 350°F. Spray 24 mini muffin cups with cooking spray.
Scoop 1 tablespoon cookie dough into each muffin cup. Press down.
Bake 10 to 12 minutes or until golden. Using shot glass sprayed with cooking spray, immediately press center of each muffin cup gently to shape cookie cup. Cool completely in pan. Turn pan upside down to remove cookie cups from pan.
Place 1/2 tablespoon peanut butter in each cookie cup. Top each with 1/2 tablespoon hazelnut spread with cocoa.
**Source: **Pillsbury.com
---
7

Nutella Ice Cream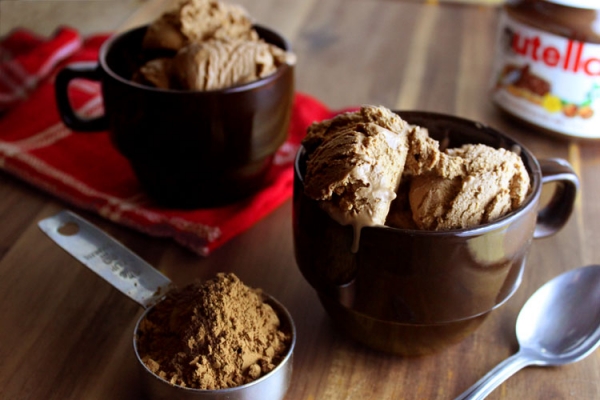 During these hot summer months it is important to have desserts that cool us down. With this recipe for Nutella Ice Cream, you will end up pretending it's always summer for an excuse to enjoy this delicious concoction. Make this the day before a party and serve it to have your guests speechless with delight.
Ingredients:
1 cup of Nutella
6 Bananas
Directions:
You can add cinnamon or cocoa powder if you want but it isn't needed. Throw the two ingredients into a blender or food processor and blend till very smooth. Pour into Freezer safe container (or popsicle forms, I recommend small, the ones I used hold a little over 1/3 cup). Impatiently wait for it to freeze then devour.
Source: rumkihn.com
Nutella might be one of the most delicious spreads in the world. With a creamy combination of chocolate and hazelnut, it is mouthwatering. These recipes all use Nutella in a new way to create a unique new food. What did you think of these recipes that use Nutella? Have you ever used Nutella in a unique recipe? What is your favorite way to eat Nutella?
More