Share
Thanksgiving has come and gone, and now you are stuck with loads of turkey, cranberry sauce, mashed potatoes and stuffing. What was once a feast you've been waiting for all year, is now old news and may not look so appetizing after your third consecutive day of eating the same leftovers in the same way. So instead, try to think of new meal ideas for Thanksgiving leftovers that will give you some variety while still using up all the food in your fridge! Here are 10 Delicious Meal Ideas for Thanksgiving Leftovers!
---
1

The Ultimate Thanksgiving Sandwich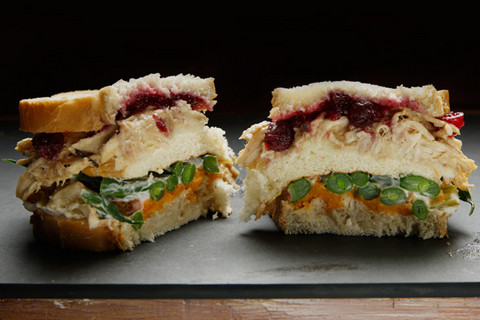 Source: chow.com
Most people love making special sandwiches out of their Thanksgiving leftovers. One famous example is from the TV show "Friends" when Ross is devastated after someone at his job eats his Thanksgiving leftover sandwich that he looks forward to his sister making him every year. This sandwich is by far, the most epic looking one I've seen! This version of a Thanksgiving leftovers sandwich took on the challenge of trying to get every single component of the Thanksgiving meal packed between two pieces of bread, down to a smashed dinner roll in the center!
Ingredients:
1/2 dinner roll
2 tbsp mashed potatoes
1 cup shredded roasted turkey (about 3 ounces)
3 tbsp turkey gravy, warmed
2 slices white bread
2 tbsp cranberry sauce
4 1/2 tsp mayonnaise
1/3 cup stuffing
2 tbsp mashed sweet potatoes
1/3 cup green bean casserole
Directions:
---
1

Using a Rolling Pin or Drinking Glass, Flatten the Dinner Roll until It's about 1/4 Inch Thick. Spread the Mashed Potatoes on the Dinner Roll in an Even Layer; Set Aside
---
2

Place the Turkey and Gravy in a Small Bowl and Toss until Combined; Set Aside
---
3

Place the Bread Slices on a Work Surface. Spread One Slice with the Cranberry Sauce and the Second with the Mayonnaise. Place the Stuffing on the Mayonnaise-side of the Bread Slice and Spread It into an Even Layer. Spread the Sweet Potatoes over the Stuffing in an Even Layer. Top the Sweet Potatoes with the Green Bean Casserole
---
4

Top the Green Bean Casserole with the Dinner Roll, Mashed-potato-side up. Top with the Turkey Mixture. Place the Second Slice of Bread Cranberry-side down on Top of the Turkey Mixture
---
5

Press down Gently on the Top of the Sandwich to Compact It Slightly, Cut It in Half, and Serve
---
2

Fried Stuffing Bites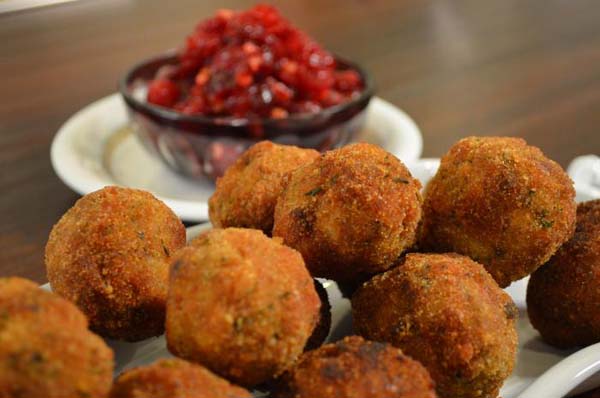 source: foodnetwork.com
This is a perfect way to get rid of your leftover stuffing that the whole family will love! Following this recipe will turn your leftover stuffing into perfect bite-sized bits that are deep-fried and then served with a cranberry pesto. Stuffing bites make a great side dish to any meal or even just a snack for your kids. They aren't necessarily the healthiest dish, but they certainly are delicious! Plus it's the holidays so you can cheat a little.
Ingredients:
Leftover stuffing
2 eggs
2 tsp milk
1 cup seasoned bread crumbs
1 cup cranberry sauce
1/2 tsp freshly ground black pepper
1/2 cup walnuts
Oil, for frying
Directions:
---
1

Preheat Oil to 350 Degrees F
---
2

Cut Leftover Stuffing into Bite-sized Cubes and Set Aside
---
3

In a Small Bowl Whisk Eggs and Milk. Coat Each Stuffing Bite with This Egg Wash, then Dredge in the Bread Crumbs until Fully Coated and Set Aside
---
4

In a Food Processor Blend Cranberry Sauce, Pepper and Walnuts and Set Aside
---
5

Once Oil is at Temperature Fry Each Piece of Stuffing until Golden Brown about 4 Minutes. Drain on a Paper Towel and Serve with Cranberry Pesto
---
3

Thanksgiving Salad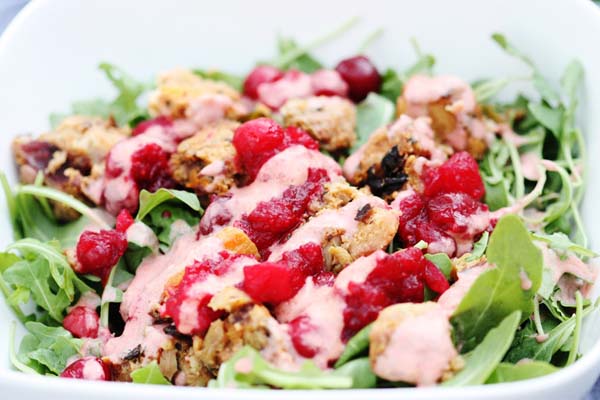 source: cravingchronicles.com
Maybe you're looking for meal ides for Thanksgiving leftovers that's on the lighter side and doesn't feature 3 or more carb-filled sides. Well then this Thanksgiving Leftovers Salad should be the perfect fit for you. This salad features a vinaigrette made from your leftover cranberry sauce, shredded leftover turkey, and cheese. If you do want a little bit of carbs, serve with a warmed leftover roll, or try rolling leftover stuffing into small balls and baking until crisp to serve on the side.
Vinaigrette Ingredients:
1/2 cup whole-berry cranberry sauce, homemade or canned
3 tablespoons orange juice, fresh or refrigerated
1 tablespoon olive oil
2 tablespoons apple cider vinegar
pinch of salt
Salad Ingredients:
Mixed Greens
Leftover Turkey, shredded
Softened mild cheese, such as goat cheese or brie, crumbled
Pecans, chopped
Directions:
---
1

Measure Vinaigrette Ingredients into a Small Bowl and Whisk Vigorously until Combined. Adjust Liquid by Adding More Orange Juice or Oil, if Needed
---
2

Pile a Healthy Serving of Greens on a Plate. Top with Shredded Turkey, Cheese and Chopped Pecans. 3. Drizzle with Cranberry Vinaigrette and Serve
---
4

Thanksgiving Shepherd's Pie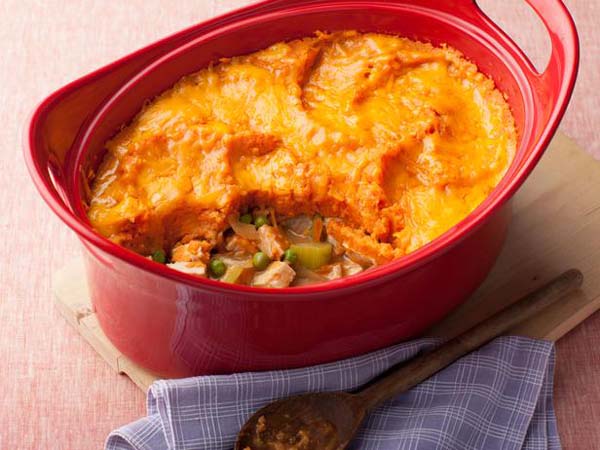 source: foodnetwork.com
Want some meal ideas for Thanksgiving leftovers that have a little Irish in them? Well then try making this delicious Thanksgiving shepherd's pie! The directions that I found to create this meal are making everything from scratch so you can omit a lot of the steps if you already have leftovers already such as mashed sweet potatoes. You can't really go wrong with a shepherd's pie and it's a great recipe that uses up a lot of your leftover ingredients at once.
Ingredients:
2 tbsp extra-virgin olive oil
2 lbs ground turkey or chopped leftover turkey
Salt and freshly ground black pepper
2 tsp poultry seasoning
2 1/2 lbs sweet potatoes, peeled and cubed
1 onion, cut into 1-inch dice
2 carrots, peeled and grated
4 ribs celery, chopped
4 tbsp butter, divided
2 tbsp all-purpose flour
2 cups turkey or chicken stock (recommended: Kitchen Basics)
A few dashes Worcestershire sauce
1 (10-ounce) box frozen peas
A few dashes hot sauce
2 cups sharp shredded yellow Cheddar
1 very ripe banana
Directions:
---
1

Preheat Oven to 425 Degrees F. in a Deep Skillet or a Dutch Oven Heat 2 Tablespoons Oil over High Heat. Add Meat and Break up with a Wooden Spoon, Season with Salt and Pepper and Poultry Seasoning
---
2

Place Sweet Potatoes in a Pot, Cover with Water, Cover Pot, Bring to a Boil, Add Salt and Cook 15 Minutes until Tender. Add Onions, Carrots and Celery into the Turkey. Stir, and Cook for 5 Minutes
---
3

While Vegetables Are Cooking, Heat 2 Tablespoons Butter in a Small Pot over Medium Heat. Add Flour to Melted Butter and Whisk 1 Minute. Whisk in Stock and Season with Salt, Pepper and Worcestershire. Cook a Few Minutes to Thicken. Stir Peas into Meat and Turn Heat off
---
4

Drain Potatoes and Return Pot to Heat. Add Remaining 2 Tablespoons of Butter and Melt over Medium Heat. Peel and Slice Banana and Add Potatoes to the Pot. Season the Potatoes with Salt and Pepper and a Few Dashes Hot Sauce. Mash Potatoes and Banana to Combine, Adjust Seasoning
---
5

Top the Meat with the Potatoes. Cover Potatoes with Cheese and Place in the Oven to Melt Cheese, about 5 Minutes
---
5

Potato Croquettes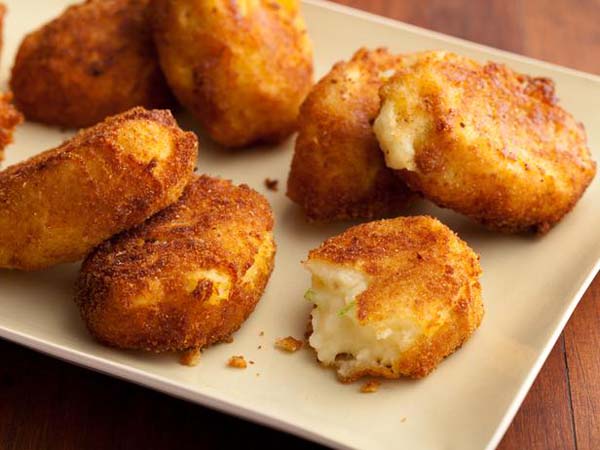 source: foodnetwork.com
Turn your leftover mashed potatoes into a Southern style dish with this recipe favorite! Just add eggs and milk to four cups of potatoes, season, then fry to crispy perfection! If you want a dipping sauce using your leftovers as well, look back at the stuffing bites entry for a pesto cranberry dipping sauce that will go great with these potato croquettes as well. You will never want french fries again.
Ingredients:
2 tbsp milk
Salt
1/2 tsp pepper
1/2 tsp chopped green onion
2 egg yolks, beaten
3 tbsp all-purpose flour
4 cups mashed potatoes
1 egg, beaten
Sifted dried bread crumbs
Peanut oil, enough to fill pan 1/2-inch
Directions:
---
1

Add Milk, Salt, Pepper, Chopped Onion, Beaten Egg Yolks and Flour to Mashed Potatoes
---
2

Chill and then Shape Using an Ice Cream Scoop
---
3

Dip in the Beaten Egg, then Roll through Bread Crumbs
---
4

Fry Each Croquette in Shallow Oil until Brown on All Sides
---
6

Thanksgiving Grilled Cheese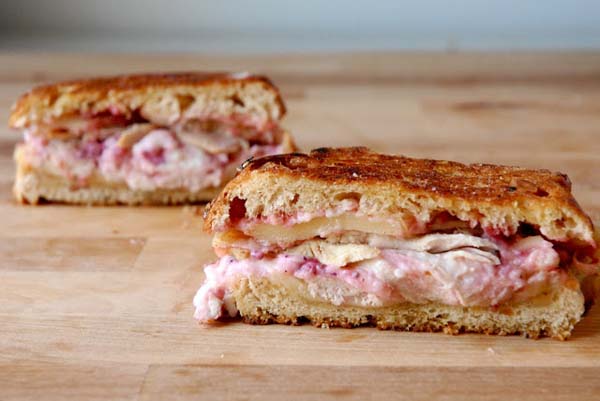 source: grilledcheesesocial.com
Here's a recipe to use in order to create a delicious grilled cheese sandwich you'll crave year-round! The recipe I came across suggests using Gruyere cheese, but I personally suggest brie because it's a creamier and sweeter cheese that would go along great with the cranberry sauce. This recipe is great for both kids and adults and will have you feeling as full as you did on Thanksgiving day!
Ingredients:
1 heaping spoonful of mashed potatoes
2 thin slices of Gruyere
A couple pieces of turkey
A dollop of cranberry sauce
2 pats of butter
1 leftover roll
Directions:
---
1

Cut Roll and Pile on Whatever Cheese You Have on Hand
---
2

Add a Dollop of Your Leftover Cranberry Sauce on Top of the Cheese, and then a Spoonful of Mashed Potatoes on Top of That
---
3

Add a Layer of Turkey and Another Layer of Cheese. then Close up the Sandwich with the Top Bread Slice
---
4

Spread Butter on the outside of the Bread Slices and Cook in a Heated Frying Pan for about 10 Minutes on Each Side or until Everything Gets Warmed up and the Cheese Starts to Melt
---
7

Thanksgiving Eggs Benedict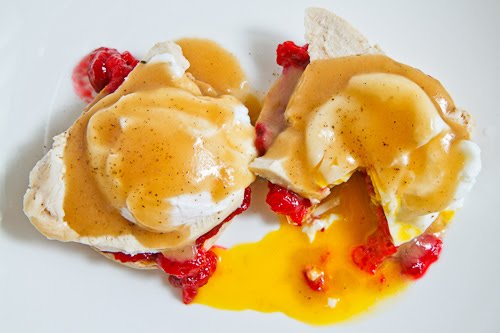 source: closetcooking.com
Prepare yourself to witness Thanksgiving dinner, in breakfast form, as eggs Benedict! If you are looking for meal ideas for Thanksgiving leftovers for the morning, then this is the perfect dish. This recipe is pretty simple given that pretty much everything is leftovers that simply need to be heated and the only real thing that you need to do is poach a few eggs. Smothering the already amazing Thanksgiving dinner flavors in a runny egg yolk works really well and you can feel free to throw in any other leftovers you may have like mashed potatoes!
Ingredients:
2 english muffin, sliced and toasted
1 cup stuffing, warm
4 slices roast turkey breast, warm
4 eggs
1/2 cup gravy, warm
4 tbsp cranberry sauce
Directions:
---
1

Place the Muffin Slices Two per Plate and Top Each with Stuffing and a Slice of Turkey
---
2

Bring a Large Pot of Water to a Boil and Reduce the Heat to Medium
---
3

Crack an Egg into a Bowl, Swirl the Water in the Pot and Pour the Egg from the Bowl into the Water and Repeat for Remaining Egg
---
4

Let the Eggs Cook until the Whites Are Set but the Yolks Are Not, about 2-3 Minutes and Fish Them out
---
5

Place the Eggs on Top of the Turkey, Cover with Gravy and a Dollop of Cranberry Sauce
---
8

Thanksgiving Pizza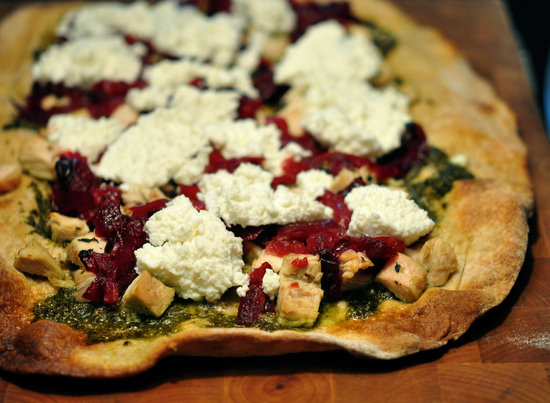 source: yumsugar.com
This turkey, pesto, and cranberry pizza is a hearty meal with plenty of savory and sweet flavors from your Thanksgiving leftovers. The recipe uses a caramelized onion cranberry sauce but if you had just a plain cranberry on Turkey Day, quickly sauté some onions to mix in. Also, mozzarella, goat cheese, or ricotta would all be a great choice for a cheesy topping so just pick your favorite or whatever you already have in your kitchen. So pull out your pizza stone and give your leftovers a makeover with this creative pizza recipe!
Ingredients:
1 package of store-bought pizza dough
Flour, for dusting
1/2 cup basil pesto
1/2 cup ricotta, fresh goat, or shredded mozzarella cheese
1 cup of leftover turkey, cut into 1/2-inch cubes
1 cup cranberry and caramelized onion sauce
Salt, to taste
Directions:
---
1

Preheat the Oven to 500ºf with a Pizza Stone or Cookie Sheet inside
---
2

Flour the Pizza Dough to Ensure It Doesn't Stick, then Roll out the Pizza Dough to Preferred Thickness
---
3

Place the Pizza Dough on the Hot Pizza Stone and Pre-cook for about 5-8 Minutes
---
4

Once the Crust Begins to Turn Golden, Pull out the Crust and Top with Pesto, Cheese, Turkey, and Cranberry Sauce
---
5

Place the Pizza Back in the Oven and Cook until the Cheese Has Melted and Everything is Warm
---
6

Sprinkle with Sea Salt and Serve
---
9

Thanksgiving Poptarts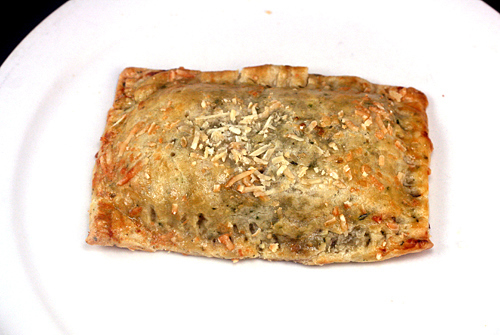 source: lisamichele.wordpress.com
The great thing about these are that you can't fit a ton of filling into each pop tart. So you are able to get just the right amount of turkey, cranberry and stuffing (or whatever other leftovers you want to include) with each bite, without the filling oozing all over the place. They're also great because of how portable they are, just like your basic boxed pop tart but much better because they're homemade with nothing artificial. Plus, you can heat these up in a pop-up toaster once they've baked and cooled. So you can make tons of them, freeze them, and then taking out what you need to thaw and cook in a pop-up toaster!
Pie Dough:
2 1/2 cups all-purpose flour, chilled
2 tbsp chopped fresh parsley
1 tbsp chopped fresh thyme
1 to 2 tbsp chopped fresh sage
1 tsp salt
1 tsp sugar
16 tbsp (2 sticks) unsalted butter, cut into 1/2-inch pieces and frozen
About 6 tbsp ice water
Directions:
---
1

Blend First 6 Ingredients in Processor until Herbs Are Very Finely Chopped. Add Frozen Butter. Pulse Processor until Mixture Resembles Coarse Meal
---
2

Transfer Mixture to Large Bowl. Using a Fork, Mix Enough Ice Water into Flour Mixture to Form Moist Clumps. You Want It to Look Raggedy with Lumps of Butter. Gather Dough onto a Piece of Plastic Wrap and Gently Flatten into Rectangle. Wrap Tightly and Chill 30 Minutes

Filling:

1 cup plus 2 tbsp chopped turkey breast meat
9 tbsp stuffing
9 tbsp cranberry sauce
OR – any combination of leftover sides you prefer, a tbsp or small amount of each
1 egg, beaten
Grated Parmesan or any hard, aged Italian cheese. (optional)

Directions:
---
1

Preheat Oven to 350 F. Remove Both Pieces of Dough from the Refrigerator. Let Sit until Workable
---
2

Place One Piece of the Chilled and Workable Dough on a Lightly Floured Work Surface. Roll It into a Rectangle about 1/8″ Thick, Large Enough That You Can Trim It to an Even 9″ X 12″. Trim off the Edges so You Have a Perfect 9″ X 12″ Rectangle. Roll and Trim Second Piece of Dough the Same Way. Wrap and Refrigerate Dough Scraps, You May Have Enough for Another Pop Tart
---
3

Using a Ruler, Make Notches Every 3-inches across 9-inch Side. Make Notches Every 4-inches across 12-inch Side. Cut Using a Pizza Wheel or Pressing down with a Very Sharp Knife, as Straight as You Can, so You Have 9 3″ X 4″ Rectangles of Dough. Repeat All of the above with Second Sheet of Dough. You Will Now Have 18 3″ X 4″ Rectangles of Dough
---
4

Brush 9 Rectangles of Dough Lightly with Beaten Egg. Let Sit until Egg is Tacky Instead of Wet and Slippery, about 5 Minutes
---
5

Spread 1 Tablespoon Stuffing over Each of the 9 Rectangles, Leaving about 1/4-inch or a Bit More, Clean along Each Edge around the Rectangle, so You'll Be Able to Seal Them. Top Stuffing with 2 Tablespoons Chopped Turkey and a Tablespoon of Cranberry Sauce. Repeat with the Rest of the Dough Rectangles
---
6

Top Each Filled Rectangle of Dough with a Rectangle from the Second Piece of Dough. Press down Each Edge to Seal It Well, then Press the Tines of a Fork All around the Edges of the Rectangle. Repeat with Remaining Pop Tarts
---
7

Gently Lift Pop Tarts and Place on a Parchment Lined Baking Sheet, Three per Row. Brush Each Pop Tart with Remaining Beaten Egg, and Sprinkle with Some Parmesan or Any Hard Italian Grating Cheese You Prefer (I Used Grated Grana Padano). Poke Holes to Vent the Pop Tarts. I Poked Three Rows with a Fork
---
8

Place Baking Sheet with Pop Tarts in Refrigerator for 30 Minutes. No Need to Cover Them since They're Brushed with Egg Wash
---
9

Remove Baking Sheet from Refrigerator and Put in Preheated Oven. Bake for 25-30 Minutes, until Light Golden Brown
---
10

Thanksgiving Crepes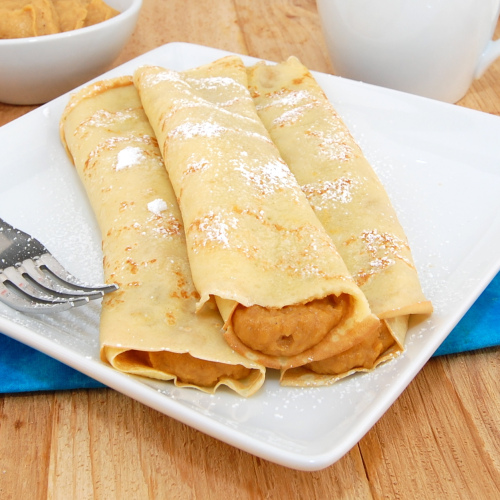 source: sweetpeaskitchen.com
And last but not least, a dessert (or even breakfast) that you can make with your Thanksgiving leftovers! These delicate crêpes are a great, unique way to use up leftover Pumpkin Pie. Don't be intimidated by crêpes, they are extremely easy to make and not to mention absolutely delicious! If you didn't have pumpkin pie for Thanksgiving dinner and instead had apple or pecan, you can use those pie fillings instead. That's the great thing about crêpes, they would be delicious filled with anything!
Ingredients:
1/2 tsp vegetable oil
1 cup (5 ounces) unbleached all-purpose flour
1 tsp sugar
1/4 tsp table salt
1/2 tsp ground cinnamon
1 1/2 cups whole milk
3 large eggs
2 tbsp unsalted butter, melted and cooled
1/2 baked Pumpkin Pie (can be crust-less, you only use the filling)
Directions:
---
1

Place Oil in 12-inch Nonstick Skillet and Heat over Low Heat for at Least 10 Minutes. While Skillet is Heating, Whisk Together Flour, Sugar, Salt and Cinnamon in Medium Bowl; Set Aside. in a Separate Medium Bowl, Whisk Together Milk and Eggs. Add Half of Milk Mixture to Dry Ingredients and Whisk until Smooth. Add Butter and Whisk until Combined. Whisk in Remaining Milk Mixture until Smooth
---
2

To Make Pumpkin Pie Filling, Scoop the Pie Filling out of the Crust and Place in the Bowl of a Stand Mixer Fitted with the Paddle Attachment. Beat on Medium Speed until Smooth, about 30 Seconds; Set Aside. (heat It in the Microwave if Desired)
---
3

Wipe out Skillet Using Paper Towel, Leaving Thin Film of Oil on Bottom and Sides. Increase Heat to Medium and Let Skillet Heat for 1 Minute. after 1 Minute, Test Heat of Skillet by Placing 1 Teaspoon Batter in Center and Cook for 20 Seconds. if Mini Crêpe is Golden Brown on Bottom, Skillet is Properly Heated; if It is Too Light or Too Dark, Adjust Heat Accordingly and Retest
---
4

Pour ¼ Cup Batter into Far Side of Pan and Tilt and Shake Gently until Batter Evenly Covers the Bottom of Pan. Cook Crêpe without Moving It until Top Surface is Dry and Crêpe Starts to Brown at Edges, Loosening Crêpe from Side of Pan with Rubber Spatula, about 25 Seconds. Gently Slide Spatula underneath Edge of Crêpe, Grasp Edge with Fingertips, and Flip Crêpe. Cook until Second Side is Lightly Spotted, about 20 Seconds. Transfer Cooked Crêpe to Wire Rack, Spotted Side is Facing up. Return Pan to Heat and Heat for 10 Seconds before Repeating with Remaining Batter. as Crêpes Are Done, Stack on Wire Rack
---
5

Transfer Stack of Crêpes to Large Microwave-safe Plate and Invert Second Plate over Crêpes. Microwave on High Power until Crêpes Are Warm, 30 to 45 Seconds (45 to 60 Seconds if Crêpes Have Cooled Completely). Remove Top Plate and Wipe Dry with Paper Towel. Spread 1/4 Cup Pumpkin Pie Filling in Each Crêpe and Roll up. Sprinkle with Confectioner's Sugar and Serve Immediately

Remember, even if you are reading this long before or after the Thanksgiving holiday, these recipes are still great to make if you are craving a little bit of those delicious Thanksgiving flavors any time of the year! I look forward to celebrating Thanksgiving every year because it is the one day I have to put my diet conscious mind to the side and eat everything I love and want! What do you most look forward to making with your Thanksgiving leftovers each year?
More