Share
Fall and winter always make me want to use my Crock Pot more and with these diet friendly recipes, you can easily use your Crock Pot if you're on a diet this year. Fall and winter are often the time many people struggle with their weight due to all the heavier foods eaten this time of year. Along with stress from school starting back, and the daily grind, putting on a few winter pounds can come quite easily with all the easy casserole dishes or typically heavy slow cooker recipes people turn to during colder months when they just want something quick and easy to come home to. Instead of making your usual heavier Crock Pot recipes, try making some of these diet friendly recipes. They are very filling, use some of the best fall and winter pieces of produce and plenty of filling protein, along with tons of vitamins and minerals from the vegetables used. They also taste incredible and I've tried all of them myself! I hope you'll give them a go and embrace the slow cooker more often this year. It can be your diet's and your wallet's best friend!
---
1

Butternut Squash Soup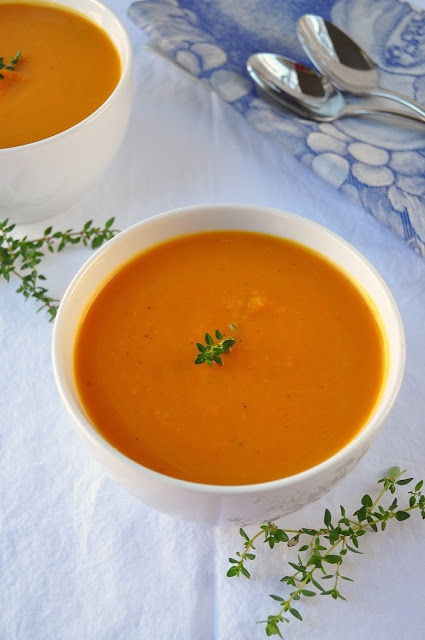 This is one of my favorite diet friendly recipes even though I'm not on a diet. I adore butternut squash, so anything with it is usually game for me. This recipe is actually created by Kelly Osbourne if you need some extra incentive to make it! She shared it with Redbook magazine as one of her favorite easy meals to make while she's dieting. She has lost tons of weight recently and she eats great food. Check out this amazing soup recipe, and if you like sweet potatoes like I do, sub them in for the regular white potatoes used in this recipe. The flavors of this dish are incredible!
Ingredients:
2 Tablespoons extra virgin olive oil
2 garlic cloves, minced
1 medium onion, diced small
1 large, or 2 pounds butternut squash, peeled, seeded, then cut into 1 inch cubes
2 medium carrots, peeled and chopped
1 potato, Yukon gold or russet, cut into 1 inch cubes
4 cups vegetable stock or water
1 cup canned coconut milk
salt and pepper as needed
Directions:
In a large pot, heat oil to medium-low. Add garlic, onions and a pinch of salt, stirring until translucent, about 3 to 5 minutes.
Add squash, carrots, potato and stock, bring to boil, lower heat to a simmer and cook for 25 to 30 minutes or until vegetables can be easily pierced with a fork. Remove from heat and add the coconut milk.
Puree soup in a blender, working in batches so you don't overflow. Season with salt and pepper to taste.
Garnish with a sprig of thyme or chopped parsley and a drizzle of good quality extra virgin olive oil.
**Source: **redbookmag.com
---
2

Spicy Country Vegetable Soup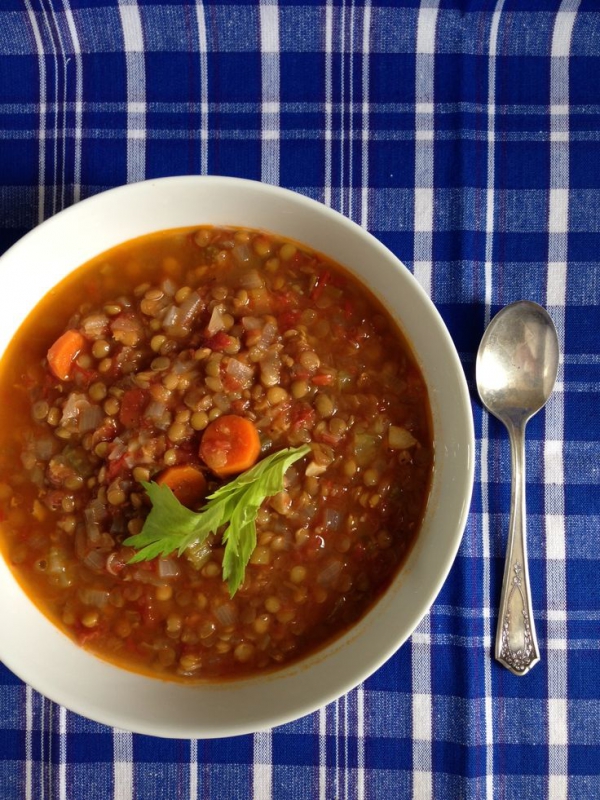 Here's another diet friendly recipe by Kelly Osbourne and I make this every year with a little variation. This recipe uses almost every vegetable under the sun and gives it a spicy kick, along with some protein-rich lean chicken breasts. This is an incredibly filling soup, not to mentioned packed with celebrity worthy nutrition!
Ingredients:
6 cups vegetable broth or 6 cups water
3 medium tomatoes, peeled and chopped, 1 1/2 cups (you can also use canned)
2 medium carrots, thinly sliced (1 cup)
1 medium onion, thinly sliced
1/2 medium bell pepper, thinly sliced
1 (10 ounce) package frozen cut green beans
1 (6 ounce) canned tomato paste
2 cups fresh broccoli florets
2 cups cauliflower florets, bite-sized pieces
1 cup frozen whole kernel corn
1 teaspoon salt
1/2 teaspoon white pepper
1/2 teaspoon hot pepper sauce (optional)
Directions:
In a 6-quart pot, combine all the ingredients and place over medium heat. Cover and cook for 45 minutes, stirring occasionally.
**Source: **redbookmag.com
---
3

Lumberjack Soup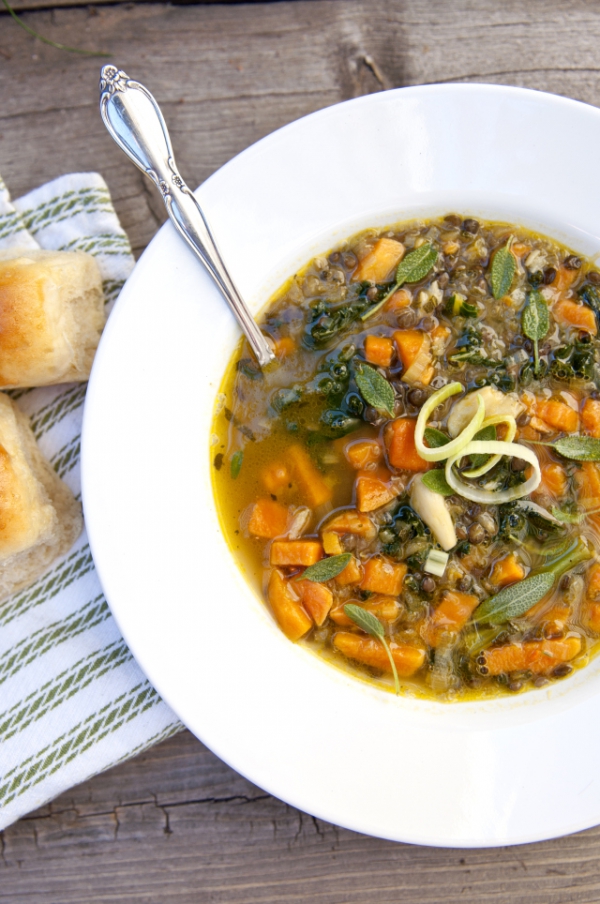 Any vegans out there? You'll love this Lumberjack Soup, which is usually made with animal meats added in. Here, chickpeas are used instead for a filling and creamy texture. I just love chickpeas! They are so nutty and filling, plus anything that mixes them with veggies is a win-win! This dish is full of fiber, protein and plenty of comfort food feel! Snuggle up with a nice cup of this soup and a blanket after work and relax for the evening with a healthy meal. The leftovers also make a fabulous lunch!
Ingredients:
7 1/2 cups rutabaga
6 cups carrots
1 1/2 cups celery
1 1/2 cups mushrooms
6 cups fresh spinach
2 cups cooked chickpeas (roast them for 15-20 minutes at 350 degrees)
5 teaspoons garlic powder
6 teaspoons black pepper
1 cup organic Dijon mustard
3 teaspoons extra-virgin olive oil
3 teaspoons sea salt
2 low-sodium vegetable bullion cubes
18 cups water
Directions:
Roughly chop rutabaga, carrots, celery, and mushrooms. Place vegetables in slow cooker with water, precooked chickpeas, garlic powder, black pepper, Dijon mustard, extra virgin olive oil, sea salt, and vegetable bullion cubes. Cook in Slow Cooker for approximately 6 hours (or until rutabaga and carrots are soft).
Finish by adding in fresh spinach, allow to cook down, and stir to incorporate into soup.
This recipe yields approx 21 cups (great for freezing and reheating or for feeding a crowd).
**Source: **shape.com
---
4

Slow Cooker Oatmeal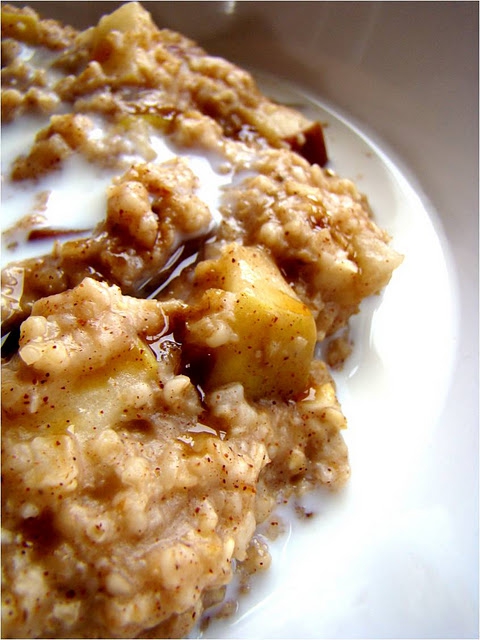 Who said your oatmeal had to be soaked in the fridge overnight or cooked on a stove? Nope, you can actually use your slow cooker to make one week's worth of breakfasts, or even dinners, using oatmeal in your Crock Pot! Yep, that's right, make this oatmeal by simply putting everything in the slow cooker and leave it alone for the recommended cooking time or overnight if you want to wake up to piping hot oats in the morning. Plus, they taste so much better this way in my opinion, since the oats have time to sit in the flavor base longer. If you like your oats cold, then simply make this ahead of time and portion out servings for the week. These make great dinners for nights when you're not in the mood for typical dinner foods too!
Ingredients:
1 cup steel-cut oats
1/3 cup chopped dates
2/3 cup raisins
1/3 cup chopped dried figs
1/2 teaspoon ground cinnamon
1/3 cup chopped almonds or walnuts
4 cups water
1/2 cup half-and-half (or non-fat, plain yogurt)
Directions:
Mix all of the ingredients together in a slow cooker before you head to bed. Set to LOW and cook for 8 to 9 hours. Stir to combine and serve.
**Source: **shape.com
---
5

Moroccan Stew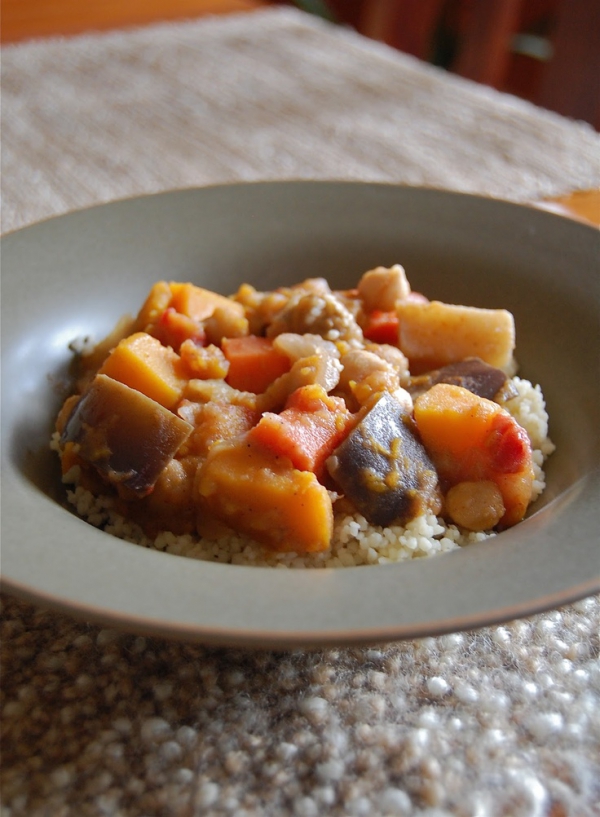 I'm in for anything with kale, what about you? This Moroccan Stew not only has the superfood kale, which can apparently do everything under the sun for your body, but also has superfoods like detoxifying onions, garlic and celery. It also has sweet carrots and hearty chickpeas. The bonus here are the spices used, including intoxicating ethnic spices such as cumin and coriander, two of my favorites! Make this anytime you want something a little extra special and filling at the same time. Plus, you're getting in tons of great veggies in one small serving, helping you to reach your veggie quota for the day much easier!
Ingredients:
2 large cloves garlic, minced
1 large onion, diced
1 tablespoon olive oil
1 can (28 ounces) chopped tomatoes with juice
1 cup dried chickpeas
2 1/2 cups vegetable or chicken broth
2 teaspoons cumin
2 teaspoons coriander
2 cinnamon sticks
4 carrots, peeled and diced
1 red pepper, seeded and diced
1 bunch kale, chopped and tough stems removed
1 bunch parsley, chopped
1/2 teaspoon salt
Black pepper to taste
1/2 roast chicken, skinned and boned (optional)
Directions:
Add the olive oil, onion, carrots, red pepper, garlic, spices, chick peas, tomatoes and juice, cinnamon sticks, and chicken broth to the slow cooker. Cook on high for 6 hours. Twenty minutes before serving, when the cooker is just on the "warm" setting, add the kale. (This is a good time to prep the rice: add 1 cup of basmati rice, 2 cups of chicken or vegetable stock, and a pinch of saffron in a pot, cover, bring to a boil, and reduce to a simmer for 20 minutes). Just before serving, add parsley and season to taste with the salt and pepper. Remove the cinnamon sticks and serve over rice with the optional roasted chicken.
**Source: **shape.com
---
6

Chicken with Carrots and Potatoes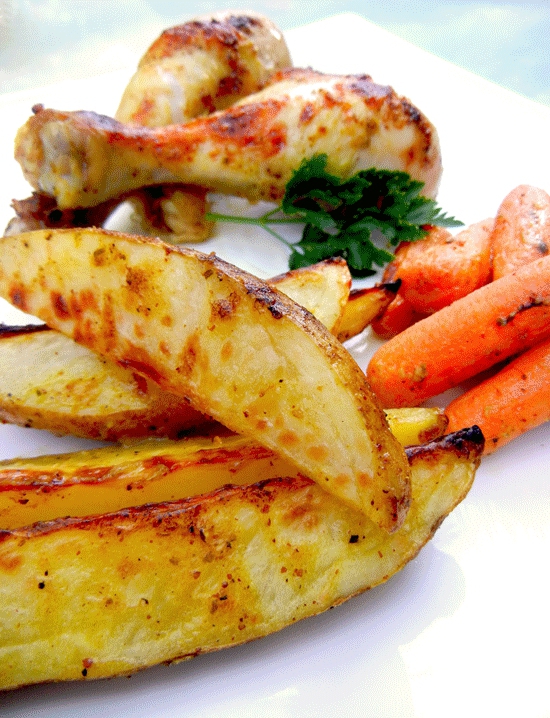 I have to admit, while I don't hardly ever eat poultry, in the fall and winter, sometimes I crave slow cooker chicken. I always buy organic wherever I can and be sure I buy hormone-free varieties whatever I do. To make this simple, you can use skinless chicken breasts, or go for the rotisserie chicken like the recipe calls for. When cooked with the hearty carrots and potatoes, this is one fall inspired dish that feels heavy, but is fantastic for your body! Replace the regular potatoes with sweet potatoes if you want to make it healthier and lower in starchy carbs. Either way, it tastes amazing and will become a favorite if you're a chicken lover.
Ingredients:
1 3/4 cups vertically sliced onion
Cooking spray
2 cups baby carrots
6 small round red potatoes (about 1 pound), cut into 1/4-inch slices
1/2 cup fat-free, lower-sodium chicken broth
1/2 cup dry white wine
1 tablespoon chopped fresh thyme
1 teaspoon minced garlic
3/4 teaspoon salt, divided
1/2 teaspoon freshly ground black pepper, divided
1 teaspoon paprika
6 (6-ounce) bone-in chicken thighs, skinned
1 teaspoon olive oil
Chopped fresh thyme (optional)
Directions:
Place onion in a 6-quart electric slow cooker coated with cooking spray; top with carrots and potatoes.
Combine broth, next 3 ingredients, 1/2 teaspoon salt, and 1/4 teaspoon pepper. Pour over vegetables.
Combine paprika, remaining 1/4 teaspoon salt, and remaining 1/4 teaspoon pepper; rub over chicken. Heat a large nonstick skillet over medium-high heat. Add oil to pan; swirl to coat. Add chicken. Cook 3 minutes on each side or until browned. Arrange chicken on top of vegetables.
Cover and cook on LOW for 3 1/2 hours or until chicken is done and vegetables are tender. Garnish with additional thyme, if desired.
**Source: **cookinglight.com
---
7

Vegan Crockpot Lentil Chili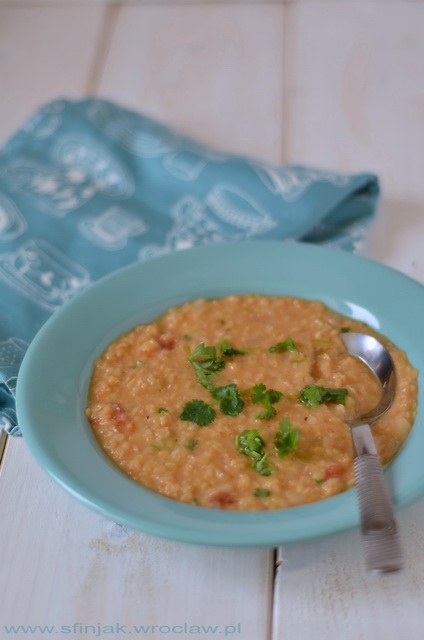 If you're vegan, don't think you have to go all winter without a hearty chili recipe! I love the smell of my mom's chili, but since I don't eat pork or red meat, I never eat any. However, I don't need to with this recipe! Lentils are the perfect meat replacement. I like adding mushrooms and lentils together in chili, and I never even miss the feel of meat in chili. This vegan chili tastes so much like the original it's hard to believe. It is spicy, hearty and filling, while being so incredible for your body. Lentils are low in calories, packed with fiber and protein and have no fat whatsoever. Plus, they're cheap, which makes this a budget friendly and animal friendly recipe at the same time!
Ingredients:
1 tablespoon olive oil
2 medium onions, chopped
6-8 garlic cloves, minced
2 carrots, chopped
1 celery stalk, chopped
2 tablespoons chili powder
2 teaspoons cumin powder
1 teaspoon coriander powder
1 teaspoon dried oregano
1 teaspoon dry mustard
One 28-ounce box crushed tomatoes
salt to taste
One 16-ounce package dry lentils (I used brown lentils), picked through for stones, rinsed and drained
6-7 cups vegetable or chicken broth
Directions:
Heat oil in a large pot. Add onions, garlic, carrots and celery. Saute until onions are softened and lightly browned, about 3-4 minutes. Add chili powder, cumin, coriander, oregano and mustard and stir well for a minute or two. Add tomatoes and salt to taste. Pour mixture into crockpot and add lentils and 6 cups of broth.
Cook for 4-6 hours. Add more broth or water as needed to achieve desired consistency.
**
****Notes:**
This chili is not very spicy. You can add some chipotle pepper powder or cayenne powder if you want it spicier.
Cook's Note: Serve with quinoa or couscous for a more filling meal. Rice would also be a great side as well.
**
****Source: **jeanetteshealthyliving.com
If you don't have a slow cooker, go to the store and buy one of the mini Crock Pot slow cookers like I have. I paid a whole $10 for it and use it all the time. It serves just 2 cups, but I can easily change any recipe to alter the ingredients accordingly. Plus, it makes an easy way to make great leftovers! If you do have a slow cooker, I hope you'll start using it more. What's your favorite thing to make in the slow cooker?
More