Share
We all know breakfast is the most important meal of the day, but if your mornings aren't filled with nutritious breakfasts, you're missing out on the benefits of what breakfast is all about. Your first meal of the day is like the gas you put into your car. It fuels you all day long, either hindering or helping you to go through your day with energy, a great mood, and proper digestion. Many people start their day off with foods that are terrible for their energy, their mood and their digestion. Breakfast doesn't have to be hard to make, or take a long time to make. In fact, many of my favorites are portable and easy breakfasts I make on the go. Check out these nutritious breakfasts so you can start your day off right. You'll feel amazing in no time, without sacrificing any more of your precious time.
---
1

The Classic Green/Fruit Smoothie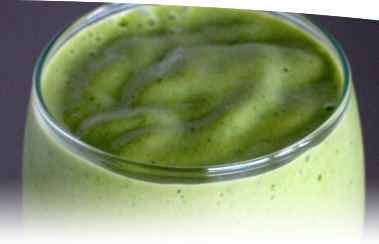 Smoothies are my BFF when it comes to the morning meal, plus they're one of the most popular nutritious breakfasts out there for others who are on the go. Smoothies are quick, usually cheap and easy to make. Even better, you can take them anywhere! My favorite part is there are endless combinations to what smoothie concoctions you can make. Try a classic green smoothie, and feel free to check out some of my favorites I have located in the link below. I'm a smoothie nut and there's nothing easier to make than a meal in glass on the go to energize you, fill you and sustain you. Just be sure to pack the blender with healthy ingredients like sweet greens like spinach, and lower sugar fruits such as berries. Add some healthy fats from flax, chia or hemp seeds, plus a little protein powder to keep you going strong and you've got a power meal in no time. I love experimenting with various flavors and even adding in superfood powders when I can afford them to make things a little more versatile and nutritious. If you have 1 minute in the morning, you have time to make a smoothie. So, grab a blender, your ingredients, a thermos and blend away!
Source: soulfulspoon.com
---
2

Healthy Meal Bars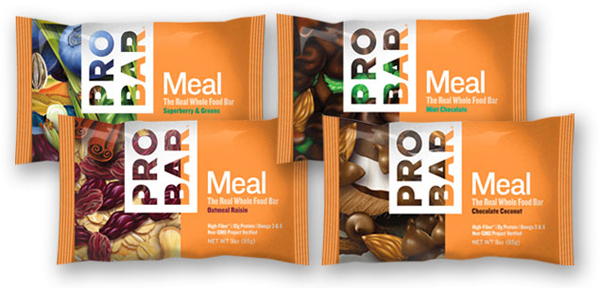 Most protein bars or energy bars are loaded with unhealthy sources of sugar, processed fats, or GMO- filled soy and corn. Avoid all of those by seeking out a nutritious breakfast bar that has none of the aforementioned, but plenty of nutrition. Some of my favorite options are Pure Bars, Larabars, Kind Bars, Pro Bars and a few others. Or you can try making your own with some protein powder, dried fruit, raw nuts and/or seeds and even some superfood green powder if you want to add an extra punch that tastes great. I love making my own from dates, coconut, raw almond butter, a little spirulina and Sunwarrior protein powder, plus a little raw cacao. I make them on my day off for the week, slice into bars and just grab and go in the morning.
---
3

Overnight Oats or Quinoa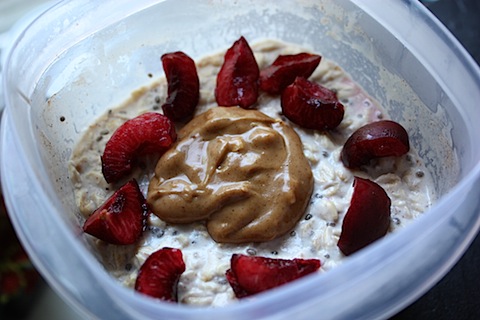 If you actually like oatmeal, you'll love overnight oats, which you can also make with quinoa flakes if you want an extra protein punch. Just soak ½ cup oats or quinoa flakes in 1 cup almond milk with 2 tbsp. chia seeds, a little almond or natural peanut butter, and a sliced banana or berries. Mix this in a to-go cup at night, place in the fridge and the next morning, you've got a delicious, cool and sweet breakfast ready with absolutely nothing to do except grab a spoon and go.
---
4

Egg Muffins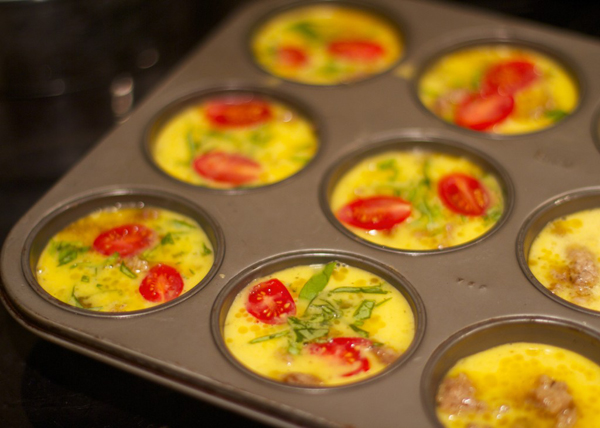 One easy breakfast idea is to make you own egg muffins on your day off so you can just grab and go in the workday mornings. To make these easy little gems, just mix ½ dozen eggs with 2 cup egg whites. Add your favorite veggies like onions, peppers, broccoli, spinach, etc. and a little seasoning or salt and pepper if you wish. Pour the mixture into a muffin pan sprayed with nonstick spray. Bake at 350 for 30 minutes or until the tops of the egg muffins look golden brown and a fork comes out clean and not runny when you poke it into the egg muffin. Remove, cool them in the fridge in the pan, and after 30 minutes you can portion these out into little baggies for the week. I like taking 2 at a time for a morning meal. These will keep about a week in the fridge.
---
5

Chia Porridge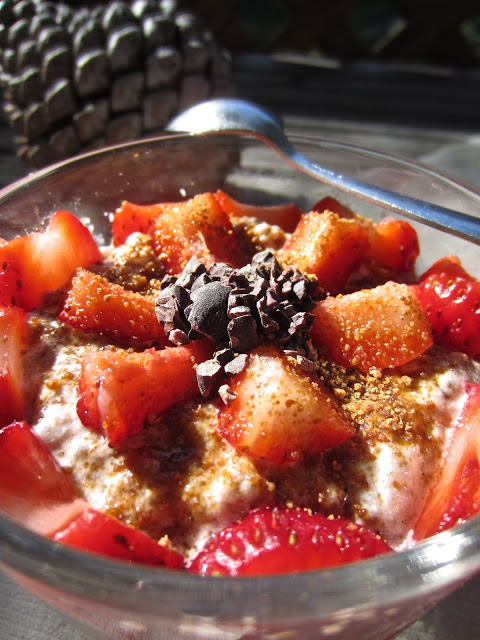 If you haven't jumped on the chia bandwagon yet, what the heck are you waiting on? Chia seeds basically nature's little energy bomb. Chia seeds are also tasteless, making them perfect to flavor however you want. They expand in water, which means they not only fill you up, and help to firm up your smoothies, cereals, etc., but they also expand in water to help keep you hydrated. They have a lot of potassium which helps to beat bloat, but because they are high in fiber, they keep you full longer, give you energy, digest easily, and best of all, they keep you regular, which is key to energy levels, ladies! Nothing to be ashamed of there! Chia seeds are also filled with B vitamins and magnesium which keep you energized, plus natural sources of iron and calcium. Chia seeds have more antioxidants than blueberries per tbsp. and more fiber than oats. Just add 2 tbsp. whole chia seeds to ½ cup almond milk. Add any fresh fruit you want and let it soak for about 1 hour in the fridge or counter. After soaking, it will be thick like porridge, which you can take on the go however you wish: in a little thermos to sip it, or eat it with a spoon. I like using chia seeds, almond milk, blueberries or strawberries, a little cinnamon, plus a scoop of protein powder if I've got a long morning ahead.
---
6

Coffee Protein Shake
If a standard protein shake isn't cutting it, try adding some espresso powder or 1 cup chilled coffee to your smoothie. A great combo is 1 cup chilled, brewed coffee plus 1 cup almond milk, 10 ice cubes, 1 scoop of protein powder and a frozen banana. If you want to really kick things up, add a little raw cacao or maca powder for extra energy. I love having this as an afternoon pick me up too. It's easy to make, take on the go, and chilled coffee will keep in your fridge for a week, so just brew a batch and store in the fridge whenever you need it.
---
7

Berry Parfaits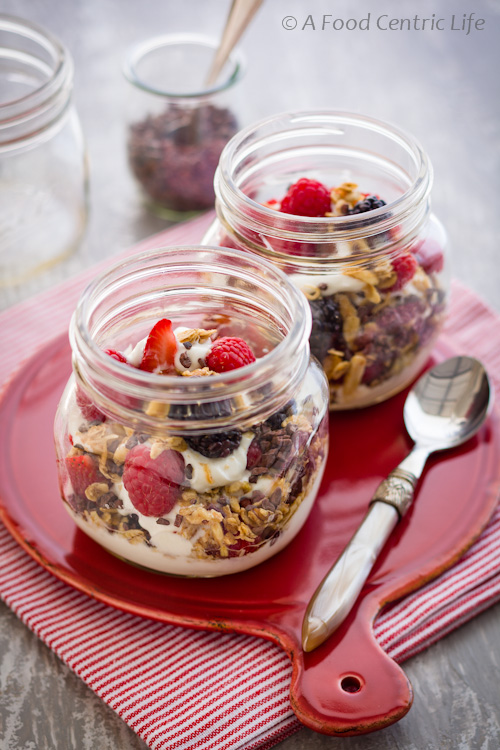 If you can tolerate dairy, or just love yogurt, try a parfait for a great breakfast. Don't waste your dollars at Starbucks or other fast food places where they skimp on good, filling ingredients. You can simply take 1 container of Greek yogurt, preferably plain and unsweetened, and dump it in a to-go container. Next, add some fruit like berries or a banana, 2 tbsp. flax or chia seeds,or some oats, cinnamon and even a scoop of protein powder or superfood powder if you need some extra energy. Just toss with a spoon and eat on the go! I like freezing yogurt for 1 hour before I make my parfait. This creates more of an ice cream sundae-like parfait than a regular one. The frozen yogurt really makes it! To sweeten it, you could always add a little stevia or raw honey if you need it to. You can portion these out and make a week's worth to grab and go if you want, too. Can't get much easier than that! If you're vegan, try a non-GMO soy, coconut or almond yogurt instead of a dairy one.
I love showing others how a healthy breakfast doesn't have to be hard, lengthy, or complicated. These are simple options, my friends. Keep some frozen berries stocked at all times, get yourself some eggs, yogurt or vegan protein powder, chia seeds, flax seeds, a few fresh veggies or leafy greens like spinach and you've got tons of options for nutritious breakfasts on the go. What are your favorite breakfasts on the go to make?
More