Share
Summer appetizers make use of seasonal vegetables, not to mention cheeses, meats, and scores of other delectable things. If you're throwing a luncheon, a fun garden party, or a sit down dinner, perhaps in the backyard, then you'll definitely need some recipes for scrumptious appetizers for summer! I've got a list of apps so good that they actually made my mouth water as I went through them, so rest assured, they all made it into my recipe box as well. Take a look at these delicacies and see if you can't find your new favorite appetizer for summer!
---
1

Stuffed Squash Blossom Bruschetta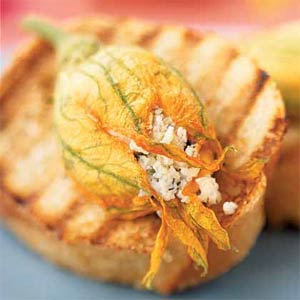 Some of my favorite summer appetizers include squash, which is unquestionably one of my favorite vegetables. This is a really fantastic spin on it, because it utilizes the vegetables blossoms. The result isn't just tasty, it's absolutely beautiful! Although it includes cheese, it's ricotta, so it won't be too heavy for the summer at all.
Directions:
16 (1/2-ounce) slices diagonally cut French bread baguette
Cooking spray
2 garlic cloves, halved
1 cup part-skim ricotta cheese
1/2 cup (2 ounces) grated fresh Parmesan cheese $
1 tablespoon chopped fresh dill
1 1/2 tablespoons minced shallots (about 1 small)
1/4 teaspoon salt $
1/4 teaspoon freshly ground black pepper $
16 large squash blossoms (about 3 cups)
Preparation
Prepare grill or grill pan.
Place bread on grill rack or grill pan coated with cooking spray; grill 2 minutes on each side or until lightly browned. Remove from grill. Rub cut sides of garlic over one side of each bread slice. Set aside.
Preheat oven to 350°.
Spoon ricotta onto several layers of heavy-duty paper towels; spread to 1/2-inch thickness. Cover with additional paper towels; let stand 15 minutes. Scrape into a bowl using a rubber spatula. Stir in Parmesan and next 4 ingredients (through pepper). Gently spoon about 1 tablespoon ricotta mixture into each blossom. Gently press edges of blossoms to seal in cheese.
Place stuffed blossoms in a 13 x 9-inch baking dish coated with cooking spray. Bake at 350° for 15 minutes or until thoroughly heated. Top each bread slice with 1 squash blossom; serve immediately.
---
2

Brochettes of Melon, Prosciutto, and Fresh Mozzarella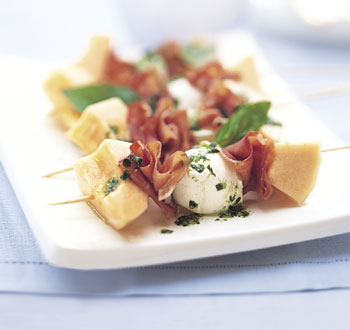 Here's another summer appetizer that makes my mouth water just from looking at it. Really, you can't get anything more refreshing than this, it's a perfect summer starter. The sweetness of the melon, the salt of the prosciutto, and the smoothness of the fresh mozzarella mix so divinely, you might be tempted to serve these as your main meal!
Directions:
1/2 cup olive oil
1/3 cup (packed) fresh basil leaves plus sprigs for garnish
1 medium shallot, quartered
1 small (about 2-pound) cantaloupe, halved crosswise, seeded, cut into 6 wedges, peeled
6 small fresh water-packed mozzarella balls or one 8-ounce ball,* drained
6 thin slices prosciutto, cut in half lengthwise, gathered into ruffle
6 8-inch wooden skewers
Preparation
Using on/off turns, puree olive oil, 1/3 cup basil, and shallot in processor until basil and shallot are finely chopped.
Cut each cantaloupe wedge crosswise in half. If using large mozzarella ball, trim and cut into 6 cubes.
Alternate 1 melon piece, 1 piece ruffled prosciutto, 1 mozzarella ball or cube, 1 more prosciutto piece, and 1 more melon piece on each skewer. DO AHEAD Can be prepared 2 hours ahead; cover and refrigerate. Bring to room temperature 15 minutes before serving.
Arrange skewers on platter. Drizzle with basil oil and sprinkle with cracked black pepper. Garnish with basil sprigs.
---
3

Fresh Corn Blinis with Smoked Salmon and Chive Cream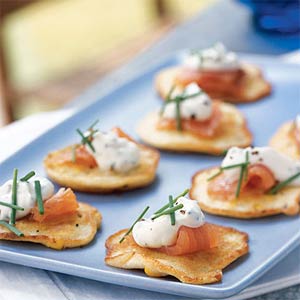 Blinis are totally trendy right now, but here's a really delicious alternative, particularly ideal for those of us who haven't yet gotten a taste for caviar. It includes not sour cream but chive cream you make yourself, topping slivers of chilled smoked salmon. It's just to die!
Directions:
1/2 cup reduced-fat sour cream $
1 tablespoon minced fresh chives
1 ear shucked corn $
1/3 cup all-purpose flour (about 1 1/2 ounces)
2 tablespoons fine-ground yellow cornmeal
1/2 cup 1% low-fat milk $
1 large egg yolk $
1/4 teaspoon salt $
1/4 teaspoon black pepper $
1 large egg white $
Cooking spray
4 ounces cold-smoked salmon, cut into 24 (2-inch) strips
Chopped fresh chives (optional)
Preparation
Combine sour cream and chives in a small bowl. Cover and refrigerate.
Cut kernels from ear of corn. Scrape remaining pulp from cob using the dull side of a knife blade. Discard cob. Set corn aside.
Lightly spoon flour into a dry measuring cup; level with a knife. Combine flour and cornmeal in a medium bowl; make a well in center of mixture. Combine milk and egg yolk in a small bowl; stir well with a whisk. Add milk mixture to flour mixture, and stir with a whisk just until moist. Stir in corn, salt, and pepper.
Place egg white in a bowl; beat with a mixer at high speed until foamy. Gently fold egg white mixture into corn mixture.
Heat a large nonstick skillet over medium heat. Coat pan with cooking spray. Spoon about 1 tablespoon batter per blini onto pan, spreading to about 2-inch diameter. Cook 2 minutes or until tops are covered with bubbles and edges begin to set. Carefully turn blinis over; cook for 1 minute longer. Transfer blinis to a serving platter, and arrange in a single layer; keep warm. Repeat process with the remaining batter. Top each blini with 1 piece salmon and 1 teaspoon sour cream mixture. Garnish with chopped chives, if desired.
Note: To prevent the blinis from becoming soggy, arrange in a single layer on a platter.
myrecipes.com
---
4

Shrimp Spring Rolls with Hoisin Dipping Sauce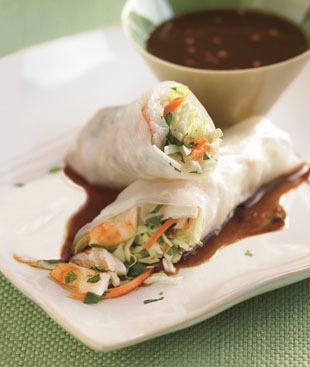 Spring rolls make fantastic summer appetizers, and these are just the tops, man. I love shrimp, and making your own spring rolls ensures they'll be ten times tastier. This recipe is ideal if you're looking for something spicy and a little exotic, especially if you love to experiment in the kitchen. It may take some practice, but it's definitely worth the effort!
Directions:
1/4 cup seasoned rice vinegar
4 teaspoons hoisin sauce
1 tablespoon minced peeled fresh ginger
2 teaspoons chili-garlic sauce
4 8-inch-diameter rice paper rounds
2 2/3 cups coleslaw mix (shredded cabbage and carrots)
4 tablespoons chopped fresh cilantro
8 teaspoons chopped fresh mint
8 cooked peeled deveined medium shrimp, halved horizontally
Preparation
Mix first 4 ingredients in small bowl. Pour sauce into ramekin.
Submerge 1 rice paper round in large bowl filled with room-temperature water. Let stand until soft and pliable but not limp, lifting occasionally to determine if soft, about 1 minute. Place softened round on work surface. Mound 2/3 cup coleslaw mix at end of round closest to you; sprinkle with 1 tablespoon cilantro and 2 teaspoons mint. Top with 4 shrimp halves, cut side down, in single layer. Fold in ends of round; roll up tightly into cylinder. Repeat with remaining ingredients to form 3 more rolls. Cut rolls diagonally in half; arrange on plate and serve with sauce.
---
5

Corn and Sun-Dried Tomato Quesadilla with Smoked Mozzarella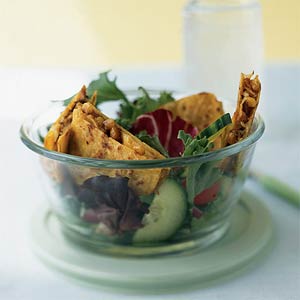 Here's another great option if you want an appetizer for summer that carries a little heat. You wouldn't expect the addition of mozzarella, but it really works. Corn is a great ingredient in the summer, and this really makes the most of it. This is a carry-around appetizer, though, so bear that in mind when you're planning the party and your menu.
Directions:
1/4 teaspoon olive oil $
2 (6-inch) corn tortillas
Cooking spray
1/3 cup fresh or frozen, thawed, corn kernels
1 tablespoon chopped red onion $
1 1/2 teaspoons sun-dried tomato sprinkles
1/8 teaspoon salt $
1/8 teaspoon freshly ground black pepper $
1/4 cup (1 ounce) shredded smoked mozzarella cheese
Preparation
Pour oil onto one side of a tortilla. Place second tortilla over oiled side of first tortilla, and rub tortillas together to spread oil evenly over both tortillas.
Heat a large nonstick skillet over medium-high heat. Coat pan with cooking spray. Add corn; cook 4 minutes or until lightly browned, stirring occasionally. Place corn in a bowl. Add onion, sun-dried tomato, salt, and pepper to pan; sauté 1 minute. Add to the corn mixture. Wipe pan with paper towels; recoat with cooking spray.
Heat pan over medium-high heat. Place one tortilla, oiled side down, in pan. Sprinkle 2 tablespoons cheese over tortilla; top with corn mixture. Sprinkle with remaining 2 tablespoons cheese; top with remaining tortilla, oiled side up. Cook 2 minutes on each side or until cheese melts and tortilla is crisp. Cut into 4 wedges.
---
6

Chipotle Deviled Eggs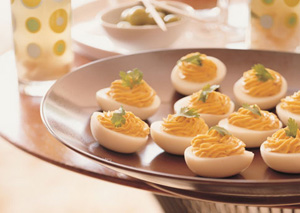 Deviled eggs are a sure summer favorite, but if you're tired of the same old recipe, try this one on for size! You still get all the creamy zing of the classic deviled egg but, again, you also get a little heat. That chipotle goes a long way, but it mixes surprisingly well with this classic recipe! Seriously, I can't wait to give these a try, and that's coming from a girl who could eat traditional deviled eggs for breakfast, lunch, and dinner.
Directions:
12 large eggs
1/3 cup plus 2 tablespoons mayonnaise
2 to 3 teaspoons finely chopped canned chipotle chiles
24 fresh cilantro leaves
Preparation
Place eggs in large saucepan. Add enough cold water to cover. Bring to simmer over high heat. Reduce heat to low; simmer gently 5 minutes. Remove from heat, cover, and let stand 10 minutes. Drain eggs; cover with ice and water and let stand until cold.
Peel eggs and cut in half lengthwise. Spoon yolks into small bowl; arrange whites on platter. Finely grate yolks on small holes of box grater into medium bowl. Mix in mayonnaise, then 2 teaspoons chopped chipotle chiles. Add more chopped chiles, if desired, for more heat. Season filling to taste with salt, if desired. Using pastry bag fitted with 1/2-inch-diameter star tip, pipe filling into egg whites. Cover and chill eggs at least 2 hours and up to 1 day. Press 1 cilantro leaf into filling in each egg and serve.
---
7

Chunky Tomato-Fruit Gazpacho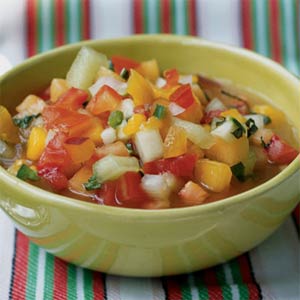 Gazpacho soups make fantastic appetizers for summer, but here you get a twist on the traditional recipe. You're not just getting fruit in this chilled dish of delish, oh no. You'll also enjoy the taste of melons, nectarines, and mangoes, for a truly exotic, sweet flavor. It's a wonderful summer soup, and since it's so light, it makes the perfume appetizer, too!
Directions:
2 cups finely chopped tomatoes (about 3/4 pound) $
2 cups finely diced honeydew melon (about 3/4 pound) $
2 cups finely diced cantaloupe (about 3/4 pound) $
1 cup finely diced mango (about 1 medium) $
1 cup finely diced seeded peeled cucumber (about 1 medium) $
1 cup finely diced nectarines (about 3 medium)
1 cup fresh orange juice (about 4 oranges) $
1/2 cup finely chopped Vidalia or other sweet onion $
1/4 cup chopped fresh basil
3 tablespoons chopped fresh mint
3 tablespoons fresh lemon juice $
1 teaspoon sugar $
1/2 teaspoon salt $
1 jalapeño pepper, seeded and finely chopped
Preparation
Combine all ingredients in a large bowl. Cover and chill at least 2 hours.
---
8

Grilled Artichokes with Olive Oil, Lemon, and Mint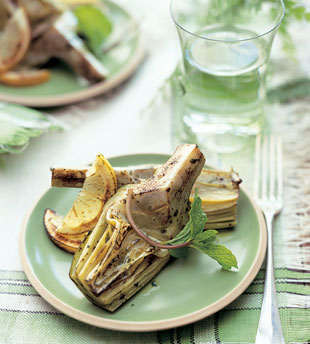 This is the end-all, be-all for light, refreshing summer appetizers, make no mistake. The artichokes are tangy and not what you'd expect. The lemon lends some additional tartness that takes amazing during warm weather. And the mint is cool, refreshing, and just delicious. Combined together, this dish will tickle your taste buds and leave your guests begging for more!
Directions:
2 lemons, halved
6 large artichokes
2/3 cup extra-virgin olive oil
1/3 cup fresh lemon juice
3 tablespoons chopped fresh mint
Preparation
Squeeze juice from halved lemons into large bowl filled with cold water. Cut stem off 1 artichoke, leaving about 1 inch. Snap off outer 2 rows of leaves. Cut off top 1/3 of artichoke. Quarter artichoke lengthwise. Using small knife, cut out choke and prickly small leaves. Place artichoke in lemon water. Repeat with remaining artichokes.
Bring large pot of salted water to boil. Drain artichokes, add to pot, and boil until crisp-tender, about 15 minutes. Drain. Transfer artichokes to rack and cool. DO AHEAD Can be prepared 1 day ahead. Cover and refrigerate.
Prepare barbecue (medium-high heat). Whisk oil, 1/3 cup lemon juice, and mint in small bowl. Season dressing to taste with salt and pepper. Brush artichokes with dressing. Grill until tender and lightly charred in spots, turning occasionally, about 8 minutes. Transfer artichokes to platter. Drizzle with some of remaining dressing. Serve warm or at room temperature.
Summer appetizers should be light, not too filling, and totally fresh. Whether they're hot or cold, you have to make sure that they mix well with the weather – you don't want a lot of heavy ingredients when the temperatures are cresting up toward triple dishes. Fortunately, there are plenty of delicious recipes that are totally summer friendly. What are some of your favorite appetizers for summer?
Top Image Source: weheartit.com
More