Share
Eating smart at Halloween isn't impossible, and I'm going to show you just how easy it is with some decadent healthy Halloween recipes that also happen to be vegan. No one said you had to nosh on celery and carrots the day of Halloween while your friends eat candy. Just make yourself something healthy, which they'll actually probably ask you if they can have too. Just be sure to have these healthy Halloween recipes handy, since you might get a few requests from your friends!
---
1

Peanut Butter Krispy Ghost Treats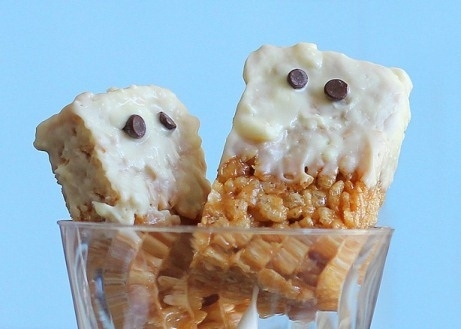 Almost everyone I know loves sweet rice krispie treats, and these peanut butter ghost rice krispies are one of my favorite healthy Halloween recipes because they're better than the original. They're rich, chewy, sweet and covered in a delicious, healthy frosting. Make these for a Halloween party, or for your kids to take to school. Or, if you can manage to make them last, keep them around at your home the week of Halloween for a festive, cute treat display.
Serves: 12-16 squares
Ingredients:
3 cups brown rice cereal krispies
2 tsp pure vanilla extract
1/2 tsp salt
1/2 cup plus 2 tbsp peanut butter (or another nut butter, or sunbutter)
1/2 cup sticky sweetener (agave, honey, coconut nectar, or brown rice syrup work well)
melted coconut butter
popsicle sticks or skewers (optional)
mini dairy-free chocolate chips for the eyes
Directions:
Mix your nut butter, sweetener, and salt. Melt (either in the microwave or stove) until it can be stirred into a lump-free paste, then add the vanilla extract and pour over the cereal. Stir very well, making sure to coat all the crispies. Line a pan (8×8) with wax paper and spread the mixture evenly into the pan. Place a sheet of wax paper on top of the mixture, then press down as firmly as you can. Really press it down, and use a can or book to press even more firmly! Freeze for at least 30 minutes before slicing, then insert popsicle sticks if desired. These treats can be stored in the freezer, in the fridge, or loosely covered in a cool, dry place.
Source: chocolatecoveredkatie.com
---
2

Three Ingredient Apple Halloween Bites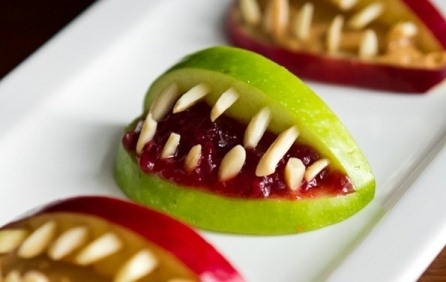 These are cute and healthy Halloween treats that are fun to serve at parties. They're appealing to the eye, super festive and they actually taste great too. Plus, they're not so gory that you wouldn't want to eat one!
Serves: 4
Ingredients:
1 red or green apple
½ cup nut butter of choice
¼ cup slivered almond pieces
Directions:
First you slice up the apple to create long slices vertically, so starting in the middle cut one slice down on one side of the core to chop one half off. Then, repeat on the opposite side of the core. You'll now have two apple halves. Discard the piece with the core or eat what you can of it. Cut each wedged half in half. This gives you four quarters. Now, cut your quarters into 2 slices. This should give you 8 apple slices total, serving 2 piece servings per person. Feel free to rub a bit of lemon juice on the slices if they will be sitting out. This is why I like spreading nut butter on the middle to cover up the apple flesh – it hides a bit of browning. Now, spread on some jam or nut butter for the tongue and then push some slivered almonds in for the teeth. For a nut-free option, sunflower or pumpkin seeds can work in a pinch. Likewise, you could also use sunflower seed butter instead of peanut butter.
Source: ohsheglows.com
---
3

Halloween Gingerbread Cut-out Cookies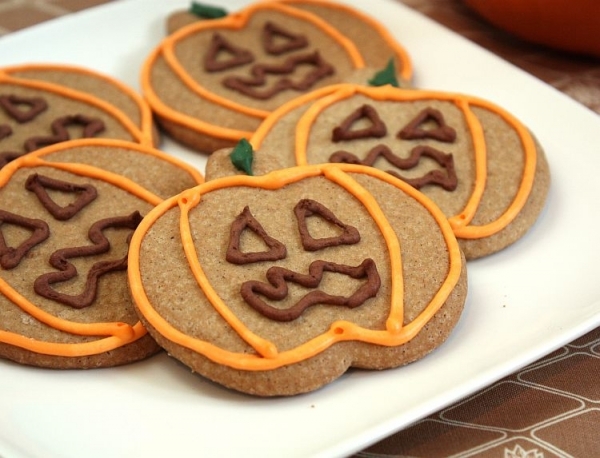 Everyone loves cookies, right? Bake a batch of these tasty gingerbread cookies. They're incredibly sweet, rich and satisfying. They have such a nice crisp to them too. These are also healthy for you since they are cane sugar-free, meaning they're great for your blood sugar and your waistline. They're also grain-free, which is great if you have digestion issues, or are on a Paleo or grain-free diet. Best of all though, they're really good and they won't last long at all, I can promise you that.
Serves: 24 cookies
Ingredients:
1/2 cup black sesame seeds
1 T. chia seeds
2 T. hot water
1/4 cup (56 g) coconut oil
1/2 cup agave syrup or coconut nectar
1/4 cup maple syrup
1 t. cinnamon
1/2 t. ground, dried ginger
1/8 t. ground cloves
1/8 t. allspice
1 t. vanilla extract
1 1/2 cups almond flour
1/2 cup sifted coconut flour
1/4 cup potato starch
1/2 t. sea salt
1 t. baking soda
1/2 t. guar gum (or xanthan gum would probably work, too)
Directions:
In a coffee grinder or high-speed blender, blend the sesame seeds until you almost have a paste. (You're not going for creamy tahini here – just all ground up.) Set aside.Grind the chia seeds. Mix with hot water until a gel forms.In a large bowl, beat the coconut oil until smooth and fluffy. Add the sesame paste and chia gel and beat well. Add the syrups and spices & vanilla and blend well. Add the rest of the ingredients and mix until well-incorporated. The dough will be very sticky. Put it in the fridge and chill it – the longer the better. When the dough is well-chilled, heat the oven to 350°. Remove a small ball of dough and place between 2 sheets of parchment paper. Roll out to 1/4 inch thick. Remove top sheet of parchment paper. Cut with cookie cutters, dipped in potato starch or coconut flour. This dough is NOT easy to work with, and it gets worse when warm. So, work quickly and carefully. Place cut cookies on a parchment-lined cookie sheet. When you get sick of fighting the dough, you can roll it in small balls and flatten it with the palm of your hand for a more traditional molasses cookie shape. Bake for 12-15 minutes. Do not underbake – they will not hold together. Like most gingerbread, these taste better after a day or two. They'll soften slightly and the flavors will meld and they somehow taste sweeter.
Source: themommybowl.com
---
4

Hot Apple Crumble Bars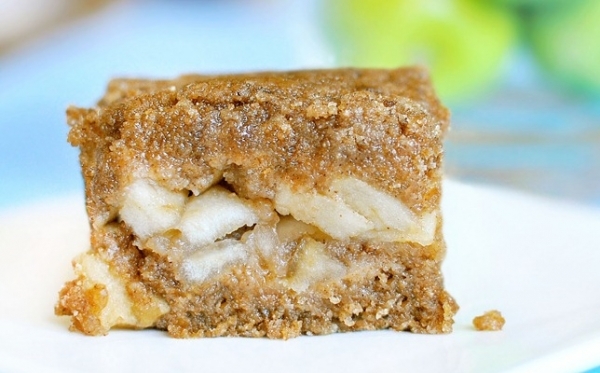 Apple cake and apple bars are a classic Halloween treat. Instead of the unhealthy versions, just make these, which are rich, decadent and leave nothing to be desired. Oh, and serve them up with some vegan ice cream if you like, which is my favorite. I suggest Coconut Bliss brand! Either way, ice cream or not, these apple crumble bars are hot, gooey and incredibly sweet.
Serves: Varies
Ingredients:
1 1/2 cup whole-wheat pastry flour (or spelt, or oat flour)
1/2 tsp baking powder
1/4 tsp salt
1/2 cup coconut sugar
1 NuNaturals stevia packet
1 1/4 tsp cinnamon
1/4 cup plus 3 tbsp cold buttery spread, such as Earth Balance or you can use coconut butter
2 tbsp milk of choice
2 cups peeled, chopped apple (8oz)
2 tsp cornstarch
3 tbsp pure maple syrup (or agave)
1 tsp pure vanilla extract
Directions:
Stir together the first eight ingredients, making sure to break the butter up really well so that little crumbs form. Scoop 2/3 of the dough into a 4×7, oiled glass dish (or any small pan), and press down firmly. In a separate bowl, stir together the other ingredients. Layer them into the pan, then top with the rest of the dough from the first pan and press down a bit. Bake for 45 minutes at 350 F, then cool at least 30 minutes before cutting into bars. Store uncovered, unless you want a soft crust (in which case, you should cover completely with saran wrap).
Source: chocolatecoveredkatie.com
---
5

Pumpkin Peanut Butter Cups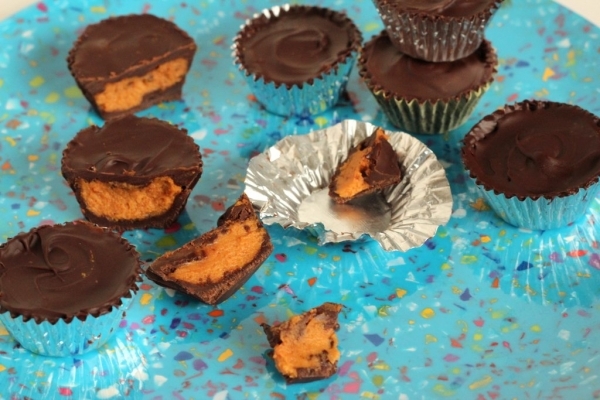 Oh wow, don't these look great? I just adore Chocolate Covered Katie for bringing us this recipe. She's a recipe whiz at healthy food that even happens to be vegan. Make a batch of these healthy peanut butter cups. They're so much like the originals, yet with a sweet pumpkin surprise filling inside for a treat!
Serves: Unknown
Ingredients:
1/4 cup plus 1 tbsp cocoa powder (25g)
nunaturals vanilla drops to taste, or 2 tbsp liquid sweetener (such as pure maple syrup or agave)
1/4 cup liquid virgin coconut oil
2 tbsp pumpkin puree (not pumpkin pie mix)
2 tbsp peanut butter (or use sunbutter if you're allergic, as it is very similar)
1/8 tsp cinnamon (and optional pinch pumpkin pie spice)
Directions:
Stir first three ingredients together until it makes a sauce (if using the stevia version, you might want to add a little extra oil for a thinner consistency). Fill just the very bottoms of cupcake liners, mini cupcake liners, or candy molds with chocolate, reserving the rest. Then freeze 8-10 minutes. Meanwhile, combine all other ingredients and stir to form a paste. (If you use refrigerated peanut butter, it's best to heat the nut butter a bit first, so it'll mix more easily.) Take liners from freezer and top each with filling (1 teaspoon in each of ten, if using mini cupcake liners). Cover with more chocolate, and freeze until solid. (You won't use all the chocolate, but I'm sure you can find yummy ways to use the extra…) Unless you've used the non-coconut version, it's best to keep these in the freezer.
Source: chocolatecoveredkatie.com
---
6

German Chocolate Fudge Bites
Can we talk about chocolate for a moment? There's no occasion where it isn't the perfect answer to a craving, if you ask me. I mean, it's rich, slightly sweet and it just hits the taste buds in a way nothing else does. These German chocolate flavored fudge bites are raw, energizing and 100% healthy. Did I mention they really taste like German chocolate cake? You can even shape them into squares and serve them like brownies too. Try them for yourself and see!
Serves: 10-14 balls
Ingredients:
3/4 cup pitted dates
1/2 tsp pure vanilla extract
1/16 tsp salt
2 tbsp cocoa powder (or raw cacao powder)
2 tbsp shredded unsweetened coconut
1/3 to 1/2 cup raw pecans
optional: feel free to add some dairy-free chocolate chips or cacao nibs
Directions:
Blend all ingredients together very well. (I recommend using a food processor.) Squish the dough together. (I transferred the dough to a plastic bag then smushed it together in the bag. It's much less messy this way!) Roll into balls, cookie-cuttered shapes, or bars… or you can even use it for a pie crust!
Source: chocolatecoveredkatie.com
---
7

Five Minute Dark Chocolate Crunch Bars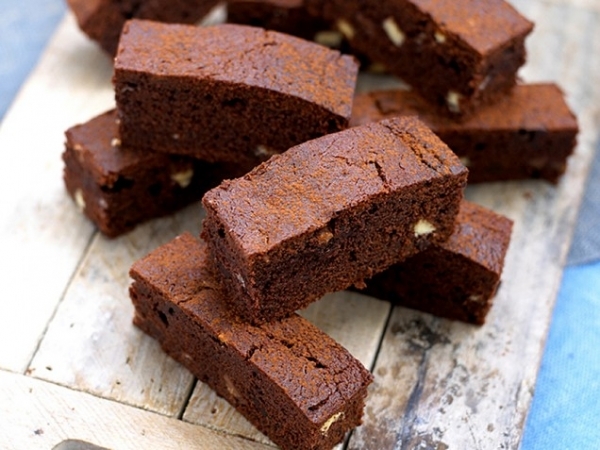 Crunch bars were always my brother's favorite candy, or one of them at least. These dark chocolate crunch bars are much healthier than the originals, but almost identical in flavor and texture. Plus, they're pretty easy and quick to make, as you can see in the title of the recipe. Five minutes to chocolate? Count me in!
Serves: Unknown
Ingredients:
1/4 cup brown rice krispy cereal
1/2 cup Hershey's dark cocoa powder
1/4 cup virgin coconut oil
Sweetener to taste (options include pure maple syrup, NuNaturals alcohol-free vanilla stevia drops, coconut nectar, or agave)
tiny dash salt (makes the flavor pop)
Directions:
Combine coconut oil and sweetener. Stir, then add cocoa powder and rice crispies (If needed, add 3 tbsp water or milk of choice, only if using stevia.). Stir until it gets thick. Pour into any flat container (or candy molds, or smush between layers of wax paper or in ziploc bags). Freeze until solid, and store in the freezer.
Source: chocolatecoveredkatie.com
This Halloween, there's no need to sacrifice your taste buds or cravings. Just make a healthy version of your old favorites! Do you have a favorite healthy Halloween treat you make?
More