Share
Quinoa is all the rage at the moment, and there are multiple ways to eat quinoa, some of which you may not have thought of yet. For those of you new to this pseudo-grain, or "mock grain" as I call it, quinoa is actually not a grain at all, but a seed, yet it cooks up nicely exactly like grains do, and is higher in carbohydrates than most seeds like flax or chia. Quinoa is overall richer in nutrients than all other grains, containing more protein, magnesium, phosphorus and B vitamins than most other grains. It is also deliciously nutty and gluten-free. Quinoa is a wonderfully versatile food as well, and you can learn of all the many ways to enjoy it here, or better yet, share some of your own with me!
---
1

Hot Cereal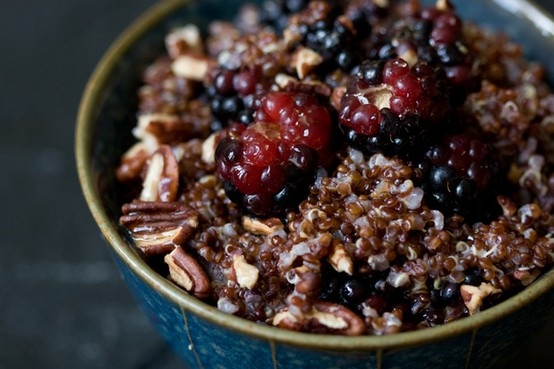 If you love oatmeal, then you'll love one of the most popular ways to eat quinoa, which is as a hot cereal in place of oatmeal. The great thing about quinoa is that it cooks up fast, in about 15 minutes, versus steel cut oats in their whole form, which take about 45 minutes. Sure, you can buy quick cooking oats, but instead, try quinoa every now and then. I love this recipe below, which is quite addicting! You can even buy quinoa flakes which cook up exactly like instant oatmeal if you want a quicker option. Another option is letting this cook in a slow cooker overnight.
****
Ingredients:
1 1/2 cups milk
1/2 cup rinsed quinoa
2 teaspoons pure maple syrup
Pinch of ground cinnamon
1/2 cup fresh raspberries
Sliced banana
Directions:
Bring milk and quinoa to a boil in a small saucepan. Simmer, covered, until most of milk is absorbed, about 14 minutes. Remove from heat and stir in maple syrup, cinnamon, and raspberries. Top with banana.
**Source: **marthastewart.com
---
2

Quinoa Cakes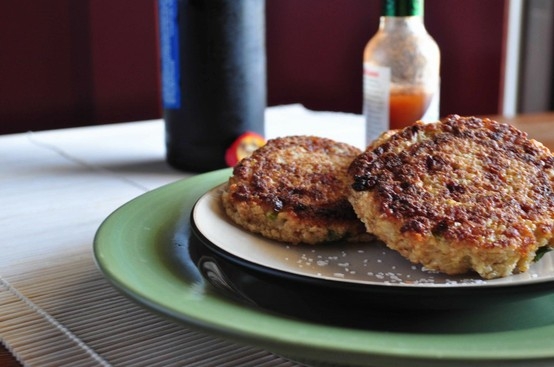 If you like pancakes, or want a savory little cake to go with dinner, try these quinoa cakes, which I think are incredibly easy. You can also use quinoa flour in place of the regular flour in this recipe, which is available with the gluten-free flours. Quinoa flakes could also be used in place of the flour in this recipe. To make this savory, swap out the sweet ingredients like maple syrup and fruit for ingredients like black pepper, turmeric, parsley, oregano, onion powder, garlic powder or chives.
****
Ingredients:
1 cup cooked quinoa or brown rice
3/4 cup all-purpose flour
2 teaspoons baking powder
1/2 teaspoon coarse salt
1 large egg, plus 1 large egg white
1 tablespoon unsalted butter, melted, plus more for skillet
1/4 cup low-fat milk
2 tablespoons pure maple syrup, plus more for serving
Fresh fruit or fruit preserves (optional), for serving
Directions:
In a medium bowl, whisk together quinoa, flour, baking powder, and salt. In another medium bowl, whisk together egg, egg white, butter, milk, and syrup until smooth. Add egg mixture to flour mixture and whisk to combine.
Lightly coat a large nonstick skillet or griddle with butter and heat over medium-high. Drop batter by heaping tablespoonfuls into skillet. Cook until bubbles appear on top, 2 minutes. Flip cakes and cook until golden brown on underside, 2 minutes. Wipe skillet clean and repeat with more melted butter and remaining batter (reduce heat to medium if overbrowning). Serve with maple syrup and fresh fruit or preserves if desired.
Source: marthastewart.com
---
3

Quinoa and Ginger Lime Shrimp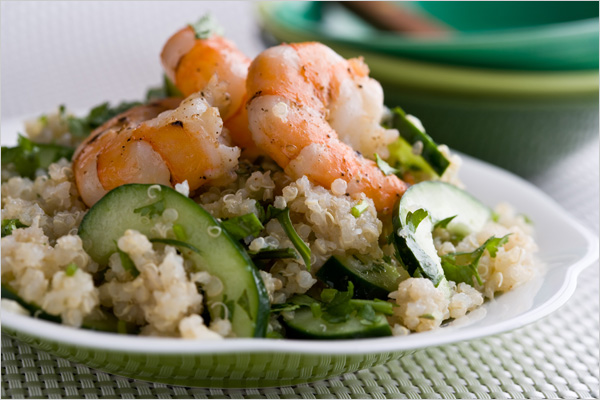 Quinoa is a great ingredient to use in stir-fry dishes. It offers a nice fluffy, yet savory taste like rice does, but is much more nutritious. You could use red quinoa or brown quinoa to give this dish a touch of color if you want as well. Feel free to swap out the veggies for your favorites in this recipe.
****
Ingredients:
1 cup quinoa
1 tbsp lime zest
1/4 cup lime juice
1 tsp minced ginger
1 tsp lemon juice
1/4 cup freshly chopped cilantro
Red bell pepper chopped
Carrots chopped
1/2 cup yellow corn
1/4 lb shrimp
1 tbsp extra virgin olive oil
peanut oil
1 tsp minced garlic
1 tsp cumin
pinch of cayenne pepper
Sea Salt to taste
Directions:
Prepare quinoa as directed to on box and set aside. In a medium skillet heat oil and add garlic and ginger. Saute for 2 minutes. Add shrimp and cook for 3 minutes on each side until they are no longer opaque. Add lemon juice, corn, carrots and red pepper and saute until soft.
To make the dressing, whisk together lime juice, lime zest, peanut oil, cumin, salt and cayenne pepper. Combine dressing with shrimp and quinoa. Serve either warm or cold!
**Source: **cheesepleasebyjess.blogspot.com
---
4

Greek Style Quinoa Burgers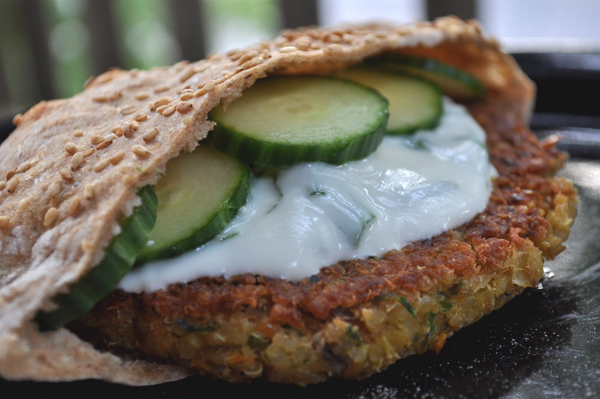 If you're a fan of veggie burgers, you'll love this healthy recipe. This burger sounds so filling and tasty! Try it over a salad or with some veggies for another healthy option. Feel free to sub out the breadcrumbs for ground flax meal, which will work the same. This would make a great make-ahead lunch recipe !
Ingredients:
1/2 cup rinsed quinoa
1 medium carrot, cut in large chunks
6 scallions, thinly sliced
15 ounces great northern beans, drained and rinsed
1/4 cup plain dried breadcrumbs
1 large egg, lightly beaten
1 tablespoon ground cumin
Coarse salt
Ground pepper
2 tablespoons olive oil
1/2 cup plain nonfat Greek yogurt
1 tablespoon fresh lemon juice
4 pitas (each 6 inches)
1/2 English cucumber, thinly sliced diagonally
Directions:
In a small saucepan, bring 3/4 cup water to a boil; add quiona, cover, and reduce heat to low. Cook until liquid is absorbed, 12 to 14 minutes; set aside.
In a food processor, pulse carrot until finely chopped. Add cooked quinoa, half the scallions, beans, breadcrumbs, egg, cumin, 1 teaspoon salt, and 1/4 teaspoon pepper; pulse until combined but still slightly chunky.
Form mixture into four 3/4-inch-thick paties (dip hands in water to prevent sticking). If too soft, refrigerate 10 minutes to firm. In a large nonstick skillet, heat oil over medium; cook burgers until browned and cooked through, 8 to 10 minutes per side.
Meanwhile, in a small bowl, combine yogurt, lemon juice, and the remaining scallions; season with salt and pepper. Serve burgers in pita topped with cucumber and yogurt sauce.
**Source: **marthastewart.com
---
5

Quinoa and Apple Salad with Curry Dressing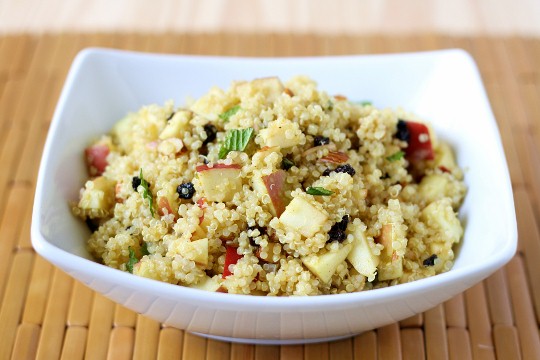 This recipe combines sweet and savory with delectable apples, savory curry and nutty quinoa. It is incredibly satisfying and would make an excellent side dish for 2 people, or as a meal for one person.
Ingredients:
1/4 cup raw whole almonds
1 cup white quinoa
1 teaspoon honey
1 tablespoon finely chopped shallot
1 teaspoon curry powder
1/4 teaspoon coarse salt
2 tablespoons fresh lemon juice
Freshly ground pepper
2 tablespoons extra-virgin olive oil
2 tablespoons dried currants
1 small McIntosh apple, cut into 1/8-inch-thick wedges
1/4 cup loosely packed fresh mint leaves, coarsely chopped, plus more for garnish
Directions:
Preheat oven to 375 degrees. Spread almonds on a rimmed baking sheet; toast in oven until lightly toasted and fragrant, about 7 minutes. Let cool; coarsely chop nuts.
Rinse quinoa thoroughly in a fine sieve; drain. Bring 2 cups water to a boil in a medium saucepan. Add quinoa; return to a boil. Stir quinoa; cover, and reduce heat. Simmer until quinoa is tender but still chewy, about 15 minutes. Fluff quinoa with a fork; let cool.
Whisk together honey, shallot, curry powder, salt, and lemon juice in a large bowl. Season with pepper. Whisking constantly, pour in oil in a slow, steady stream; whisk until dressing is emulsified. Add quinoa, currants, apple, mint, and nuts; toss well. Garnish with mint.
**Source: **marthastewart.com
---
6

Quinoa Apricot and Nut Clusters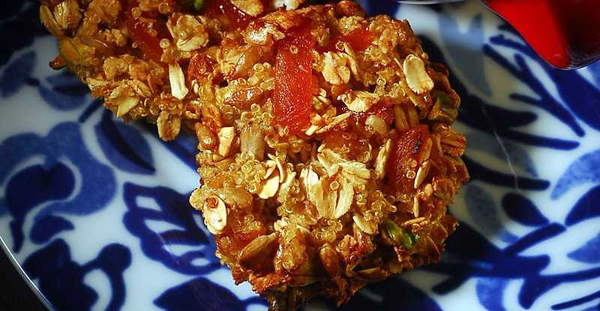 If you want a great grab-and-go breakfast cookie, or a fantastic snack, make these now! These are incredibly rich in nutritious foods like whole grains, heart-healthy nuts and seeds, and low sugar dried fruit. I would sub out the sugar the recipe calls for and use baking stevia instead, and use coconut oil in place of vegetable oil. You could also double the honey if you're not concerned with sugar and omit the white sugar called for. You could even crumble these over some yogurt as a nice granola. I bet these would pair well with a glass of milk for the kiddies too!
Ingredients:
3/4 cup white quinoa
1 1/2 cups old-fashioned rolled oats
1/2 cup shelled raw sunflower seeds
1/2 cup shelled raw pistachios, chopped
1 cup dried apricots, thinly sliced
1/4 cup sugar
1/2 teaspoon coarse salt
1/4 cup honey
2 tablespoons vegetable oil
1 1/2 teaspoons pure vanilla extract
2 large eggs plus 1 large egg white, lightly beaten
Vegetable-oil cooking spray
Directions:
Preheat oven to 350 degrees. Rinse quinoa thoroughly in a fine sieve; drain. Bring 1 1/2 cups water to a boil in a small saucepan. Add quinoa; return to a boil. Stir quinoa; cover, and reduce heat. Simmer until most liquid is absorbed and quinoa is slightly undercooked, about 12 minutes; transfer to a rimmed baking sheet. Bake, fluffing with a fork occasionally, until pale golden, 30 to 35 minutes. Let cool in a large bowl.
Spread oats on baking sheet; bake until lightly browned, about 15 minutes. Add oats to quinoa. Spread seeds on baking sheet; bake until lightly toasted, about 7 minutes. Add to quinoa mixture; let cool. Reduce oven temperature to 300 degrees.
Toss nuts, apricots, sugar, and salt with quinoa mixture. Beat honey, oil, and vanilla into eggs; stir into quinoa mixture.
Line a 12-by-17-inch baking sheet with parchment; lightly coat with cooking spray. Spoon 1/4 cup batter onto sheet for each cluster; space 3 inches apart. Flatten to 1/4 inch thick. Bake, rotating sheet halfway through, until crisp, about 25 minutes. Let cool on a wire rack. Store, loosely covered with foil, up to 2 days.
**Source: **marthastewart.com
---
7

Cinnamon Quinoa Bake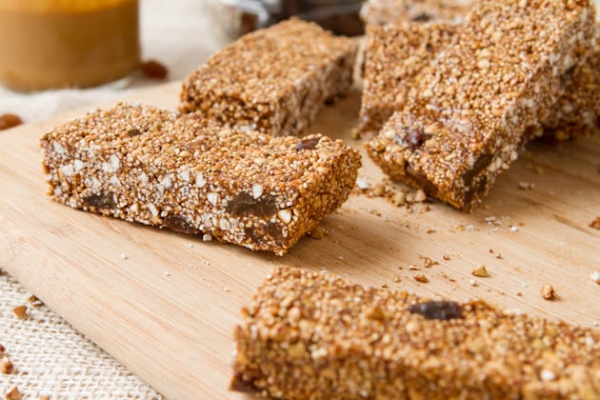 This recipe takes the place of traditional baked oatmeal dishes. It would make a great make-ahead breakfast for a family, or for yourself for the week. You could also serve this at holidays, or make the night before a big holiday breakfast or special brunch. You could even serve it as dessert with ice cream as well! This tastes like cinnamon coffee cake, yet is much healthier than the traditional dish.
Ingredients:
2 1/2 cups quinoa, cooked and cooled
4 eggs, beaten
1/3 cup vanilla soy milk
1/3 cup maple syrup (optional)
1 teaspoon vanilla extract
1 tablespoon cinnamon
Directions:
Preheat the oven to 375ºF and place the quinoa in a large mixing bowl. Line an 8-by-8-inch baking pan with lightly greased parchment.
In a small bowl, whisk together eggs, soy milk, vanilla extract, and cinnamon until thoroughly combined. Add maple syrup (if using) and whisk.
Add egg mixture to cooked and cooled quinoa. Stir with a large spoon to combine. Pour into the parchment-lined baking dish and spread it around to ensure that it's even.
Bake for 20 to 25 minutes until set and golden.
Using parchment, remove bake from pan as soon as possible so that it doesn't steam.
Cool completely and cut into squares. Serve with a dollop of nut butter.
**Source: **fitsugar.com
If you haven't given quinoa a chance, let these recipes introduce you to this amazing food. Quinoa is wonderful for women since it helps stabilize hormones, and its fiber content helps promote regularity. The protein will spike your metabolism and steady your insulin levels more than other grains, so be sure to swap out quinoa in place of your next grain dish! Do you eat quinoa, and if so, how do you like to serve it?
More