Share
If you need some gifts for liquor lovers in your life, this is the list for you! I'm not too big of a drinker but I'd welcome any of these gifts myself! I've made several of these for friends and family members for occasions ranging from 21st birthdays to Christmas presents and hostess gifts. You can do so much more with liquor than just handing over a bottle; make your lucky recipient one of these gifts for liquor lovers.
---
1

Liquor Lollipops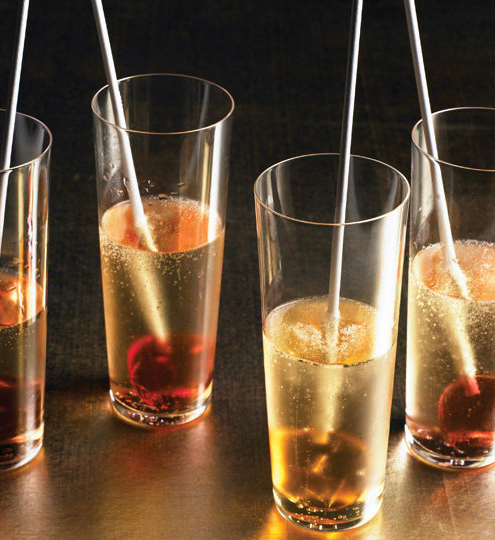 This is one of the gifts for liquor lovers that also benefit the candy lover in all of us! Liquor Lollipops are incredibly easy to make and you can use any kind of hard liquor, so they are fully customizable for the recipient's tastes!
Ingredients:
1/4 cup plus 1 teaspoon hard liquor, such as bourbon, tequila, or rum
2 tablespoons cold water
3/4 cup sugar
3 tablespoons Karo® Corn Syrup
1/8 teaspoon kosher salt
1/4 teaspoon food coloring (optional)
Directions:
Mix together 1/4 cup of the liquor, and the water, sugar, corn syrup, and salt in a 2-quart saucepan until all of the sugar is wet.
Bring the mixture to a boil over medium heat, stirring occasionally until all of the sugar is dissolved.
Once it is all dissolved, boil to 300°F without stirring.
Remove from the heat and quickly mix in the remaining liquor as well as the food coloring (optional).
Quickly use a spoon to drop the syrup into either lollipop molds or onto a silicone mat.
Place a lollipop stick in the center and twist it 180 degrees so that it's fully covered in syrup.
Let cool completely.
Peel the lollipops from the molds or silicone and store in an airtight container, preferably at least overnight to allow the flavors to develop, until ready to indulge.
Source: blog.hwtm.com
---
2

Liquor Bouquet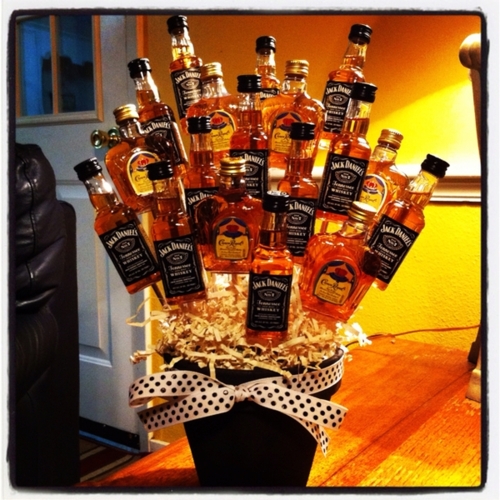 If you are running out of time and can't think of a good enough gift, this one is remarkably easy and cheap to make, but it looks wonderful. Nearly all liquor stores have a pretty good selection of trial sized bottles of assorted liquors near the register. They are usually about 99¢ each and you can get a package of wooden skewers at Dollar Tree. All you need after that is some adhesive and a flower pot, or vase as well as some foam!
Ingredients:
Assorted Liquor Samples
Wooden Skewers
Adhesive (Glue dots or tape)
Flower Pot or Vase
Foam (Pool noodles (Dollar Tree) or floral foam work best)
Easter Grass or Paper Shred
Directions:
Break skewers to suitable sizes.
Use your choice of adhesive to attach the bottles of booze to the skewers.
Cut your foam to fit inside your pot or vase.
Stick them in your pot or vase so that the shorter skewers are in the front and the taller ones are in the back.
Cover the foam base with the grass or shred.
---
3

Candy Infused Vodka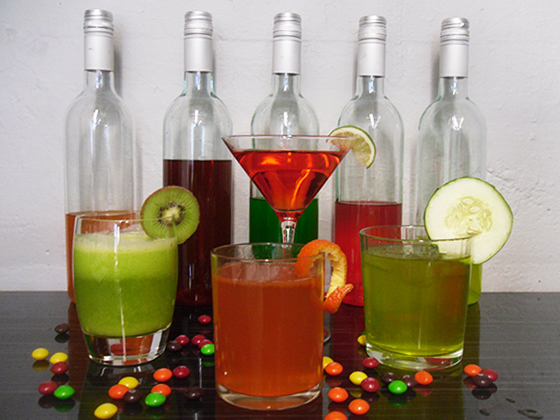 Instead of infusing candy with alcohol, try flavoring alcohol with candy! You can use all sorts of candies to alter your vodka. Any flavor of Jelly Belly's will work, which is my suggestion, because that way you can honestly make it taste like anything! Skittles are great as well, heck, even Sour Patch Kids or any other assortment of chewy candy.
Ingredients:
Vodka
Candy
Directions:
Use a jar or some other container that you can put a lid on.
Pour ¼ Cup or more of candy into each jar.
For each ¼ Cup of candy, pour in ½ Cup of Vodka.
Cap your jars and shake them for about two minutes.
Store them in a cool place for 48 hours (for lightly flavored) to 2 weeks (stronger, sweeter flavor).
---
4

Spike Your Juice Kit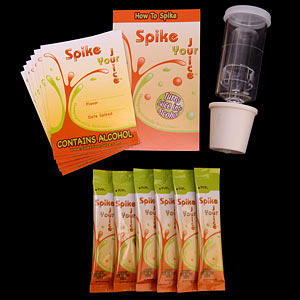 For $9.99 you can turn juice into an alcoholic beverage. Spikeyourjuice.com allows you to purchase everything you need all in one kit! Each kit allows you to make 6 different bottles. You can either give the whole thing as a present or you can actually use it and make the fruity alcohol yourself, create some nice elegant labels and make a nice gift basket!
---
5

Delicious Delicacies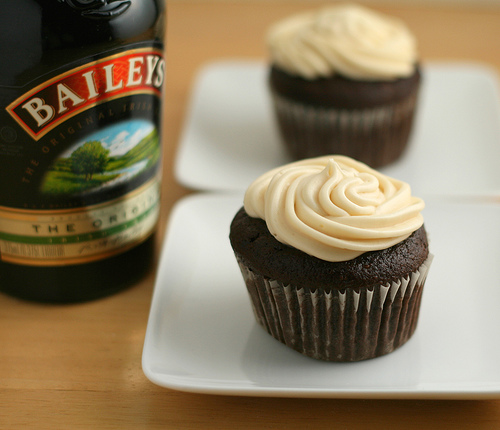 My friends Jaimie and Alexis make the most decadent, delicious cupcakes I have ever eaten! They are extremely inventive when it comes to frosting as well. The most recent concoction was Salted Caramel Filled Chocolate Cupcakes with Bailey's Frosting. The flavor was so intense it was hard not to devour the entire batch! They need to open their own shop, but in the meantime I'll be happy being the occasional taste tester!
Bailey's Irish Cream Frosting:
Ingredients:
1 cup shortening
1 tsp vanilla extract
8 cups Powdered Sugar
1/3-1/2 cup Bailey's Irish Cream
1/4-1/3 cup Heavy Whipping Cream
Directions:
In large mixing bowl, cream shortening and vanilla for 2-4 minutes.
Add in powdered sugar, one cup at a time
Combine Bailey's with cream in measuring cup and slowly add to sugar mixture, use more cream for a creamy consistency, or use less for a stiffer consistency.
---
6

Guinness Brownies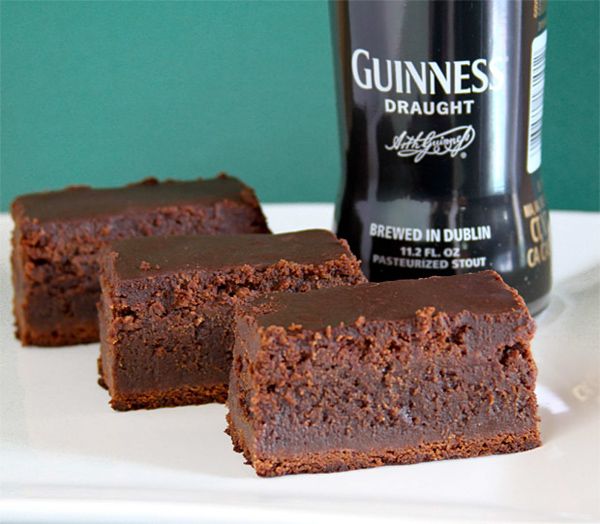 I figured I would throw a beer recipe in here for all of you beer drinkers out there. My husband comes from a very Irish family and they all drink Guinness, so what better edible gift could there be than Guinness Brownies?
Ingredients:
1 box Betty Crocker fudge brownie mix
1 Cup Guinness
3/4 of a cup vegetable oil
2 medium eggs
1 cup dark chocolate chips
1 tsp vanilla extract
Directions:
Grease and line a rectangular 8"x12" baking pan.
In a large mixing bowl, combine brownie mix, Guinness, oil, eggs and vanilla. Stir thoroughly. Fold in chocolate chips.
Scrape batter into pan and bake for 35 minutes.
These brownies will be a bit more moist than traditional brownies.
Source: grouprecipes.com
---
7

Grand Marnier Truffles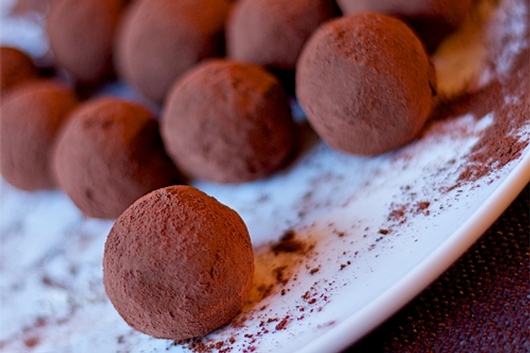 I used to work in a candy store that sold various types of truffles. I WISH we had had Grand Marnier Truffles, but we didn't, so I've had to make my own. Don't be fooled by the fancy name, this is a really simple recipe. Trust me, you can do it!
Ingredients:
2/3 cup heavy cream
1 teaspoon fresh orange zest
12 ounces semisweet chocolate, chopped into very small pieces
1 tablespoon plus 1 1/2 teaspoons Grand Marnier
1/3 cup premium cocoa
Directions:
In a small saucepan over medium heat, bring the heavy cream and orange zest just to a boil.
Remove from heat immediately.
Add the chopped chocolate and Grand Marnier and stir until the mixture is completely smooth.
Chill the mixture until it is hard enough to roll into balls.
Measuring out a heaping teaspoon, quickly roll into a ball.
Roll the ball in the cocoa powder and chill.
You should get 15-16 truffles.
**Source: **frenchfood.about.com
Give a few of these creative gifts for liquor lovers a shot! You can package them up nice and neatly and wrap them with a bow. Better yet, make a few of them for yourself! Everyone can use a spirited pick me up every once in a while! What are your favorite liquor-based gifts?
More