Share
Conventional wheat can sometimes be a little heavy and hard to digest, which is why I try to avoid too much bread and pasta, and there are some great wheat alternatives for scrumptious wheat-free meals. Don't tell my mother though, as being Italian, she'll probably disown me! Some people are intolerant to wheat and I'm thankful that I am not one of those people, but I do like to mix up my diet with a range of the other amazing foods out there, so that I can benefit from a whole host of vitamins and minerals. For example, there are a variety of alternatives that can be used instead of durum wheat pasta in salads and different types of flours that can be used for baking. Here are some of my favorite wheat alternatives.
---
1

Quinoa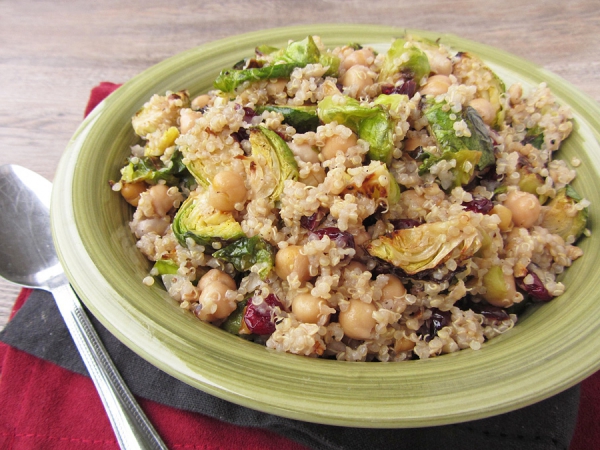 Quinoa is one of my favorite wheat alternatives and is great in salads. It's easily digestible and is a fantastic source of protein and omega 3 fatty acids. It's also a wonderful grain for reducing cholesterol and preventing hardened arteries. Quinoa is cooked in the same way as rice, around fifteen minutes, and can be used to stuff vegetables such as peppers and Portobello mushrooms. They can also be sprouted and used in salads and sandwiches. Here is a wonderful recipe for a warm quinoa salad with edamame and tarragon.
Ingredients:
1 cup quinoa
2 cups vegetable broth
2 cups frozen shelled edamame, thawed (10 ounces)
1 tablespoon freshly grated lemon zest
2 tablespoons lemon juice
2 tablespoons extra-virgin olive oil
2 tablespoons chopped fresh tarragon or 2 teaspoons dried
1/2 teaspoon salt
1/2 cup drained and diced jarred roasted red peppers, (3 ounces)
1/4 cup chopped walnuts, preferably toasted (see Cooking Tip)
Directions:
Toast quinoa in a dry skillet over medium heat, stirring often, until it becomes aromatic and begins to crackle, about 5 minutes. Transfer to a fine sieve and rinse thoroughly.
Meanwhile, bring broth to a boil in a medium saucepan over high heat. Add the quinoa and return to a boil. Cover, reduce heat to a simmer and cook gently for 8 minutes.
Remove the lid and, without disturbing the quinoa, add edamame.
Cover and continue to cook until the edamame and quinoa are tender, 7 to 8 minutes longer.
Drain any remaining water, if necessary.
Whisk lemon zest and juice, oil, tarragon and salt in a large bowl.
Add peppers and the quinoa mixture. Toss to combine. Divide among plates and top with walnuts.
Cooking Tip: To toast walnuts: Cook in a small dry skillet over medium-low heat, stirring constantly, until fragrant, 2 to 4 minutes.
**Source: **eatingwell.com
---
2

Spelt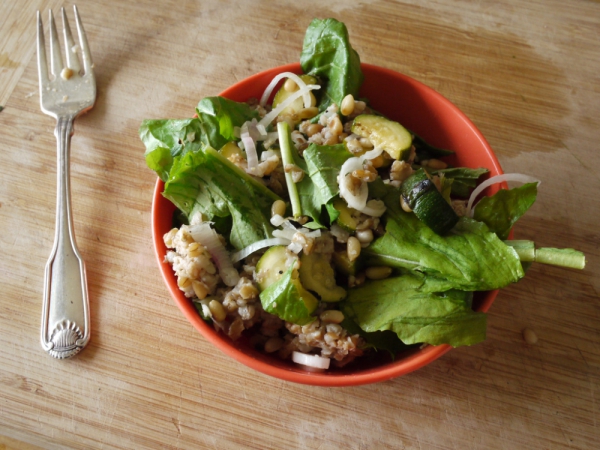 Spelt is great for helping balance blood sugar levels and like quinoa, it is easy to digest. It's also great for strengthening the immune system. You can buy spelt pasta, which is easier to digest than the conventional durum wheat pasta and leaves me feeling a lot less bloated. I love using my vegetable peeler to make zucchini ribbons and accompanying it with spelt pasta. You can also cook the whole grains on their own and make a delicious spelt risotto by combining with vegetables and Parmesan cheese. Here is my favourite recipe for a scrumptious spelt salad.
Ingredients:
7 tablespoons/100 ml extra-virgin olive oil, plus extra for drizzling
2 cloves garlic, crushed
14 ounces/400 g spelt
6 cups/1.4 liters vegetable broth, plus extra for sautéing vegetables
1 red onion, coarsely chopped
2 zucchini, sliced
1 red pepper, seeded and chopped
1 eggplant, chopped
10 cherry tomatoes, halved
Salt
Bunch fresh parsley, leaves picked and finely chopped
Small bunch fresh mint leaves, finely chopped
Walnuts, toasted, for sprinkling
Directions:
In a saucepan, heat up 3 tablespoons olive oil; then add the garlic and spelt. Cook the garlic until golden, allowing the spelt to get toasted as well. Stir to prevent sticking.
Add vegetable broth, a few ladles at a time as you would preparing risotto.
Continue stirring and add more broth, a little at a time, as it evaporates. Cook until the spelt is soft.
In another saucepan, heat up 4 tablespoons olive oil. Add the onion, zucchini, red pepper, eggplant, and then the tomatoes. Add the salt and cook until tender. If the pan is drying out, avoid adding more oil, just add some vegetable broth to help cook the vegetables.
Once the vegetables are soft, remove from the heat and add to the spelt.
Then add the parsley and mint and mix well.
Plate the dish, top with walnuts and drizzle with olive oil.
**Source: **cookingchanneltv.com
---
3

Amaranth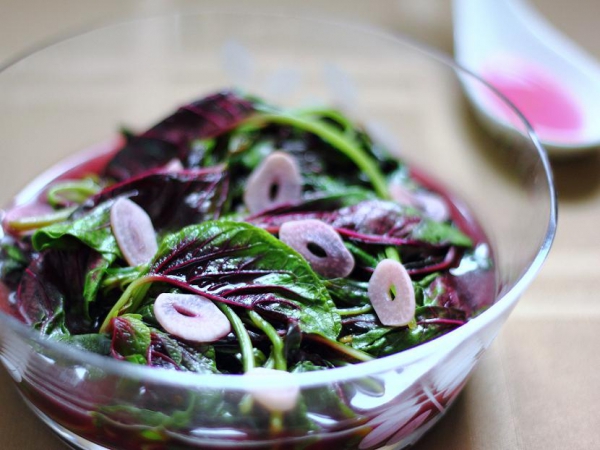 The Aztec's were huge fans of Amaranth and it has been cultivated for 8,000 years. It is great for keeping the heart healthy. To get the most from the grain, they should be sprouted and can be added to salads. Amaranth flour can also be used in baking. Here is a simple way to use it in a stir-fry instead of noodles or rice.
Ingredients:
2 cups cooked amaranth
2 Tbsp. oil
1 onion, chopped
1 carrot, sliced
1 celery stalk, sliced
1-cup mushrooms, sliced
3 cloves garlic, chopped fine
1/2 cup almonds, chopped
1/4 cup sunflower seeds
2 Tbsp. soy sauce
1 tsp. seasoning
Directions:
Sauté veggies, garlic, almonds and seeds in the oil until vegetables are tender crisp.
Add soy sauce, seasonings and amaranth or quinoa. Mix well until warmed through.
**Source: **saltspringseeds.com
---
4

Buckwheat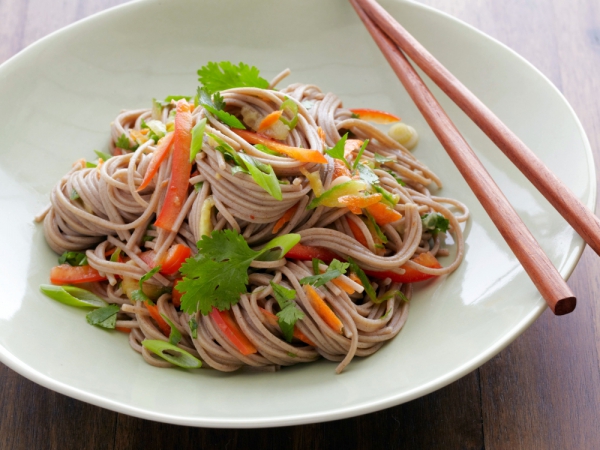 Despite its name, Buckwheat is not a wheat at all and is actually a relative of the rhubarb. Buckwheat it all its forms is wonderful for balancing sugar levels and brilliant for the digestive system too. Buckwheat flour can be used in baking and you can also make a delicious porridge from soaked and sprouted buckwheat grain. Here is a great recipe for a vegetable and Buckwheat pasta salad.
Ingredients:
VEGETABLE SALAD:
1/2 Lb Oyster Mushrooms
1 Bunch (approx. 12 stalks) Asparagus
1 Cup Roasted Virginia Peanuts
1/2 White Onion, julienned
1/2 Cup Rice Wine Vinegar
2 Tbsp. Honey
1 Tbsp. Red Pepper Flakes
1 Tbsp. Soy Sauce
PASTA:
1 Lb. Buckwheat Noodles
1 Bunch Green Onions, trimmed and cut on the bias
1 Cup Crumbled Feta Cheese
Directions:
VEGETABLE SALAD:
Clean oyster mushrooms and lightly chop.
Clean 1/2 inch off asparagus stalks, then cut in half.
Blanch mushrooms and asparagus in boiling water for 6 minutes. Place in an ice bath and set aside.
To julienned onion, add vinegar, honey, pepper flakes and soy sauce.
Combine and toss all ingredients.
PASTA:
Cook buckwheat noodles al dente in lightly salted and oiled water. Drain and chill.
Lightly toss noodles with green onions and feta cheese.
Plate 3-4 ounces pasta mixture. Top with 3 ounces marinated vegetables and serve.
**Source: **epicurious.com
---
5

Barley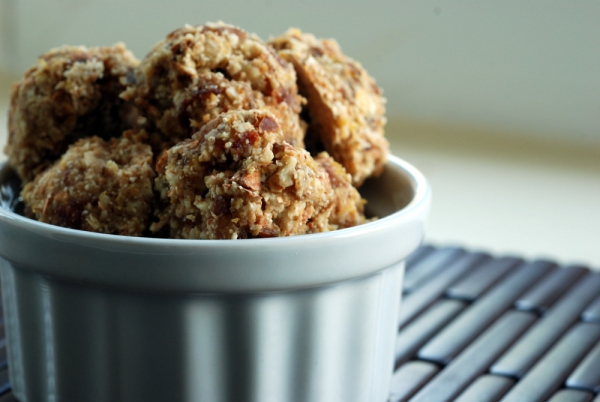 I love barley and it is so nutrient rich. It has a high fiber content, meaning it can improve digestion and it can also improve blood sugar levels due to its low glycemic index. Barley grains make a delicious risotto and barley can also be used in baking. Here is my favorite recipe for barley chocolate chip cookies.
Ingredients:
3/4 cup butter, at room temperature
1 cup packed brown sugar
1/4 cup sugar
1 large egg
2 tsp. vanilla
2 cups barley flour
1 tsp. baking soda
1/2 tsp. salt
8 oz. dark or semi-sweet chocolate, chopped into chunks
Directions:
Preheat oven to 350F.
In a large bowl, beat the butter and sugars until pale and almost fluffy. Beat in the egg and vanilla.
Add the barley flour, baking soda and salt and stir or beat on low until almost combined; add the chocolate chunks and stir just until blended.
Drop dough by large spoonfuls onto a parchment-lined sheet and bake for 10-14 minutes (depending on their size) until golden around the edges but still soft in the middle. Let them set for a minute, then transfer them to a wire rack to cool. This recipe makes about 2 dozen delicious cookies.
**Source: **dinnerwithjulie.com
---
6

Rye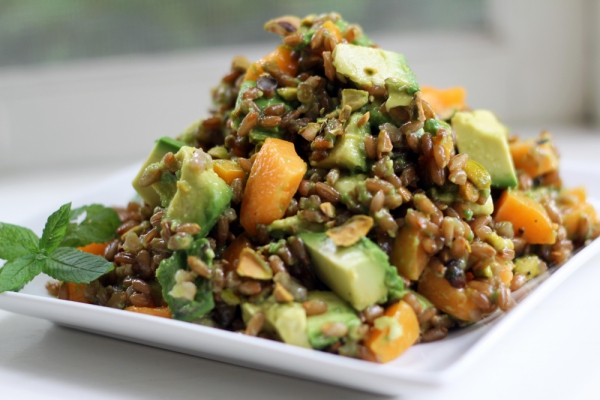 Rye is another blood sugar regulating grain and can really help you control your appetite, whereas refined wheat products give you that quick sugar kick, leading to a swift sugar low. It's also good for maintaining healthy skin and a healthy heart and you can make wonderful muffins and pancakes with rye flour. Here is a great summer salad using rye.
Ingredients:
3 cups water
1 cup uncooked rye berries
1 cup hot water
3 tablespoons dried currants
1 1/2 cups finely chopped celery
1/4 cup chopped fresh parsley
3/4 teaspoon salt, divided
1/4 teaspoon freshly ground black pepper
1/4 cup finely chopped shallots
1 tablespoon grated orange rind
1 tablespoon fresh orange juice
2 teaspoons Champagne vinegar or white wine vinegar
2 tablespoons olive oil
Directions:
Combine 3 cups water and rye berries in a saucepan; bring to a boil. Cover, reduce heat, and simmer 1 hour. Drain.
Combine 1 cup of hot water and currants in a small bowl; let stand 30 minutes. Drain well.
Combine rye berries, currants, celery, parsley, 1/2 teaspoon salt, and pepper.
Combine 1/4 teaspoon salt, shallots, rind, juice, and vinegar in a small bowl, stirring well. Let stand 5 minutes. Stir in oil with a whisk. Pour shallot mixture over rye mixture; toss well to coat.
**Source: **myrecipes.com
---
7

Millet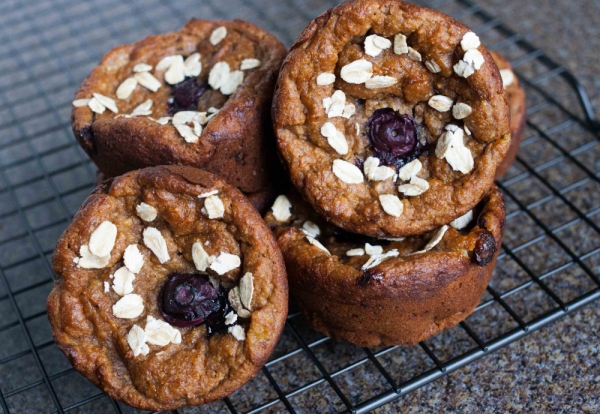 Millet is allegedly one of the most digestible grains around and it has so many other health benefits. Its high content of the sleep-inducing tryptophan can help you have a good night's sleep and it is also reported to reduce the frequency of migraine attacks if you have a tendency to suffer from them. Millet can be eaten as a type of porridge and can be sprouted for use in salads too. Cooked millet can also be used in place of pasta and rice for healthy and nutritious salads. It can be used in baking and you can make your own millet flour by blending raw uncooked millet for a couple of minutes. These millet blueberry muffins are delicious!
Ingredients:
2 cups raw and uncooked millet
½ cup tapioca starch
1 cup light brown sugar
2 tsp. baking powder
½ tsp. baking soda
½ tsp. salt
1 tsp. ground cinnamon
¼ tsp. ground nutmeg
½ cup butter substitute, softened
3 eggs
½ cup coconut milk
1 tsp. vanilla
1 tsp. lemon extract (or vanilla)
1½ cups blueberries, washed
1 lemon (for zest) Raw sugar (optional)
Preparation Instructions
Directions:
Preheat the oven to 350 degrees Fahrenheit.
Line a muffin tin with paper liners.
Make your own millet flour by blending 2 cups of dry millet in a blender for approximately two minutes.
Mix the dry ingredients together in a large mixing bowl.
In a separate bowl whisk together the wet ingredients and the lemon zest.
Mix the wet ingredients into the dry ingredients until the batter is smooth.
Stir in the blueberries, gently with a large spoon.
Fill the muffin cups with the batter.
Bake for 22 - 25 minutes.
Allow to cool, then enjoy!
Source: goldenprairieinc.com
Sometimes I find we can get stuck in a culinary rut so I think it's important to try a range of foods. What wheat-free alternatives do you enjoy tucking into?
Sources: Neal's Yard Remedies: Healing Foods
More