As a personal trainer and lover of healthy nutrition, I love healthy holiday food swaps that are so good your guests will not even know they are low in calories. Be a healthy trickster and surprise them by saving calories without sacrificing taste. After all, we all want to enjoy our holiday dinner but we do not want the excessive calories that go with it. You can enjoy your festive holiday meal and still be healthy with my healthy holiday food swaps.
1. Swap Your Regular Eggnog for Low Fat Eggnog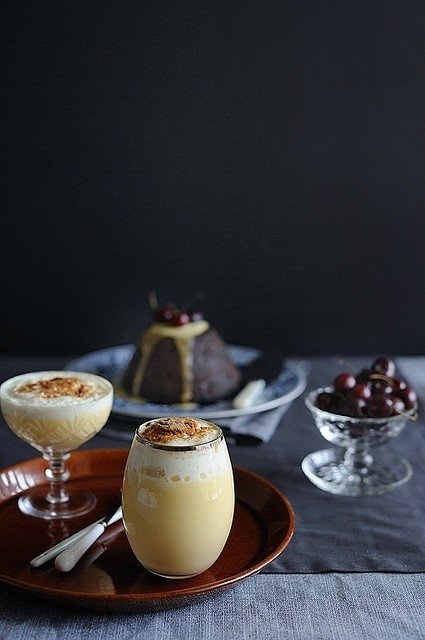 It's not the holiday without a little eggnog by the fire, so why not save some calories and still fit into your skinny jeans with this low-cal recipe you'll love? This is one of my favorite healthy holiday food swaps. This recipe serves 6 and it is only 90 calories per serving (80 calories saved by choosing this healthy swap).
Ingredients:
2 cups skim milk
2 long strips of orange peel
Some fresh orange or lemon zest
1 vanilla bean
2 large eggs and 1 egg yolk
1/3 cup sugar
1 teaspoon. cornstarch
White rum (optional)
Freshly ground nutmeg
Directions:
Combine all the ingredients but the 1/2 cup skim milk and the zest in a medium saucepan.
Cut the vanilla bean in half lengthwise and scrape out the seeds, then put both seeds and pod into the saucepan.
Bring to a low boil and then simmer over medium heat. in a bowl, whisk the eggs and egg yolk with the sugar and cornstarch in a bowl until they are a pale yellow.
Remove the pod and gradually, stirring constantly, stir the milk mixture into the egg mixture. When mixed, transfer it back to the saucepan. You can pop the vanilla pod back in if you want a more intense flavor.
Cook on a gentle heat for 8 minutes, all the time stirring in a figure-of-eight motion with a wooden spoon.
When the mix is nice and thick, remove the pan from heat and immediately stir in the remaining 1/2 cup milk to cool it down.
Remove the pod and skim out the zest. Pour the mix into a large bowl and leave to cool to room temperature.
Now is the time to add the optional rum.
Chill before serving and garnish with the nutmeg.
Source: foodnetwork.com
2. Swap Your Prime Rib for Turkey Breast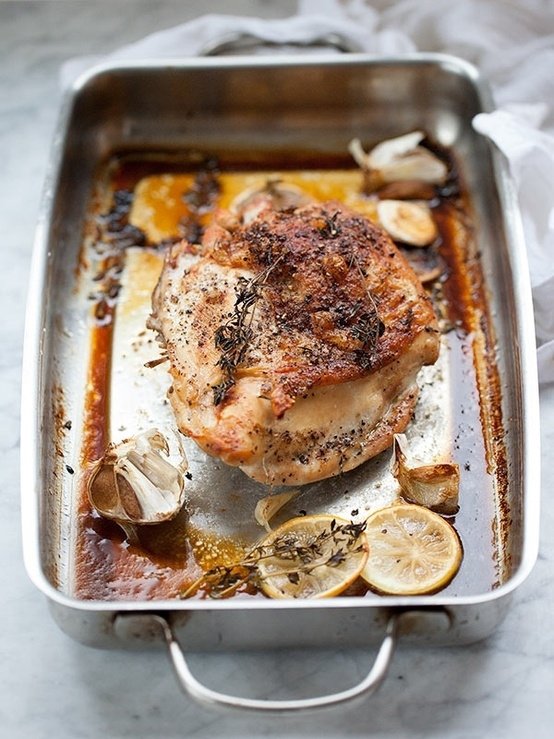 Swap out your holiday prime rib for a healthier choice like turkey. Turkey is an excellent source of protein and vitamin B that are vital for producing energy, so amplify your energy with a nice turkey dinner. The key to cutting the fat is removing the skin u2013 you'll save mega calories by doing so u2013 and opting for breast is always best to save more calories. This recipe serves 12 and by choosing this healthy swap you will save 700 calories per serving.
Ingredients:
1 turkey weighing 10-12-pound
1/4 cup chopped fresh herbs, plus about 20 whole sprigs, such as thyme, rosemary, sage, oregano and/or marjoram, divided
2 tablespoon canola oil
1 teaspoon kosher salt
1 teaspoon freshly ground black pepper
1 1/2 cups onion, apple, lemon and/or orange, cut into 2" pieces
3 cups water, plus more as needed
Directions:
Put a rack in the lower third of the oven then preheat to 475u00b0F.
If your turkey contains giblets and neck, remove and set aside for making the gravy.
With the breast-side up, put the turkey on a rack in a large roasting tin and using paper towels, pat the skin dry.
In a small bowl, mix together the chopped herbs with the oil, salt and pepper.
Rub the herb mixture with your hands all over the turkey making sure to get under the skin onto the breast meat.
Put the onions, apple, citrus and 10 of the herb sprigs in the turkey cavity.
Truss the bird by tucking the wings in and tying the legs together with kitchen twine.
Add the 3 cups water together with the remaining 10 herb sprigs to the bottom of the pan.
Put the turkey in the oven and roast until the skin is golden brown - should be about 45 minutes.
Take turkey from the oven and using a double layer of foil, cover the breast.
Lower the temperature to 350u00b0 and put the turkey back into the oven to roast until it is cooked.
Do not let the pan go dry. If the water evaporates, tip the turkey so the juices run out of the cavity into the pan and add more water.
Test your turkey is cooked with a meat thermometer It should reach 165u00b0F in the thickest part of the thigh. Make sure the juices are running clear.
Transfer to your serving platter and cover completely with foil to rest for at least 20 minutes before carving and serving.
Source: eatingwell.com
3. Swap Your Mashed Potatoes for Mashed Cauliflower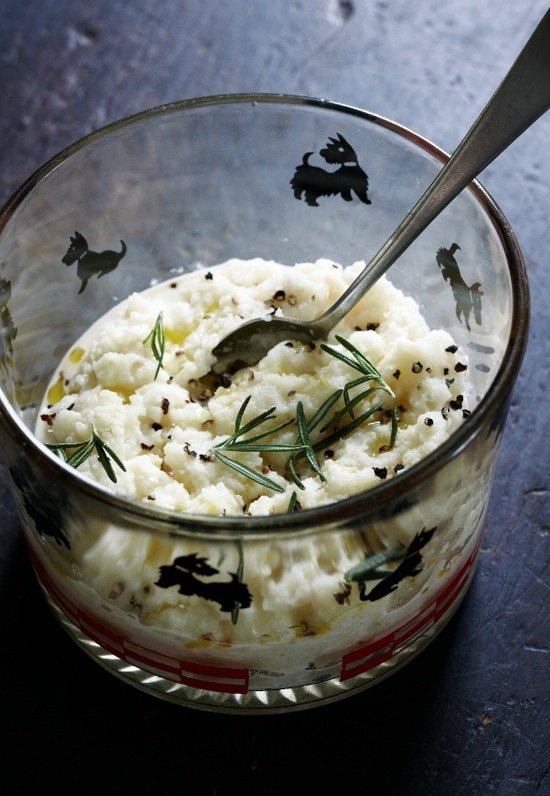 Potatoes have loads of simple carbs that cause an unhealthy rise in blood sugar. Instead of mashed potatoes this holiday season, make mashed cauliflower. This recipe serves 4 and it is only 100 calories per serving (220 calories saved by choosing this healthy recipe over mashed potatoes).
Ingredients:
1 large head of cauliflower
1 teaspoon salted butter (optional)
u00bc cup of skim milk
1/2 to 1 clove of garlic
Directions:
Cut the cauliflower into florettes.
Steam until cooked.
Add the milk, butter and garlic and using a food processor or blender, puree until smooth.
Transfer to serving bowl.
Source: funfitmama.com
4. Swap Your Spaghetti for Spaghetti Squash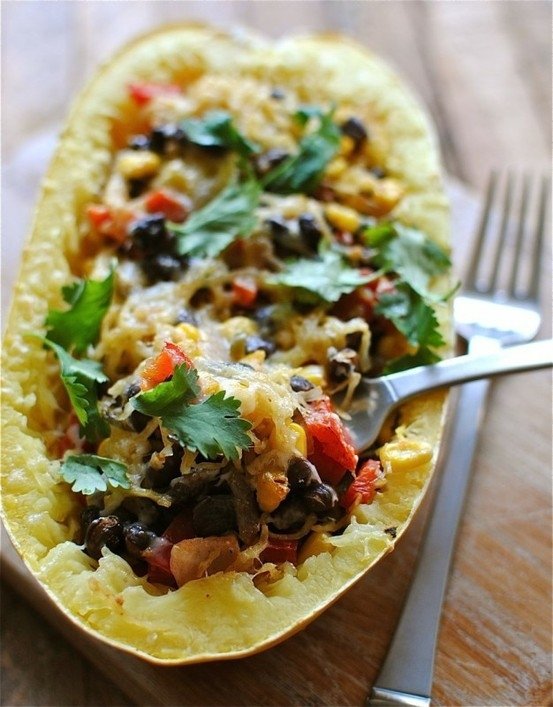 Fill your body with cancer fighting antioxidants and avoid the excess of carbs in pasta by having some spaghetti squash. Spaghetti squash has a noodle like interior with a similar consistency to spaghetti. Better your health and your waistline with this skinnier, healthier swap! In the mood for meatballs tonight? Then substitute for turkey or chicken meatballs on the side to save calories and fat. This healthy swap recipe serves 12 and saves 200 calories per serving.
Ingredients:
2 Spaghetti Squash
Salt and pepper to taste
Directions:
Using a small sharp knife, score the squash all over to prevent it bursting during cooking.
Cook in a microwave oven for 6-7 minutes (800 watts).
Turn the squash over and cook for a further 8-10 minutes until it feels slightly soft when you press it.
Allow to cool for 5 minutes, then cut in half.
Scoop out all the seeds and discard them.
With a fork, separate the squash pulp into strands like noodles.
Remove from the shell and season with salt and pepper.
Serve with your favorite pasta sauce.
Source: food.com
5. Swap Your Carbohydrate Craving for Sweet Potatoes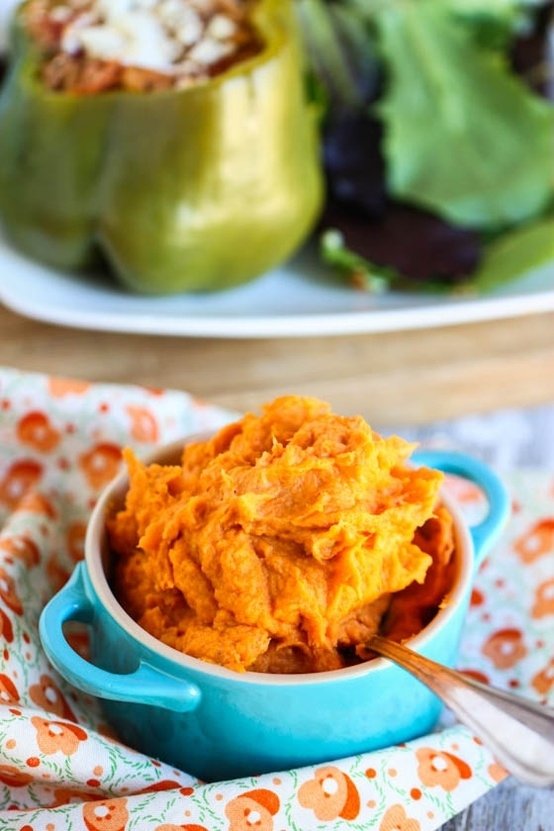 Craving potatoes with your holiday meal? Why not have a sweet potato? Sweet potatoes are high in beta-carotene, vitamin A, vitamin B6, vitamin C, fiber, thiamine, niacin, potassium and copper. They are also a good source of protein, calcium and vitamin E. This recipe serves 10 and although there is not a calorie save, the sweet potato is the healthiest choice.
Ingredients:
10 sweet potatoes
Salt and pepper to taste
Directions:
Peel and cut the potatoes into chunks.
Cook until tender in boiling water.
Boil the sweet potatoes until tender.
Mash and season to taste.
Source: funfitmama.com
6. Swap out the Bread Basket for a Veggie Tray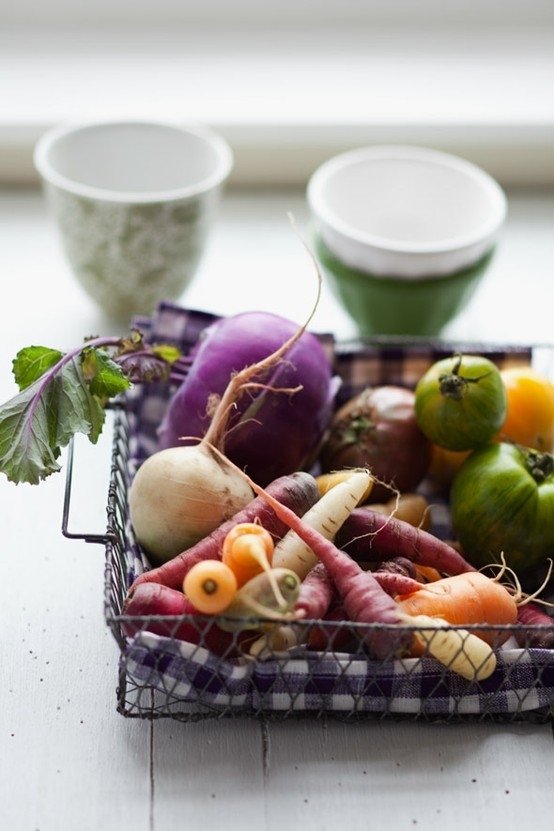 Skip the bread and create a veggie tray to save calories, increase your fiber intake and make healthier decisions. This recipe serves 12 and you will save at least 150 calories!
Ingredients:
1 bag of organic baby carrots, cleaned and topped and tailed
4 celery stalks (sliced into 3 inch sticks)
20 baby tomatoes
u00bd head cauliflower (break off florets)
Directions:
Arrange veggies on tray, serve as an appetizer and enjoy!
Source: funfitmama.com
7. Swap Your Pecan Pie for Pumpkin Pie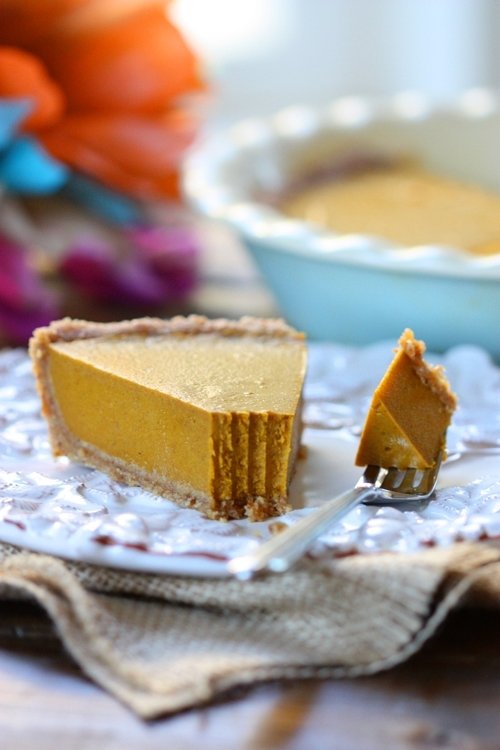 If you have your choices of pies, pumpkin is usually the better option and it tastes great. Pumpkin pie is lower in calories and saturated fat because it only has a bottom crust, and pumpkin is actually high in Vitamin A and other nutrients. This recipe serves 8-10 and is only 130 calories per serving (350 calories saved by making this healthy swap).
Ingredients:
1 15-ounce can of pumpkin
1 13.5-ounce can of coconut milk
1/4 cup of rolled oats
2 tablespoons ground flax
1/3 cup brown sugar, packed
Small pinch pure stevia (or 2 tablespoons brown sugar)
2 teaspoons cinnamon
1 teaspoon pumpkin pie spice
1/2 teaspoon salt
1 tablespoon pure vanilla extract
Crust Recipe:
1 1/2 cups whole wheat pastry flour
1 teaspoon salt
1/3 cup xylitol or sugar of choice
1/2 cup canola or vegetable oil
3 tablespoon water
Directions for crust:
Preheat the oven to 200.
Put all the dry ingredients into a large mixing bowl and stir together.
Add the oil and mix.
Add as much water as needed to make a soft dough than holds together but isn't sticky or gummy.
Use the dough to line a 10-inch pie pan.
Add pie weights or line with parchment and baking beans.
Turn the temperature up to 350 and put pie crust in to bake for 15 minutes.
Remove from oven and set aside to cool.
Directions for pie:
Turn the oven temperature up to 400.
Put all the filling ingredients in a bowl and use a stick (immersion) blender to mix together until smooth (or use a food processor).
Put the filling into the cooled pie crust.
Put pie into the oven and bake for 25-27 minutes.
Remove from oven, allow to cool and then put it into the fridge (uncovered) to set and chill for at least 5 hours.
Source: chocolatecoveredkatie.com
I really hope you enjoy my healthy holiday swaps so you can now gorge without guilt and serve your guests the slim and healthy way. What is your favorite healthy holiday food swap?