Share
Are you looking for healthy holiday recipes that you can feed your guests you are entertaining this holiday season? Then look no further because I have plenty of great recipes for you. Entertaining the healthy way is great fun and rewarding because you will feel great about the food you are serving. And as your guests leave they will not feel over stuffed and lethargic from your food. Here are my healthy holiday recipes:
---
1

Tuscan Pork Loin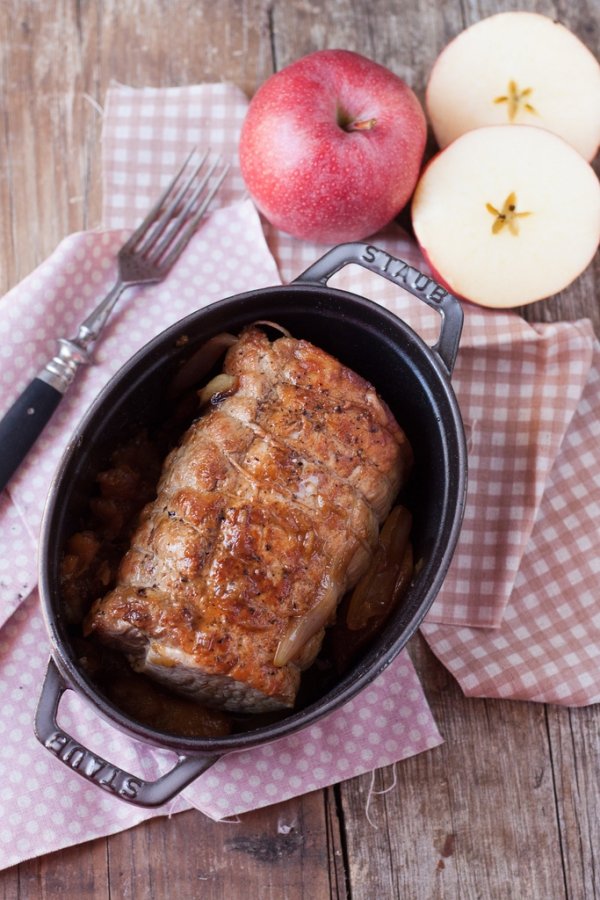 Roasted pork loin is a staple of Italian cooking. In this recipe we coat the lean meat with garlic, rosemary and aromatic lemon zest before it goes in the oven, and then deglaze the pan with vermouth to make a savory gravy. The roast is perfect for entertaining but equally at home for a Sunday family supper. This is one of my favorite healthy holiday recipes that serves 10.
Ingredients:
1 3-pound pork loin, trimmed
1 teaspoon kosher salt
3 cloves garlic, crushed and peeled
2 tablespoons extra-virgin olive oil
2 tablespoons chopped fresh rosemary
1 tablespoon freshly grated lemon zest
3/4 cup dry vermouth, or white wine
2 tablespoons white-wine vinegar
Directions:
Tie kitchen string around pork in three places so it doesn't flatten while roasting. Place salt and garlic in a small bowl and mash with the back of a spoon to form a paste. Stir in oil, rosemary and lemon zest; rub the mixture into the pork. Refrigerate, uncovered, for 1 hour. Preheat oven to 375°F. Place the pork in a roasting pan. Roast, turning once or twice, until a thermometer inserted into the thickest part registers 145°F, 40 to 50 minutes. Transfer to a cutting board; let rest for 10 minutes. Meanwhile, add vermouth (or wine) and vinegar to the roasting pan and place over medium-high heat. Bring to a simmer and cook, scraping up any browned bits, until the sauce is reduced by half, 2 to 4 minutes. Remove the string and slice the roast. Add any accumulated juices to the sauce and serve with the pork
Source: funfitmama.com
---
2

Braised Brisket & Roots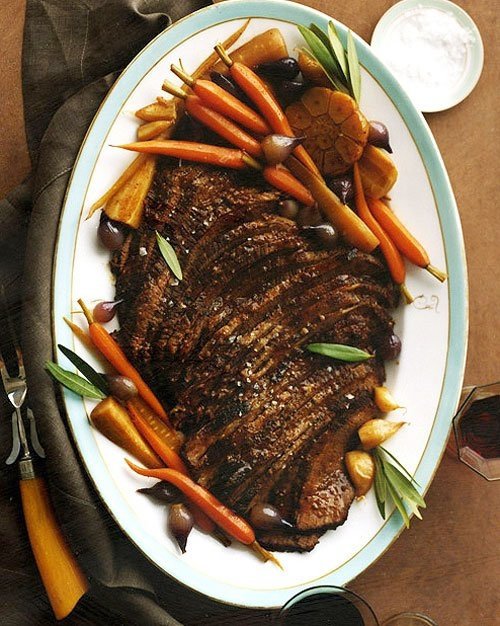 "This recipe is great for Christmas, or even Passover. It is easy to prepare, the spices make flavorful but not overpowering. And this recipe is easy to make. This recipe serves 8.
Ingredients:
1 tablespoon canola oil
2 pounds flat, first-cut brisket, (see Note), trimmed
3 medium onions, sliced
6 allspice berries, or pinch of ground allspice
2 teaspoons chopped fresh thyme, or 3/4 teaspoon dried
1 teaspoon sweet paprika
1/2 teaspoon salt
1/2 teaspoon freshly ground pepper
2 bay leaves
1 cup dry vermouth, or dry white wine
3 cups reduced-sodium beef broth
4 medium carrots, peeled
3 medium parsnips, peeled and cored (see Tip)
1 medium rutabaga, (about 3/4 pound), peeled (see Tip)
1 teaspoon Dijon mustard
2 teaspoons arrowroot, or 1 tablespoon cornstarch
1-2 tablespoons water
Directions:
Preheat oven to 325°F. Heat oil in a Dutch oven over medium-high heat. Add brisket and cook until browned, 3 to 5 minutes per side. Transfer to a large plate and set aside. Add onions to the pot; cook, stirring frequently, until softened, about 2 minutes. Stir in allspice, thyme, paprika, salt, pepper and bay leaves, then pour in vermouth (or wine). Bring to a boil. Cook for 3 minutes. Stir in broth and return the brisket to the pot along with any accumulated juices. Bring to a simmer. Cover, place in the oven and bake for 1 1/2 hours. Meanwhile, cut carrots, parsnips and rutabaga into 2-by-1/2-inch sticks. Transfer brisket to a plate. Using a slotted spoon, remove and discard bay leaves and allspice berries (if using). Stir mustard into the sauce. Add the carrots, parsnips and rutabaga. Return the brisket to the pot; cover and bake for 1 hour more. Test vegetables and brisket for tenderness by piercing with the tip of a sharp knife. As they get done, transfer to a cutting board or platter, cover with foil and set aside. If necessary continue to cook, testing for doneness every 20 minutes. Total cooking time for the brisket may range from 2 1/2 to 5 hours, depending on the particular piece of meat. Skim fat from the sauce. Place the pot over high heat and bring to a boil. Cook for 5 minutes, stirring occasionally, to reduce and intensify flavors. Dissolve arrowroot in 1 tablespoon water (or cornstarch in 2 tablespoons water); add to the simmering sauce and cook, stirring constantly, just until thickened, about 10 seconds. Slice the brisket thinly against the grain and arrange slices on a serving platter. Using a slotted spoon, mound the vegetables around the brisket. Spoon half the sauce over the meat and vegetables; pass remaining sauce separately.
Source: funfitmama.com
---
3

Easy Salmon Cakes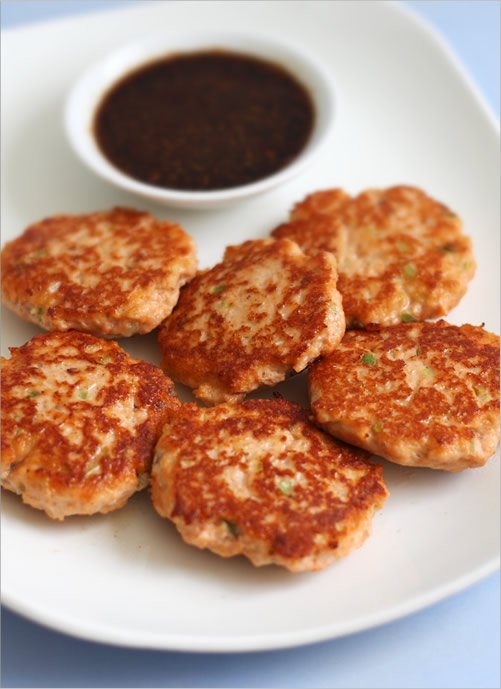 If you are trying to boost your intake of omega-3s, try this simple favorite. It is a great way to use convenient canned (or leftover) salmon. The tangy dill sauce provides a tart balance. This recipe serves 4.
Ingredients:
3 teaspoons extra-virgin olive oil, divided
1 small onion, finely chopped
1 stalk celery, finely diced
2 tablespoons chopped fresh parsley
15 ounces canned salmon, drained, or 1 1/2 cups cooked salmon
1 large egg, lightly beaten
1 1/2 teaspoons Dijon mustard
1 3/4 cups fresh whole-wheat breadcrumbs, (see Tip)
1/2 teaspoon freshly ground pepper
1 lemon, cut into wedges
Directions:
Preheat oven to 450°F. Coat a baking sheet with cooking spray. Heat 1 1/2 teaspoons oil in a large nonstick skillet over medium-high heat. Add onion and celery; cook, stirring, until softened, about 3 minutes. Stir in parsley; remove from the heat. Place salmon in a medium bowl. Flake apart with a fork; remove any bones and skin. Add egg and mustard; mix well. Add the onion mixture, breadcrumbs and pepper; mix well. Shape the mixture into 8 patties, about 2 1/2 inches wide. Heat remaining 1 1/2 teaspoons oil in the pan over medium heat. Add 4 patties and cook until the undersides are golden, 2 to 3 minutes. Using a wide spatula, turn them over onto the prepared baking sheet. Repeat with the remaining patties. Bake the salmon cakes until golden on top and heated through, 15 to 20 minutes.
Source: funfitmama.com
---
4

Crab Bisque with Avocado, Tomato & Corn Relish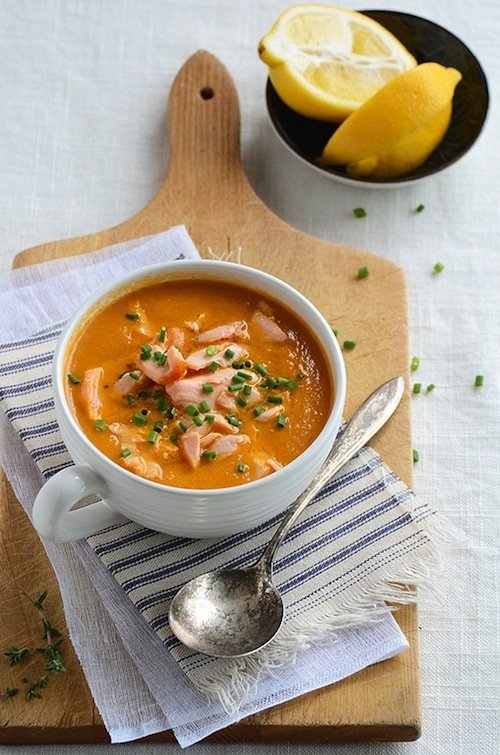 Our light version of classic crab bisque gets its creaminess from a combination of low-fat milk plus pureed vegetables and potatoes. The tangy, chunky relish provides a textural and flavor contrast to the smoky, rich-tasting bisque. Serve with crusty whole-grain rolls and some extra wedges of lime for squeezing. This recipe serves 8.
Ingredients:
Relish
1 small avocado, finely diced
1 cup fresh corn kernels (about 1 large ear; see Tips) or frozen, thawed
1 medium tomato, seeded and finely diced
1 tablespoon lime juice
1/4 teaspoon salt
Freshly ground pepper to taste
Bisque
1 tablespoon extra-virgin olive oil
1 cup fresh corn kernels (about 1 large ear; see Tips) or frozen, thawed
1 cup chopped onion
1 cup diced yellow bell pepper
1 1/2 cups diced peeled russet potato
3/4 teaspoon sweet or hot smoked paprika (see Notes), plus more for garnish
1 cup dry sherry (see Notes)
2 cups seafood stock or broth or reduced-sodium chicken broth
2 cups low-fat milk
12 ounces crabmeat (see Tips), drained if necessary
1/2 teaspoon salt
Directions:
To prepare relish: Combine avocado, corn, tomato, lime juice, salt and pepper in a small bowl; toss to coat. Let stand at room temperature while you prepare the bisque. To prepare bisque: Heat oil in a large saucepan over medium heat. Add corn, onion and bell pepper and cook, stirring often, until the onion and pepper have softened, about 5 minutes. Add potato and paprika and cook, stirring often, for 2 minutes. Add sherry and cook, scraping up any browned bits, until the liquid has reduced slightly, about 5 minutes. Add stock (or broth) and bring to a boil. Reduce heat and simmer, stirring occasionally, until the potatoes are very tender, about 15 minutes. Working in two batches, puree the vegetable mixture in a blender or food processor. (Use caution when pureeing hot liquids.) Return the puree to the saucepan; stir in milk, crab and salt. Cook, stirring occasionally, until heated through, 3 to 5 minutes. Serve each portion of bisque with about 1/4 cup relish; sprinkle with additional paprika, if desired.
Source: funfitmama.com
---
5

Turkey Tenderloin with Cranberry-Shallot Sauce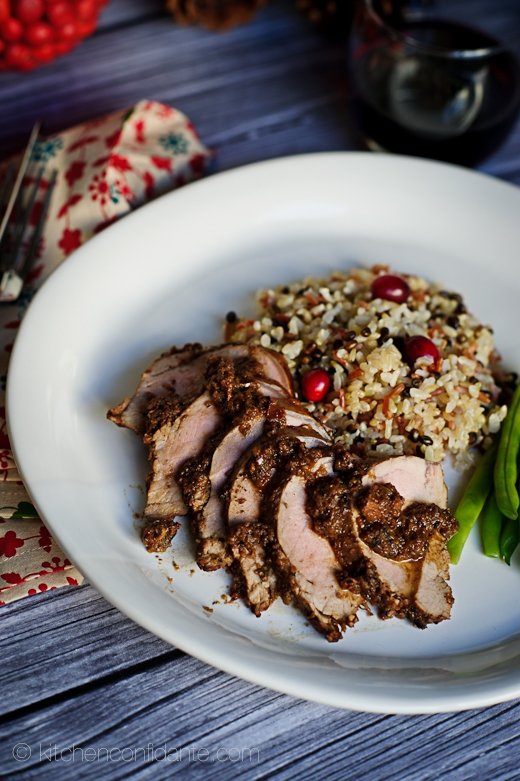 Turkey and cranberry sauce is delicious any time of year. To help keep this recipe fast, sear the tenderloins and get them in the oven first, then prep the shallots, thyme and cranberries and make your sauce. Serve with: Mashed sweet potatoes, sautéed Brussels sprouts and a glass of Riesling. This recipe serves 6.
Ingredients:
2 turkey tenderloins (about 1 1/2 pounds total)
3/4 teaspoon salt, divided
1/4 teaspoon freshly ground pepper
4 teaspoons canola oil, divided
4 shallots, peeled and quartered
2 teaspoons chopped fresh thyme or 1/2 teaspoon dried
3/4 cup reduced-sodium chicken broth
1 1/2 cups fresh or frozen (not thawed) cranberries
1/4 cup dried cranberries
2 tablespoons light brown sugar, or to taste
1 tablespoon fruit-flavored vinegar, such as raspberry or pomegranate
Directions:
Preheat to 450°F. Sprinkle turkey tenderloins with 1/4 teaspoon salt and pepper. Heat 2 teaspoons oil in a large skillet over medium heat. Add the turkey and cook, turning to brown all sides, about 5 minutes total. Transfer to a baking sheet. Roast until an instant-read thermometer registers 165°, 15 to 25 minutes (depending on the sizes). Meanwhile, add the remaining 2 teaspoons oil to the pan. Add shallots and cook, stirring occasionally, until browned, 3 minutes. Add thyme and cook until fragrant, about 10 seconds. Add broth and cook, scraping up any browned bits, for 1 minute. Stir in fresh and dried cranberries and cook until most of the fresh cranberries have broken down, 6 to 7 minutes. Stir brown sugar, vinegar and the remaining 1/2 teaspoon salt into the sauce; cook for 1 minute. Cover and remove from the heat. Let the turkey rest on a clean cutting board for 5 minutes. Thinly slice; serve with the sauce.
Source: funfitmama.com
---
6

Crisp Caprese Salad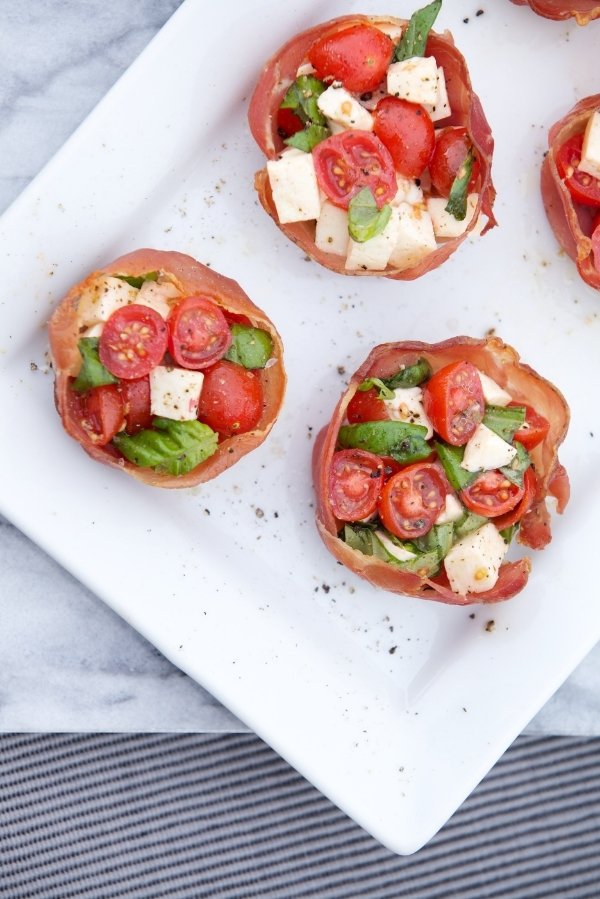 What are you serving as an appetizer? Why not try this great salad that is only 110 calories per serving and 5.5 grams of fat per serving! Being of Italian descent, I have grown up with with some Italian food staples that I cannot live without, I have always enjoyed mozzarella but just as with anything…moderation is key! So enjoy and savor each bite! This recipe serves 2.
Ingredients:
3cups cherry tomatoes
2 tbsp balsamic vinegar
9 mini mozzarella balls
3 tbsp coarsely chopped fresh basil leaves
¼ tsp Salt
½ tsp freshly cracked black pepper
Directions:
Cut the cherry tomatoes in half and place them in a medium mixing bowl. Slice the mini mozzarella balls. Add to the tomatoes. Add basil leaves, balsamic vinegar, salt and pepper. Toss lightly to combine and serve immediately.
Source: funfitmama.com
---
7

Spinach and Brie Topped Artichoke Hearts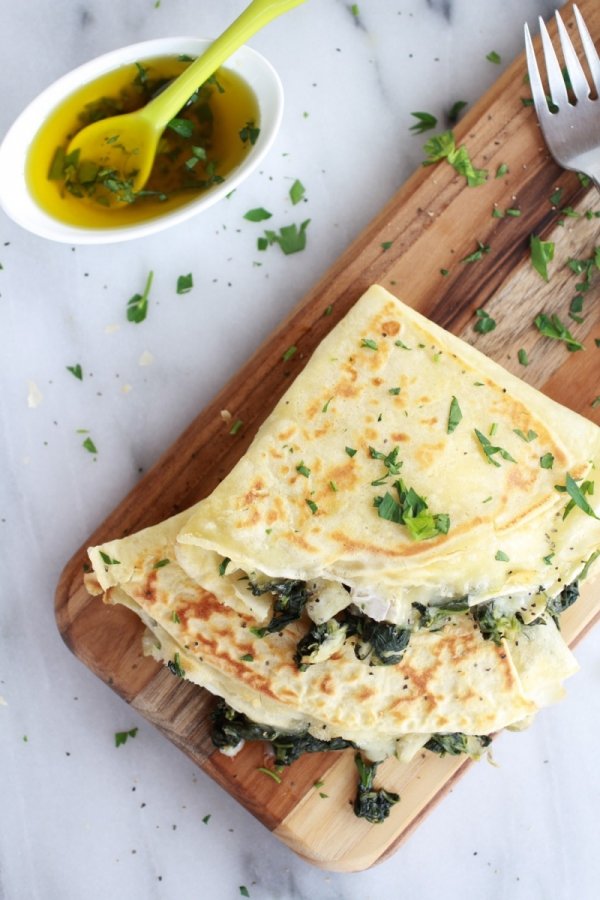 In this deconstructed version of hot spinach-artichoke dip, we stuff artichoke hearts with lightly seasoned cooked spinach and melt brie on top. This recipe serves 18.
Ingredients:
1 9-ounce box frozen artichoke hearts
2/3 cup cooked chopped spinach
1 teaspoon lemon pepper
1/4 teasspoon salt
18thin slices brie
Directions:
Preheat broiler. Prepare artichoke hearts according to package directions. Combine spinach, lemon pepper and salt in a small bowl. Top each artichoke heart with the spinach mixture and brie. Broil until cheese melts, 1 to 2 minutes.
Source: funfitmama.com
I really hope you enjoy my healthy holiday recipes for entertaining your next event. What is your favorite meal? Have a happy and healthy holiday?
More