Healthy salad recipes don't have to taste boring. In fact, I will go so far as to say these salad recipes are addictive! During the summer, I like to end my day with a light salad, or have a big raw salad for lunch. Summer is a time when people are drawn to eating lighter and not heating up the kitchen, which makes salad really useful! Typical salads with store-bought dressings don't usually have enough nutrients to sustain you for a whole meal, unlike healthy homemade ones. Making salad dressings and preparing fresh, wholesome ingredients at home is so easy and much healthier than sugar-laden, overly-processed dressings at the store. Most importantly, these healthy salad recipes taste so amazing you will never want to go back to store-bought again!
1. Raw Kale Salad with Sundried Tomato Cashew Dressing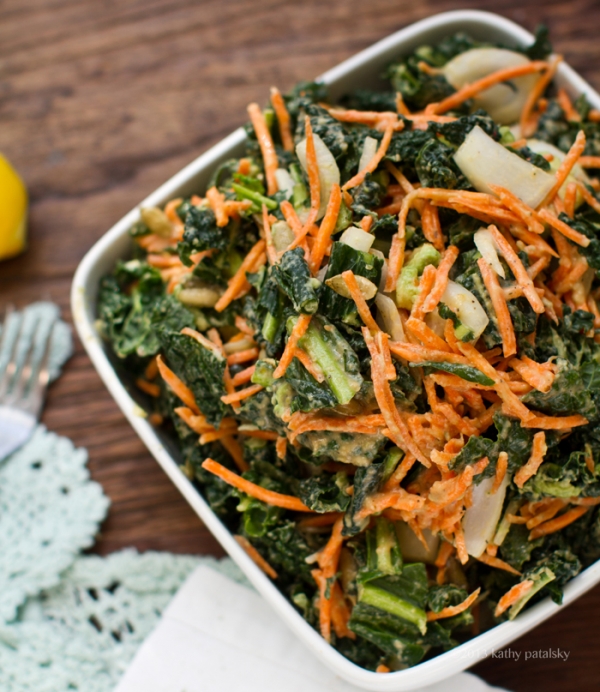 This is one of the best healthy salad recipes because it doesn't taste healthy at all! It tastes like a pizza-themed salad because of the oregano and tomatoes. I like to add a little nutritional yeast (dairy-free source of b-vitamins and protein) to make it taste like a cheesy pizza! You could also add freshly grated Parmesan or other cheese (not too much though) to get the same effect. The cashews provide healthy fats and protein, while the raw kale provides an abundant amount of nutrients and enzymes. This makes for a healthy, delicious, and fully-balanced meal!
**
****Ingredients:**
1 bunch kale, cut in ribbons
1 lemon, juiced
1 cup raw cashews, soaked at least 8 hours
2/3 cup almond milk
4 sundried tomatoes, chopped
1/2T olive oil
1tsp dried oregano
Salt and pepper, to taste
Directions:
Toss kale with lemon juice and set aside to wilt, at least 15 minutes. Drain cashews and blend with almond milk until creamy and smooth. Add sundried tomatoes, oregano, and olive oil and puree until smooth. Add salt and pepper to taste. Pour dressing over kale and toss to coat. Serve.
**
****Source: **kirstenlindquist.blogspot.com
2. Creamy Kale Salad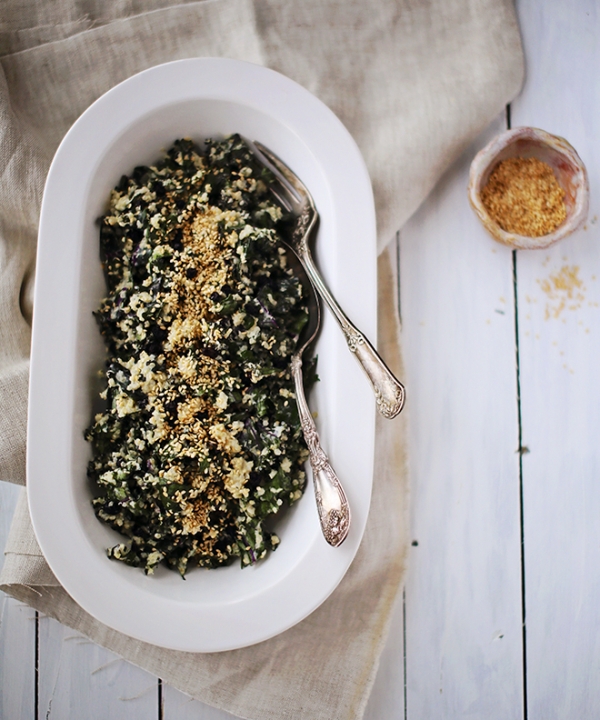 What can I say about this salad other than it is the most amazing salad in the world? Seriously, I don't think the nutritional yeast is optional in this one. It makes it so cheesy (but still dairy-free!) and addicting. Some things I do to make this salad a little better is let it marinate in the dressing a little bit or even marinate it in some lemon juice for at least 15 minutes. This helps get rid of the bitterness. To make it a little lighter dressing, I either add another couple bunches of kale, or reduce the amount of dressing for one bunch of kale. Or, you can always make the dressing, store it for later use, and use what you need on the salad.
Ingredients:
1 bunch of kale De-stemmed and washed thoroughly
2 u00bd cups of cashews
1 red pepper roughly chopped
3 lemons juiced
1 tablespoon of salt
1 clove of garlic or u00bd tablespoon of garlic powder
1/3 cup of nutritional yeast (optional)
1 tsp of maple syrup or liquid sweetener
1 cup of water
Directions:
Placed washed kale into a large bowl. Blend the remaining ingredients until creamy and pour over the kale then massage in and serve.
**Source: **puremamas.squarespace.com
3. Blueberry Salad with Coconut Cilantro Dressing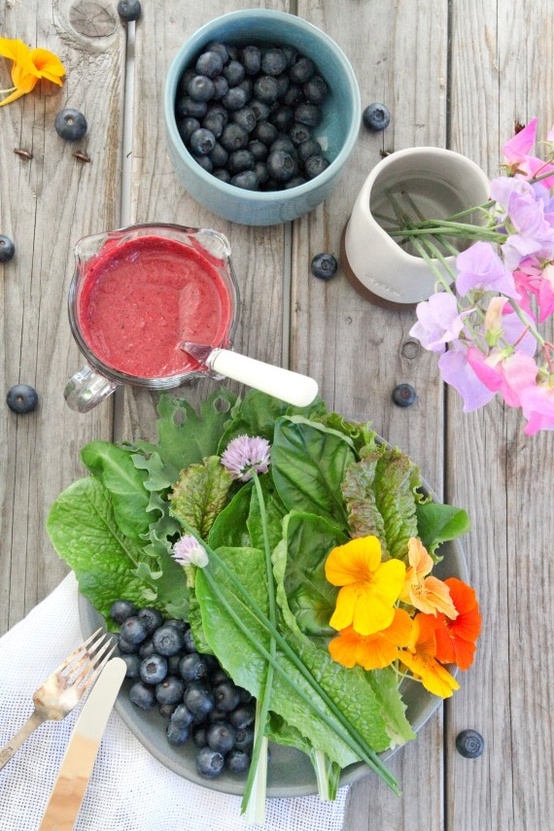 You may not enjoy the greens and fruit salad combination, but you will after you try this salad. This salad is best served as a light dinner on a summer evening, because blueberries will be fresh and delicious. You can also use strawberries, raspberries, or even blackberries if you want to. Depending on how hungry you are, you can eat this salad alone or share it with a friend. The salad is bursting with antioxidants from the blueberries and greens. Coconut oil makes for a very filling and nutritious addition to the salad, providing healthy fats. Pumpkin seeds provide a little bit of protein, making this a balanced and refreshing meal.
Ingredients:
4 cups organic mixed salad greens
1 pint fresh organic blueberries
1 Tbsp. freshly squeezed lemon juice
2 Tbsp. melted coconut oil
u00bc tsp. sea salt
u00bc tsp. freshly ground pepper
2 Tbsp. finely chopped fresh cilantro
1 Tbsp. pumpkin seeds
u00bd tsp. sesame seeds
u00bc tsp. fresh lemon zest
Directions:
In a large bowl, combine salad greens and blueberries; set aside. In a small bowl, whisk lemon juice, melted coconut oil, sea salt, pepper and cilantro; pour over salad greens. Add pumpkin and sesame seeds; toss to combine. Transfer to a serving bowl. Garnish with fresh lemon zest. Serve chilled.
**Source: **thehealthyapple.com
4. Tuscan Kale Salad with Lemon-shallot Dressing + Parmela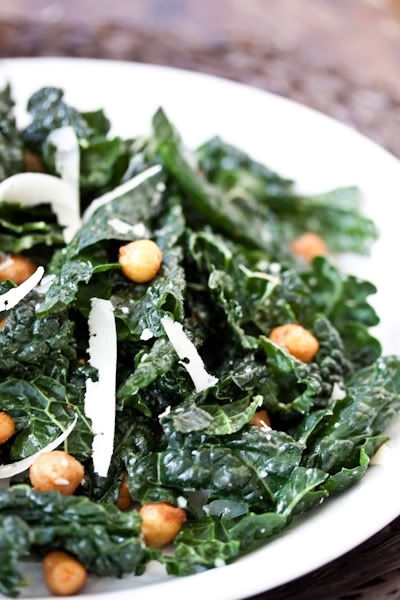 If you don't like kale salads yet, you will after you try this delicious beauty. The bitter flavor associated with kale actually goes away when it marinates, or when you massage it enough that it appears wilted. Kale is a leafy green that has enough vitamins to complete a meal, and the filling, healthy fats from the avocado and walnuts finish it off. Parmela is a dairy-free cheese substitute, but feel free to use regular Parmesan, or use the brand Parma (also dairy-free) like I did. You could also sprinkle some nutritional yeast on there (at your health food store) for some b-vitamins and added protein.
Ingredients:
15-20 fresh Tuscan kale leaves, carefully rinsed, stems and center ribs cut away and discarded, leaves coarsely chopped or ripped
3 tablespoons fresh lemon juice (about 1 medium lemon)
3 tablespoons shallot, finely minced
1/4 teaspoon salt
1/4 teaspoon ground fresh black pepper
4 1/2 tablespoons extra-virgin olive oil
2 tablespoons raw walnuts
1 avocado, peeled and diced for topping/garnish
Parmela - Parmesan Style Aged Nut Cheese for topping or garnish (or regular Parmesan cheese)
Directions:
In a small bowl, whisk together shallot, lemon juice, salt, and pepper in a small bowl. Slowly stream in olive oil while whisking. Continue whisking until emulsified. Leave it aside covered at room temperature for about 30 minutes to an hour so the dressing will be flavored. Do not refrigerate. Prep the Tuscan kale leaves, shred the leaves, stems removed, and place them in a large salad bowl. Using clean hands, gently give your kale a massage with the Lemon-Shallot dressing. Add the avocado and raw walnuts and mix into the salad. Garnish with Parmela Parmesan and serve immediately.
**Source: **veganmiam.com
5. Immunity Salad with Raw Spinach Garlic Dressing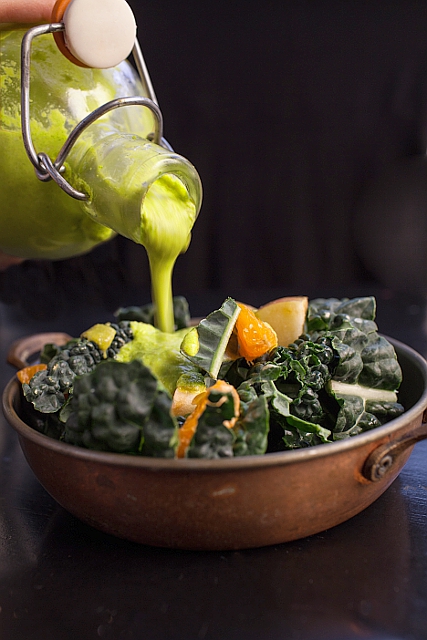 The immunity-boosting benefits of this salad are an added bonus to the meal-replacing aspects. Garlic is anti-fungal, citrus (from the orange/lemon) has antioxidants, and carrots have carotenoids to help increase your immunity. However, the cashews in this salad provide enough satisfying healthy fats and protein to make this a complete meal. You also get double the amount of raw enzymes and leafy green nutrients with the spinach in the dressing and kale for the actual salad! If you want this salad to be completely raw, don't toast the cashews. Also, feel free to leave out the apples or oranges and replace them with whatever you want u2013 bell peppers taste good!
Dressing Ingredients:
1/2 C raw cashews
1/2 C water + 1/4 C water
1 carrot
1 C raw spinach
Juice of 1/2 meyer lemon, seeds removed
2 small cloves garlic*
1/4 tsp salt
Directions:
Blend cashews and 1/2 C water in a blender until the cashews are completely liquified (about 1 minute or so). Add remaining ingredients, using the extra water to help the blending process throughout. If you want a thinner consistency, another 1/4 C of water would probably do it.
*Taste the strength of your garlic before adding the second clove, some varieties are stronger than others. You might even want to add a third small clove, depending.
Salad Ingredients:
4 C raw kale pieces
1 large apple, cubed
1 large orange, segmented
1/4 C cashews toasted in a pan
Directions:
Put all ingredients into a large bowl and toss with dressing to combine.
**Source: **crackersonthecouch.blogspot.com
6. BBQ Tofu Edamame Pineapple Spinach Salad with Nectarine Balsamic Dressing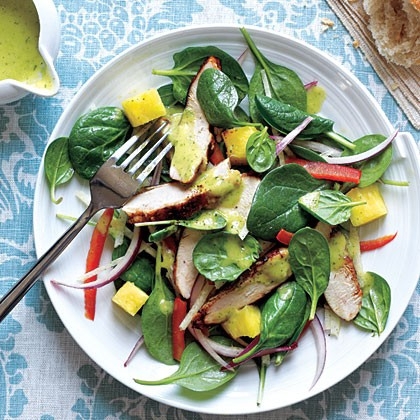 This recipe has everything I ever wanted in a salad. I absolutely love pineapple, tofu, avocado, and spinach u2013 putting them all together in one bowl is genius! You can find the shelled edamame in the frozen section of your local health food store, and if they don't have it I recommend using chickpeas. I usually use apple cider vinegar instead of other vinegars in recipes, so feel free to try that as well. There is a lot of plant-based protein in this salad from the tofu and edamame, healthy fats from the olive oil and avocado, and vitamins from the baby spinach. That's a good enough meal replacement for me!
Dressing Ingredients:
1/3 cup olive oil
u00bc cup + 1 T white balsamic vinegar
1/8 cup apple juice (orange juice would be good too)
1 nectarine, pitted, and roughly chopped (peeling is optional)
1 tsp Dijon mustard
u00bd tsp powdered stevia
u00bc tsp salt
dash of cayenne pepper
dash of garlic powder
Dressing Directions:
Combine all ingredients in a blender and blend until smooth. Chill for an hour before serving.
Tofu Ingredients:
1 package of extra-firm tofu, drained and pressed overnight or up to 24 hours
1/3 cup + 1-2 T barbecue sauce, separated (I like the Homemade BBQ Sauce from Veganomicon, if you want to make it yourself, but I just used Organicville's Tangy Barbecue Sauce, made with Agave Nectar)
1 T balsamic vinegar
1 T Bragg Liquid Aminos (or tamari/soy sauce)
Tofu Directions:
Preheat oven to 375. Lightly grease, or spray with olive oil, a shallow baking dish, such as a casserole dish. In a small bowl, combine the 1/3 cup barbecue sauce, balsamic vinegar and Bragg Liquid Aminos. Set aside. Halve the pressed block of tofu, horizontally. Thinly slice the two blocks into two thinner blocks, so you have 4 tofu sheets, all roughly 2 inches by 4 inches. Cut each slice into small cubes. Place u00bd the cubes in the barbecue sauce mixture and toss to combine. Use a slotted spoon to retrieve each cube, letting most of the sauce drain off the tofu. Place the tofu in the prepared shallow baking dish, and repeat with the 2nd half of tofu. Place the baking dish in the oven and allow tofu to bake for 30 minutes, tossing the pieces halfway through to allow them to cook evenly. After 30 minutes, drizzle 1-2 tablespoons of barbecue sauce over the tofu and toss to combine. Place back in the oven for another 10 minutes. Remove from oven and let cool for about 10-15 minutes before using in the salad. You can make this a day in advance, if you'd like. After allowing the tofu to cool completely, refrigerate in an airtight container until ready to use.
Salad Ingredients:
6 cups baby spinach
1 u00bc u2013 1 u00bd cup diced pineapple
1 cup shelled edamame
15 cherry tomatoes, halved
u00bd avocado, diced
u00bd recipe Baked BBQ Tofu
u00bc cup Nectarine Balsamic Dressing
Salad Directions:
In a large bowl, toss together the spinach, pineapple, edamame, tomatoes and the Nectarine Balsamic Dressing. Serve it in 2 bowls (to eat as an entru00e9e salad) or more bowls (to eat as a side salad). Top with the u00bd recipe (or more if you'd prefer) of Baked BBQ Tofu bits and avocado. Serve immediately. Enjoy!
**Source: **keepinitkind.com
7. Arugula Salad with Creamy Avocado-Citrus Vinaigrette Dressing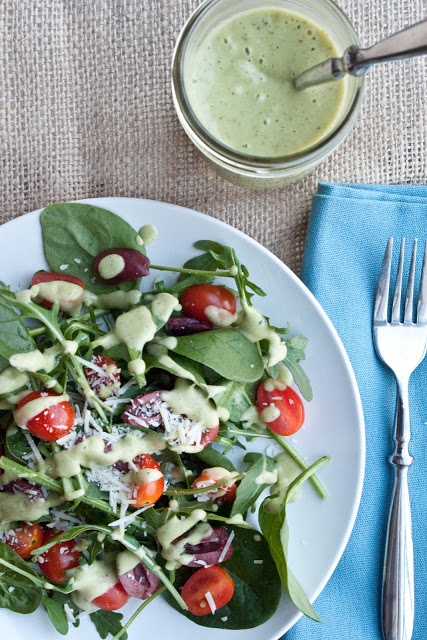 For those of you who have never had arugula before, I think you are missing out on this dark leafy green. It has a delicious and distinct spicy flavor that pairs nicely with fruits. When I first tried it, I was told arugula is either one of those foods you really like or really dislike u2013 I must say I love it! The arugula provides nutrients and vitamins, and the avocado makes this meal sustainable enough to replace a meal. I love the added citrus in the dressing that gives it a real tangy flavor. Feel free to substitute the fresh basil and cilantro for dried herbs if you want to.
Vinaigrette Ingredients:
1 large, ripe avocado- peeled and pitted
1/4 cup finely chopped red onion
2 tbsp fresh lime juice
2 tbsp fresh grapefruit juice
2 tbsp rice wine vinegar (or try apple cider vinegar)
1/2 tsp black pepper
1/2 tsp salt
1/4 cup Extra Virgin olive oil (or use 1/8 cup water + 1/8 cup olive oil)
1 tbsp honey
3 tbsp chopped cilantro
1 basil leaf, chopped
cold water for thinning
Salad Ingredients:
2 cups baby arugula leaves
1 cup spinach leaves
2 ounces kalamata olives, halved
2 ounces cherry tomatoes, halved
Directions:
Place the avocado, onion, lime juice, grapefruit juice, rice wine vinegar, salt and pepper in a blender and blend on high for several minutes until smooth (no big chunks). Turn blender to low and add, olive oil, honey, cilantro and basil leaf. Blend until combined well, but leaving specks of cilantro and basil visible. Continue blending, adding a tablespoon or two of water until you reach your desired thickness. I added about a 1/4 cup until I got the consistency I wanted. Place arugula, spinach, olives, and tomatoes in a bowl. Drizzle desired amount of dressing over the top and toss until evenly coated. Store dressing in an air-tight container or bottle in the refrigerator.
Source:sweettreatsmore.com
You won't have to worry about your salad tasting boring with these healthy and delicious options. These recipes can replace full meals if you want them to, and they are especially good for days when you are looking for something light. They will turn the pickiest of salad eaters into converts. What do you add to your salad to make it a meal?