Share
Springtime is one of my favorite seasons for finding luscious, fresh and healthy spring foods at the store and farmer's market. By March, I'm ready for more raw, cold foods and less of the warm stuff like winter squash and sweet potatoes. I'm ready for fresh fruits and veggies and I'm never without delicious options come springtime. Spring is often the time when we turn to nature to get healthy, whether for a cleanse, a simple health tune up, or we decide to go on a diet. No matter what your reasoning behind eating healthy foods this spring, you don't have to worry about sacrificing taste in the process. Next time you're at the farmer's market or supermarket, be sure to pick up these 7 healthy spring foods that can help you slim down. These foods aren't only delicious, they are also versatile and full of antioxidants.
---
1

Asparagus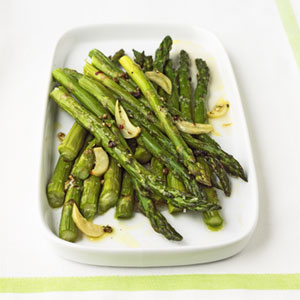 If you think you don't like asparagus, just give me a minute to explain how asparagus is one of the best overall healthy spring foods you have to choose from. It is also delicious if you cook it the right way, but I definitely don't recommend chewing on it raw like celery sticks! Asparagus is best when lightly grilled with a little olive oil and black pepper with a squeeze of lemon, or sautéed with some coconut oil in a pan and tossed onto a huge salad with some fish or other assortment of veggies. It is also great in omelets, or as a side companion in any meal you can think of. Asparagus is one of the best foods you can eat to slim down. It is not only a natural diuretic which sheds water weight from your body, but it is also rich in Vitamin C, folate, potassium, Vitamin A, and inulin, a type of dietary fiber that feeds the healthy bacteria in your gut. For that reason, asparagus is a natural pre-biotic. For an entire cup of asparagus, you're only eating 27 calories, and 4 grams of fiber along with 0 fat grams and even getting in 3 grams of protein. This is one spring veggie you don't want to skimp on!
---
2

Beets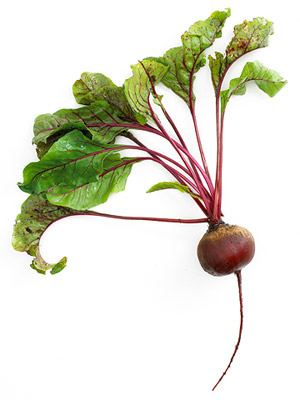 Yes, I know, you're probably wondering how on earth I'm supposed to convince you to eat beets, right? I recommend trying them roasted, which makes them taste starchy like potatoes, and also brings out their delicious sweetness and nutty flavor. Beets are excellent slimming foods. Though they do have a good bit of natural sugar, they are incredibly detoxifying to the body, especially the liver. Our livers are responsible for filtering out toxins and burning fat. When it becomes burdened with trying to filter out too many toxins from processed or unhealthy foods, it no longer can burn fat as efficiently. This is where beets come into play. They help the liver filter out toxins and aid in elimination to remove the wastes from your body. Beet juice is also wonderful if you like to juice and gives any homemade juice a beautiful bright pink color that I happen to love. Beet greens are also wonderful ingredients in salads or in dishes like omelets and even thrown into a green smoothie! Try using beets however you can and reap the slimming effects.
---
3

Spinach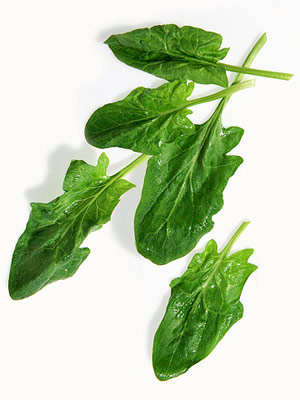 Spinach is your waistline's BFF, ladies. Not only is spinach extremely versatile, but it also has a nice, sweet, yet mild taste to it. It always leaves me wanting more. I love spinach as a salad green, tossed with chopped sweet potatoes or in a green smoothie with some raspberries. It's also great steamed with some fish or tossed into an omelet. Spinach is rich in magnesium, iron, plant proteins, Vitamin A, folate, Vitamin E, and fiber. It is incredibly slimming due to all of these nutritional properties and for one entire cup, you're only eating 7 calories! Buy organic spinach when you can to avoid pesticides, since spinach is one of the most heavily contaminated foods in a conventional form.
---
4

Carrots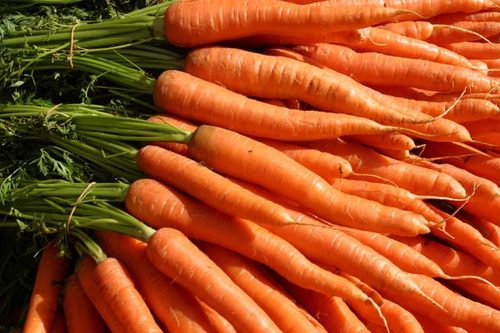 Carrots are nature's candy when it comes to veggies. If you have a sweet tooth, try a few carrots and they will immediately curb your cravings. Carrots are excellent for weight loss, but they aren't just a diet food. Carrots are nutritional powerhouses. They are one of the best plant foods for a combination of Vitamin C, magnesium, fiber and Vitamin A. These nutrients are crucial for good health and for weight loss. Carrots make your skin glow, and nails strong. They also keep you full from the high amounts of fiber, so you're less likely to binge on carrots as a snack versus chips or cookies. I like carrots raw, roasted, tossed into salads, juiced or steamed by themselves with a little seasoning. They also make a great ingredient in homemade veggie soup. Springtime is the best time of the year to find them fresh and in season, which makes them not only less expensive, but tastier too.
---
5

Swiss Chard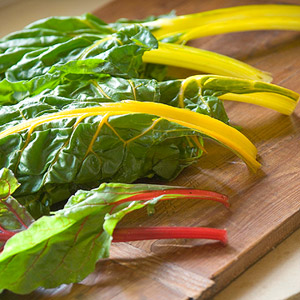 Ah, Swiss chard is such a lovely little spring green! Some of the stems are bright pink, vibrant orange, crimson red, or gorgeous yellow colors. The leaves are incredibly huge and full of sweet-tasting nutrients. Swiss chard is an excellent slimming green, and if you haven't tried it yet, I definitely recommending making this spring the time you do so. Swiss chard reminds me of a mix of spinach and kale. While it is somewhat sweet, it's also hearty and earthy too. It doesn't taste quite as bitter as kale, but not as sweet as spinach either. It is great flavor combination, and very versatile in the kitchen. Swiss chard is high in magnesium, fiber, iron, and B vitamins.
---
6

Raspberries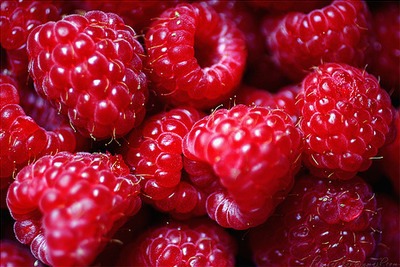 Raspberries are one of the best fruits for weight loss and one of the tastiest. Raspberries are high in fiber with 8 grams per cup. They are moderately low in sugar and high in the nutrient Vitamin C and antioxidants. I recommend buying frozen organic raspberries, which are much cheaper than fresh organic berries. Always buy organic berries, whichever option you choose, since berries are one of the top most pesticide-laden foods. I love raspberries combined with some cocoa powder in a smoothie, or you can try them on top of oatmeal, yogurt, baked into breads or even tossed into salads.
---
7

Artichokes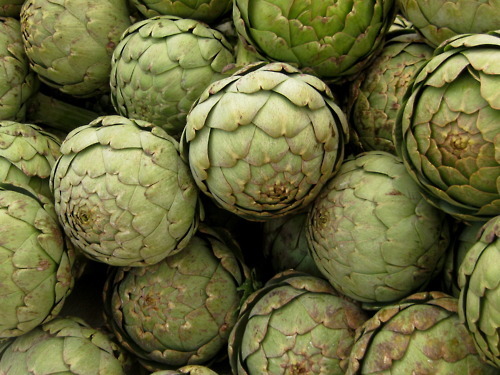 Artichokes are the tastiest little things! They are extremely high in fiber and are also a pre-biotic food, just as asparagus is. Artichokes are very detoxifying to the body and have a type of fiber that specializes in sweeping wastes from the colon, giving a slimming effect. In one artichoke, you get 4 grams of protein, and 7 grams of fiber for only 60 calories. Don't let their outer appearance intimidate you either. I used to be so turned off by the seemingly hard work behind these veggies, yet they are in fact easy to cook. Just cut the stem off, and about an inch off the top of the choke. Wrap it in foil and bake at 350 for 40 minutes. Remove from the oven and peel back the leaves until you get to the heart. Remove the heart and squeeze with a little olive oil, lemon, black pepper and/or sea salt. Though canned artichokes have added salt to them, I do buy them occasionally for convenience. I like Reese's brand, which is somewhat low in salt and has no added oil. Though fresh is best, canned artichokes are just easier to use day-to-day in my opinion. You also get about 8-10 hearts in one can and no work is involved. I do recommend staying away from those packed in oil and higher in salt though. To remove most of the salt, I like to rinse mine for several minutes under cold water, pat them dry and use them immediately. Whatever you don't use can be saved the fridge for a few days. Canned artichokes have a nice tangy flavor, much like pickles in my opinion, and are great for a filling option on salads.
With all these delicious healthy spring foods to enjoy, there's no reason not to embrace this spring as the year you start to enjoy more fresh foods and embark on a new level of health. All of the above foods are low in sugar and high in fiber. This is a win-win combination when trying to diet, or simply trying to eat healthier. Do you have any favorite healthy spring foods you like to enjoy? Share them!
More