Share
Though I'm not vegan, I love finding new vegan foods to enjoy, such as the new nondairy items out on store shelves right now! This year has been huge in the non-dairy beverage industry. I've seen almost every type of nondairy milk imaginable on shelves this year, and I'm happy to report they are incredibly tasty too! There have also been some quite innovative nondairy snacks produced this year as well for those of us that love to much away on plenty of plant-based foods. Whether you don't tolerate dairy, or just choose not to eat it, check out these creative new nondairy items on store shelves.
---
1

So Delicious Cashew Milk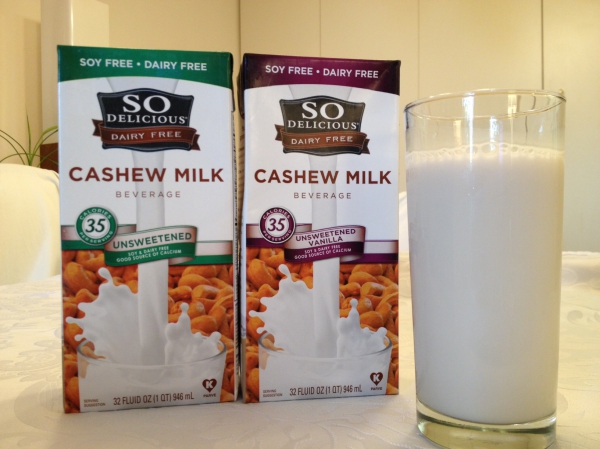 Perhaps one of the most prominent leaders in creating new nondairy items is So Delicious Dairy Free! They have given us tons of great almond milks, coconut milks and of course, soy milks over the years. Best of all, they spread hope in the frozen food aisle by giving us dairy-free ice cream treats that taste amazing as well. The So Delicious protein-infused almond that came out last year was a favorite nondairy beverage of mine, and now this summer, So Delicious has done it again! They've created a new cashew milk that comes in regular and unsweetened varieties in shelf stable cartons for the time being. This milk is only 35 calories, which is lower than other So Delicious varieties. It is also soy, gluten and dairy-free. You can find it in stores now in some locations, and it should be widely available wherever other nondairy milks are sold by the end of summer.
---
2

Health Warrior Chia Bars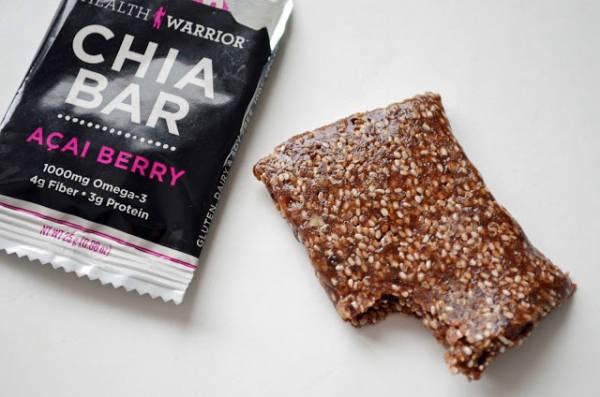 Chia seeds are a great nondairy solution to protein bars, which most of us turn to for quick, convenient energy. Until recently, there hasn't been too many great chia- style protein bars on the market. That has changed and I'm happy to say these little guys are amazing! Chia isn't as high in protein as standard dairy sources like whey or yogurt, however, chia is rich in appetite- quelling nutrients, fiber, and energizing nutrients too. This means you'll get a longer, sustained energy boost that far out beats the crash effects of caffeine! These bars are a great way to take advantage of chia's benefits, which include plenty or Omega 3's fiber and clean ingredients. The flavors come in Chocolate Peanut Butter, Apple Cinnamon, Coffee, Banana Nut, Coconut, and Acai Berry flavors, thus far. They are gluten-free, vegan, and you can find them with other nutritional bars and protein bars at health food stores like Whole Foods.
---
3

Chia Pods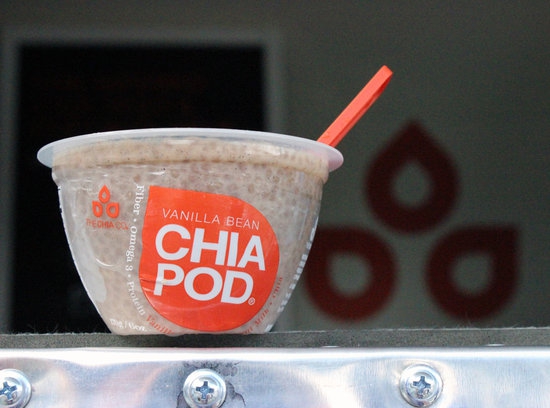 These are the cutest little premade chia bowls I've ever seen! They are the perfect nondairy solution to pudding, though their pricetag is definitely not as cute as their appearance! These little snacks are pricey, but in a pinch, if you needed a chia pick-me up on the road, these would make the perfect snack. You'll find them where regular dairy puddings and yogurts are sold. Chia pods are simply coconut milk, chia seeds and flavors like real vanilla or real fruit, with nothing added! They are super healthy and adorable, plus pretty filling if I do say so for a girl with a substantial appetite like myself!
---
4

Vanilla Coconut Milk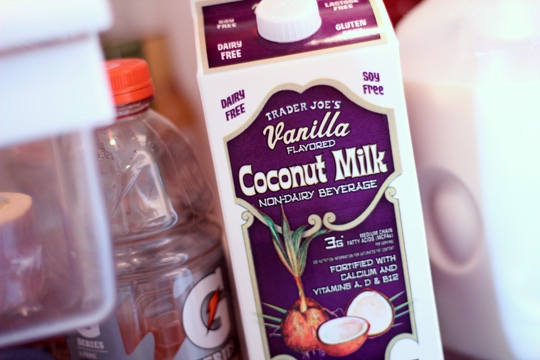 Taste the Dream makes a variety of USDA certified nondairy milks like soy, almond and coconut milks. Now, they have created their own line of Dreams Blends products, which are nondairy milks that offer a tasty blend of various nuts and seeds. They've also just released a new coconut milk product as well, which is Coconut Vanilla milk. It is available in unsweetened and regular varieties. Before this flavor option, only regular coconut milk was available by the company and I'm so glad they created this new vanilla beverage! If you love creamy, dreamy coconut as much as I do, give this delicious beverage a try, which is enriched with vitamins and minerals like calcium and magnesium. Right now, Dream nondairy milks are only available as a shelf-stable items, so check the nondairy milk aisle at your local store instead of the refrigerated section.
---
5

Almond Cashew and Hazelnut Milk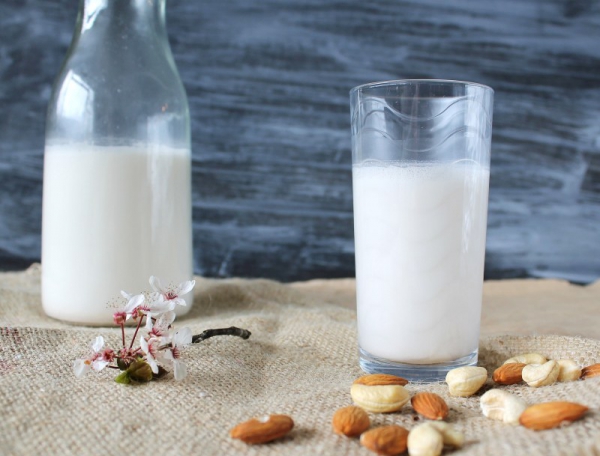 This milk is one of the new Dreams blend variety, by Taste the Dream Inc., and I love the idea of this milk, which has added sweet, nutty hazelnuts to the mix! A simple blend of almond, cashew and hazelnut milks make a great, creamy, slightly sweet milk that is also easy to pour and not too thin like rice milk tends to be. This also comes in a regular and unsweetened variety in shelf-stable cartons, which makes it excellent for people like myself who like to watch their sugar intake.
---
6

Coconut Almond and Chia Milk
Another one of the Dreams blend milks is the Coconut, Almond and Chia seed milk. I think this combination is pretty brilliant! Coconut, almonds and chia seeds are some of the most nutrient-dense, flavorful and energizing vegan foods of all. I love the creamy texture of this milk and thanks to the chia seeds, it really has a nice thick feel, but not like chia pudding. Don't worry; it won't gel up on you like chia pudding, but is simply nice and thick with more of a cream- like consistency. I found it tasted great as a creamer in my coffee! This milk is also available in regular and unsweetened varieties on store shelves.
---
7

Rice and Quinoa Milk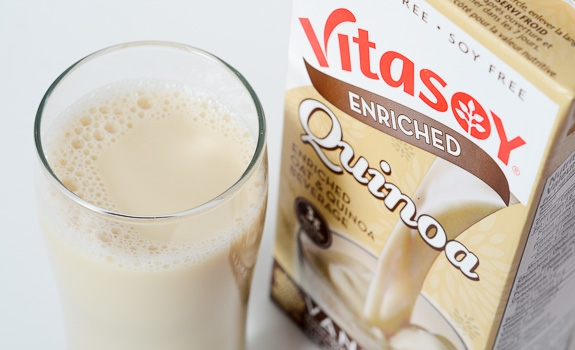 Another new Dreams blend is the Dreams company, is the new rice and quinoa milk. For those of you who don't tolerate tree nuts, you'll love this blend. The rice and quinoa is a simple grain-based milk that is decent in nutritional value, and actually poured out quite nicely into my coffee, despite the fact that rice milk can be thin. I think the taste was a little more neutral than the other varieties, so if you want a creamier, more flavorful milk, go with a nut-based milk. This milk is also available in regular and unsweetened, and sold in shelf-stable cartons.
---
8

Sunflower Milk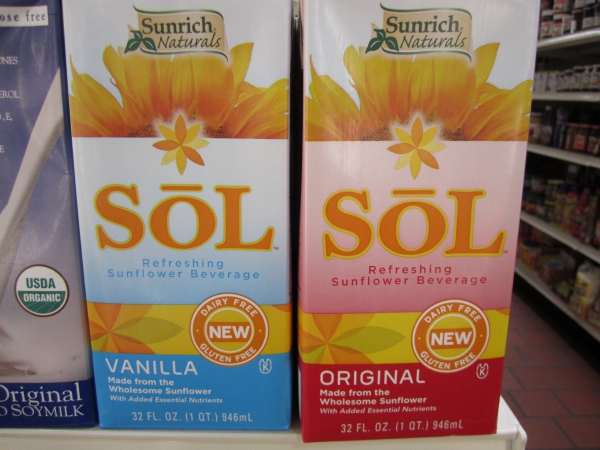 If you're not a fan of any of the above nondairy milk choices, or you don't tolerate nuts or soy, then I've got one more hope for you! Taste the Dreams brand has also just released a new sunflower seed milk blend. I think this would be exceptional, since I'm a huge fan of sunbutter! This shelf-stable milk sounds creamy and tasty, though I haven't been able to try it yet. I also love that it comes in unsweetened and regular varieties. Be sure to look for this milk wherever your other nondairy milks are sold.
---
9

Nondairy Coffee Beverages
All major nondairy companies such as Silk, Almond Breeze and So Delicious have released chilled coffee beverages that are now sold in the refrigerated section where other nondairy milks are sold. These are found right alongside standard dairy coffee beverages, and come in yummy-sounding flavors like Mocha, Iced Coffee, Caramel Macchiato, etc. The down side is, these drinks are loaded with sugar! I hate that these creative combinations have been combined with as much sugar as a typical soda, so I wouldn't buy them for myself. You can bet your mug of coffee that I'm holding out hope that some unsweetened varieties come available soon though!
Nondairy sources of milk can be a great way to reduce carbon footprint, be more animal-friendly, and I actually prefer the taste of almond milk now over typical dairy milk anyway! If you drink or eat nondairy products, let me know if you've tried any of these new products! If so, what are your favorites and if not, then which ones do you hope to try soon?
Sources: sodeliciousdairyfree.com, healthwarrior.com, thechiaco.com.au, tastethedream.com, almondbreeze.com
More