Share
I adore salmon dishes, especially in the summer's heat when grilling season starts up in full swing. Salmon is the perfect lean protein and it holds up nice and firmly on a grill or in the oven. Salmon doesn't dry out easily either, due to those healthy fats salmon contains, which makes it another great fish to cook with. Salmon is an excellent source of Omega 3 fatty acids, protein, and vitamins and minerals such as selenium, magnesium, B vitamins, Vitamin D, zinc and iron. Salmon is also a great food to keep your skin healthy, and it digests easily too. If you want a skinny dish that seriously satisfies, turn to any of these tasty salmon dishes to try this summer.
---
1

Grilled Maple Salmon with Veggies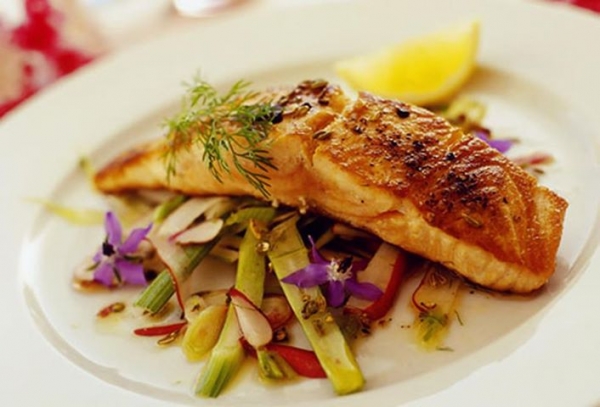 This is one of my favorite salmon dishes, because it is so tasty and incredibly simple! If you're not a fan of maple flavor, try adding some honey or even agave. Molasses could also be a possibility. Grilled veggies are so easy too! They literally take 5 minutes to cook and their flavors are incredibly caramelized and complex. Give this dish a try just as you're heating up the grill this summer!
Ingredients:
2 teaspoons paprika
1 teaspoon chili powder
1 teaspoon ground ancho chile powder
1/2 teaspoon ground cumin
1/2 teaspoon brown sugar
1 teaspoon sea or kosher salt
4 (6-ounce) salmon fillets
Cooking spray
1 teaspoon maple syrup
Directions:
Prepare grill, heating to medium.
Combine first 5 ingredients. Sprinkle fish with salt; rub with paprika mixture.
Place fish on grill rack coated with cooking spray; grill 7 minutes. Drizzle fish with syrup; grill 1 minute or until fish flakes easily when tested with a fork. Serve with grilled asparagus and summer squash or broccoli.
Source: myrecipes.com
---
2

Pineapple Teriyaki Salmon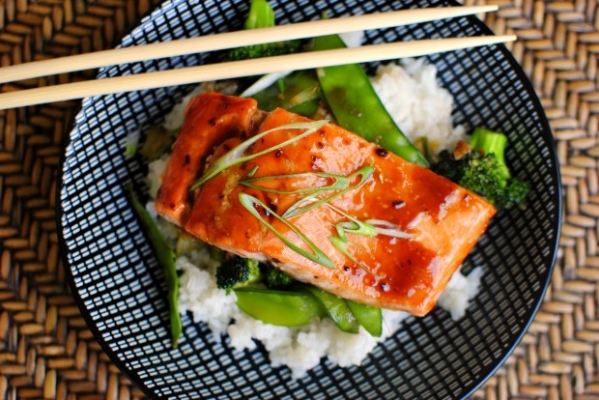 A fan of tropical flavors, are you? Then this dish is for you! I recreated a version of this recipe at my home this past year and I must say, it was a family favorite! A local restaurant I love has this dish on their menu and they marinate the salmon overnight, so if you want to add some extra flavor, you can try that as well!
Ingredients:
2 tablespoons brown sugar or maple syrup
2 tablespoons low-sodium soy sauce
1 teaspoon finely grated orange zest
1 (6-ounce) can no sugar added pineapple juice
1/2 teaspoon salt, divided
2 teaspoons coconut oil
4 (6-ounce) salmon fillets (about 1 inch thick)
1/4 teaspoon freshly ground black pepper
Grated orange rind (optional)
Directions:
Combine first 4 ingredients and 1/4 teaspoon salt in a small saucepan over high heat, and bring to a boil. Reduce heat, and simmer until reduced to 1/4 cup (about 15 minutes). Set aside.
Preheat oven to 400°.
Heat oil in a large nonstick skillet over medium-high heat. Sprinkle both sides of salmon with remaining 1/4 teaspoon salt and black pepper. Add fish to pan; cook 3 minutes. Turn fish over and place in oven; bake at 400° for 3 minutes. Remove from oven; brush 1 tablespoon sauce over each fillet. Return to oven, and cook 1 minute or until fish flakes easily when tested with a fork or cooked until desired level of being done.
Sprinkle with orange rind, if desired.
Source: myrecipes.com
---
3

Grilled Wild Salmon with Cucumber-Avocado Salsa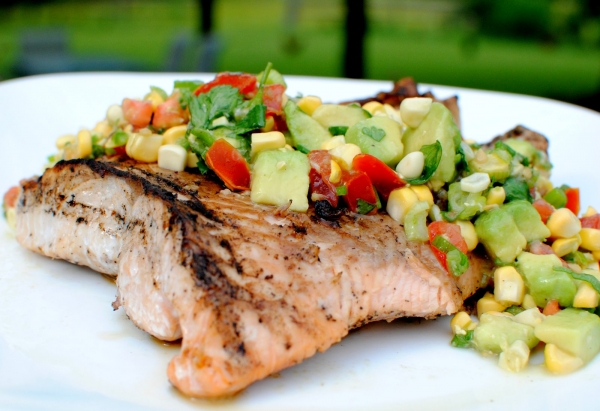 I'm a huge fan of fresh, healthy foods with less sugar and salt than some other summer dishes contain. This recipe includes tons of fresh flavor from the cucumbers and avocados, and the grilled salmon just really takes things up a notch. When grilling salmon, don't over-grill the meat or it will become dry. A good magic number is 6 minutes or 7 minutes for especially large fillets. If you use the whole fish, try 8-9 minutes.
Salmon Ingredients:
2 salmon fillets
1 tablespoon extra-virgin olive oil
1 teaspoon sea salt
1/2 teaspoon freshly ground pepper
2 tablespoons chopped fresh chives
2 tablespoons chopped fresh cilantro
2 limes
Cucumber Avocado Salsa Ingredients:
3 scallions, white and green parts, minced
2 English cucumbers, halved and cut into ½ inch slices
3 tablespoons red wine or apple cider vinegar
1 1/2 teaspoons lime zest
2 tablespoons fresh lime juice
1 tablespoon extra-virgin olive oil
3 tablespoons chopped fresh cilantro
Salt, to taste
Freshly ground pepper, to taste
1 avocado, peeled, seeded, and chopped
Salmon Directions:
Preheat grill to medium-high heat.
Place salmon flat on a large glass baking dish. Rub salmon with oil; sprinkle with sea salt and next 3 ingredients.Squeeze juice of 1 lime over salmon just before cooking. When the grill is hot, place salmon flesh side down, and cook, undisturbed, about 6 minutes or until salmon releases from grill easily and is golden brown on the cooked side.
Turn salmon over, and squeeze juice from remaining lime over salmon.
Cook, covered with grill lid 6 more minutes or until fish starts to flake.
Remove from grill and let it rest, loosely covered, about 5 minutes before slicing. (It will continue to cook slightly.)
Serve warm or at room temperature topped with Cucumber-Avocado Salsa.
Cucumber-Avocado Salsa Directions:
Combine cucumber and scallion together in a medium bowl. Whisk together vinegar and next 4 ingredients in a small bowl. Pour vinaigrette over cucumber mixture, and season with salt and pepper. Add avocado just before serving, and toss gently to mix. (You can make this salsa ahead of time and refrigerate until ready to serve, but add the avocado just before serving.)
Source: ****myrecipes.com
---
4

Teriyaki Salmon with Zucchini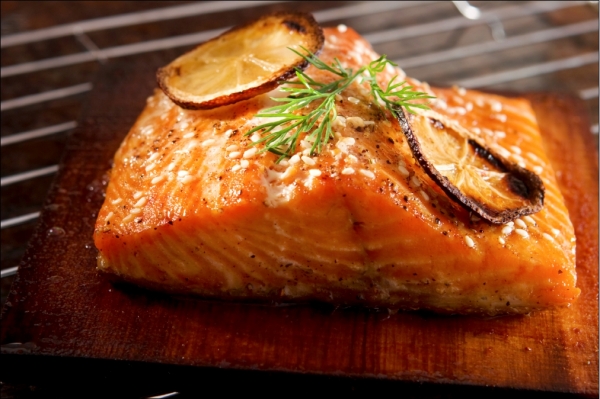 I'm all about simplicity and this recipe is full of it! I like to use low-sodium teriyaki sauce in this recipe to keep the sodium down, but feel free to use regular. Zucchini is abundant during summer, so be sure to reap the benefits of this healthy, lean veggie and enjoy it in this savory dinner dish!
Ingredients:
Low-sodium teriyaki sauce
2 (6-ounce) salmon fillets
Sesame seeds
2 small zucchini, thinly sliced
4 scallions, chopped
Canola oil
Directions:
Combine 5 tablespoons teriyaki sauce and fish in a zip-top plastic bag. Seal and marinate 20 minutes. Toast sesame seeds in a large nonstick skillet over medium heat, and set aside. Drain fish, discarding marinade. Add fish to skillet, and cook 5 minutes. Turn and cook for 5 more minutes over medium-low heat. Remove from skillet, and keep warm. Add the zucchini, scallions, and 2 teaspoons oil to skillet. Saute 4 minutes, or until lightly browned. Stir in 2 tablespoons teriyaki sauce. Sprinkle with sesame seeds, and serve with salmon.
Source: health.com
---
5

Salmon Salad with Vinaigrette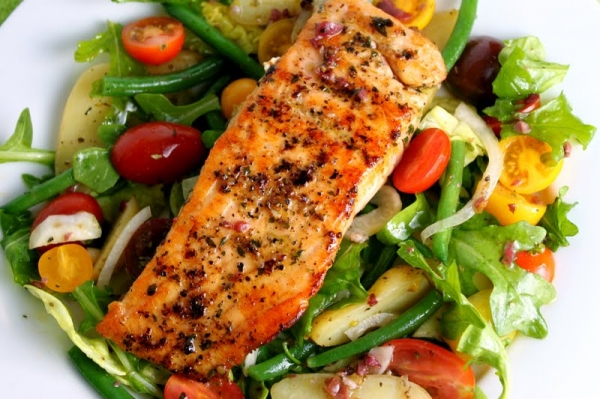 I adore salad! Salad is just a great way to get in your greens and add some protein on top, and you're done! This salad would make a great lunch, or fresh outdoor dinner. Try whatever vinegar you like, as most would work great! I am a personal fan of apple cider vinegar myself, but any kind would take on a lovely level of zing!
Ingredients:
1 pound green beans, trimmed
1/4 cup red wine vinegar
2 tablespoons Dijon mustard
1 tablespoon extra-virgin olive oil
1 tablespoon minced shallots
1/4 teaspoon kosher salt, divided
1/4 teaspoon black pepper, divided
4 (3-ounce) salmon fillets
4 cups mixed salad greens
1/4 cup vertically sliced Vidalia or other sweet onion
2 hard-cooked large eggs, sliced
Directions:
Preheat grill to medium-high.
Place beans in large pan of boiling water; cook 2 minutes. Drain and plunge beans into ice water; drain.
Combine vinegar, mustard, oil, shallots, 1/8 teaspoon salt, and 1/8 teaspoon pepper in small bowl, stirring well with whisk; set aside.
Using a mister, spray both sides of each fillet with olive oil; sprinkle with 1/8 teaspoon salt and 1/8 tea-spoon pepper. Place fish, skin side up, on grill rack; cook 8 minutes or until fish flakes easily when tested with fork, turning after 4 minutes.
Arrange 1 cup greens in each of 4 bowls; top with onion, egg slices, and beans. Top with salmon; drizzle with dressing.
Source: health.com
---
6

Roast Salmon with Tomato Sauce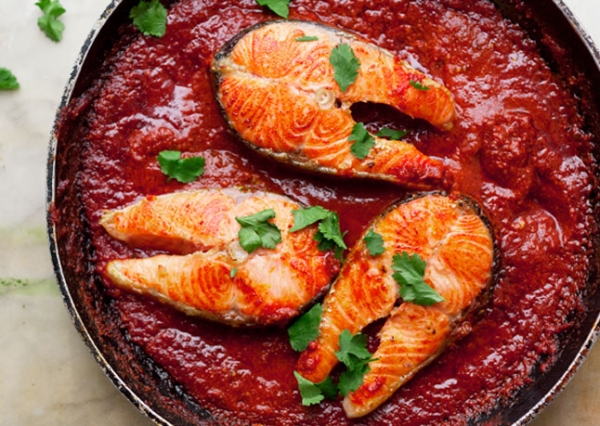 Perhaps you don't want a fussy dinner, or you don't want to grill anything. No worries! Use this great roast salmon dinner and keep things simple. Tomato sauce is such an underrated tool in the kitchen. It has a notch of sweet and savory, and they are truly delectable together. Pair it with salmon and you've got one tasty entrée!
Ingredients:
Fresh tarragon
Capers
Finely grated lime rind
1 (26.5-ounce) package vacuum-packed chopped tomatoes
4 salmon fillets (about 6 ounces each)
Lime wedges
Directions:
Preheat oven to 375°. Combine 1 tablespoon tarragon, 2 tablespoons drained capers, 1/4 teaspoon rind, and tomatoes in an 8-inch-square baking dish; season with salt and pepper. Place salmon, skin side down, on mixture; sprinkle with salt and pepper. Cover with foil. Bake at 375° for 15 minutes; uncover and bake 20 additional minutes, or until the fish flakes easily. Divide sauce among 4 plates; place a salmon fillet on each. Garnish with lime wedges.
Source: health.com
---
7

Grilled Rosemary-Salmon Skewers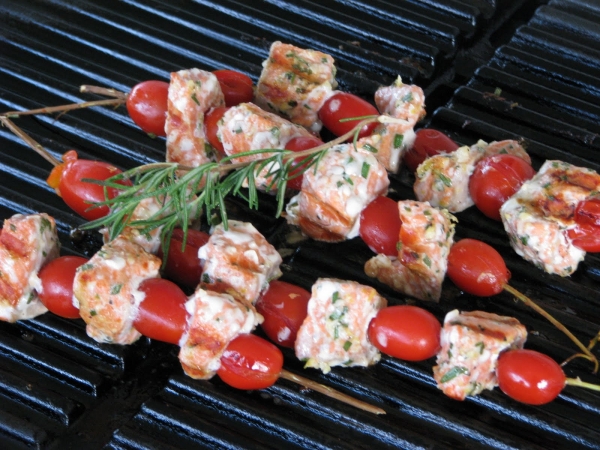 Aren't kabobs just so easy? I love grilling kabobs, and salmon holds up well compared to other fish, such as tilapia, on the grill. Make these kabobs for a barbecue or party and I promise they will be a hit! If you're not a fish fan, feel free to sub out your favorite meat, but if you've never had salmon, give it a try. Grilling it is one of my personal favorite ways to eat it!
Ingredients:
2 teaspoons minced fresh rosemary
2 teaspoons extra-virgin olive oil
2 cloves garlic, minced
1 teaspoon freshly grated lemon zest
1 teaspoon lemon juice
1/2 teaspoon kosher salt
1/4 teaspoon freshly ground pepper
1 pound center-cut salmon fillet, skinned (see Tip) and cut into 1-inch cubes
1 pint cherry tomatoes
Directions:
Preheat grill to medium-high.
Combine rosemary, oil, garlic, lemon zest, lemon juice, salt and pepper in a medium bowl. Add salmon; toss to coat. Alternating the salmon and tomatoes, divide among eight 12-inch skewers.
Oil the grill rack (see Tip). Grill the skewers, carefully turning once, until the salmon is cooked through, 4 to 6 minutes total. Serve immediately.
Tips:
Make Ahead Tip: Prepare the skewers after preheating the grill, cover and refrigerate for up to 8 hours. Proceed with grilling when ready to serve. | Equipment Needed: Eight 12-inch skewers
Tips: How to skin a salmon fillet: Place skin-side down. Starting at the tail end, slip a long knife between the fish flesh and the skin, holding down firmly with your other hand. Gently push the blade along at a 30° angle, separating the fillet from the skin without cutting through either.
To oil the grill rack, oil a folded paper towel, hold it with tongs and rub it over the rack. (Don't use cooking spray on a hot grill.)
Source: eatingwell.com
Make this summer the year you try salmon if you haven't done so with these simple, yet healthy, salmon dishes. You'll be well on your way to satisfied, slim and healthy in no time! Have you ever tried salmon and if so, what is your favorite way to eat it?
More