Share
Smoothie recipes for skin not only taste great but also help you achieve a radiant complexion! To me, smoothies are the perfect combination of healthy and delicious. They're so yummy it's almost like eating dessert, but if you keep the ingredients wholesome it's good for you too! Check out these 8 scrumptious smoothie recipes for smooth and silky skin and sip your way to a radiant complexion!
---
1

Glowing Green Smoothie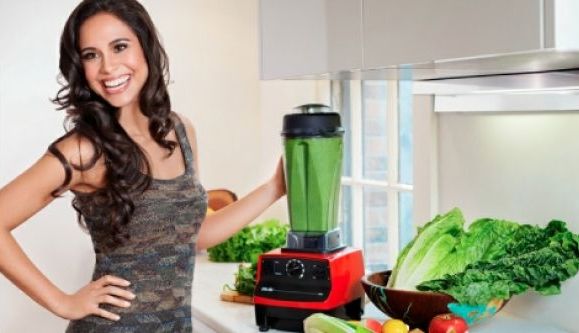 Kimberly Snyder's smoothie for healthy skin took the beauty world on by storm! Lots of ladies swear by the Glowing Green Smoothie for clear skin, but you're also drinking around three cups of green vegetables that contain tons of fiber and other nutrients for a healthy body and a boost of energy!
Ingredients:
½- 2 cups very cold, filtered water
6 cups spinach, chopped
5 cups organic romaine lettuce, chopped
2 stalks of organic celery
1 organic apple, cored and chopped
1 organic pear, cored and chopped
1 organic banana
1–2 Tbs. fresh organic lemon juice
Optional ingredients:
Ice cubes (the extra coldness can help newbies with the taste)
1/2 cup of organic cilantro
1/2 cup of organic parsley
Directions:
Add water, spinach and chopped romaine to the blender. Starting the blender on a low speed; mix until smooth.
Gradually move to higher speeds and add the herbs, celery, pear, and apple. Add the banana and lemon juice last.
*For 1 serving, cut out one of the fruits and the celery.
Source: kimberlysnyder.net
---
2

Wrinkle-Fighting Smoothie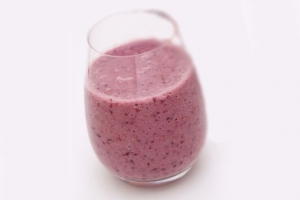 Dr. Oz knows his smoothie recipes for skin and this next smoothie helps you fight wrinkles and gives you a big dose of antioxidants all for 135 calories per serving! And get this, this smoothie contains chocolate milk-does it get any better than that?! Drink this smoothie whenever you're craving a cool treat!
Ingredients:
Makes 2 servings
1 cup non-fat or low-fat chocolate milk
1/4 cup unsweetened green tea
1 1/2 cups frozen mixed raspberries, strawberries, blueberries and blackberries
Directions:
Pour chocolate milk, green tea and mixed berries into blender and blend until smoothie has reached desired consistency.
Pour smoothie into glass and serve cold.
Source:
doctoroz.com
---
3

Banana Almond Flax Smoothie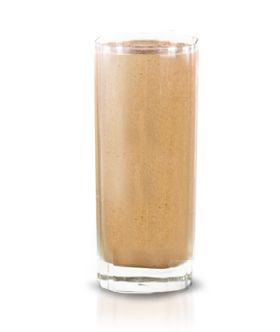 Mix up this banana almond smoothie the next time you're experiencing puffy or irritated skin. This beneficial blend is filled with omega-3s, calcium, potassium and proteins which all nourish our bodies and skin. Bananas and almond butter give this sweet drink a thick texture that can almost pass as a milk shake!
Ingredients:
1 tbsp flaxseed oil
2 tbsp raw almond butter
1 small banana
1/2 cup organic apple juice
1 cup ice cubes
Directions:
Blend and enjoy!
Source: totalbeauty.com
---
4

The Green Beautifier

This is another green smoothie recipe but this particular recipe calls for spirulina. You can find this blue- green algae in most health food stores and don't get scared off by the fact that it's algae, it's super good for you! It has loads of vitamins, minerals and antioxidants and when it's combined with the fruits and veggies in this smoothie, you're going to love the results!

Ingredients:

1 cup of arugula
1 large banana or two small ones
1 cup of mango (frozen or fresh, doesn't matter -- but don't we all prefer fresh?)
1 teaspoon of spirulina
Water or Nut milk
Directions:
Mix it all together in a blender and add some nut milk or water until it reaches that creamy consistency.

Source: xojane.com
---
5

Beauty Bonanza Smoothie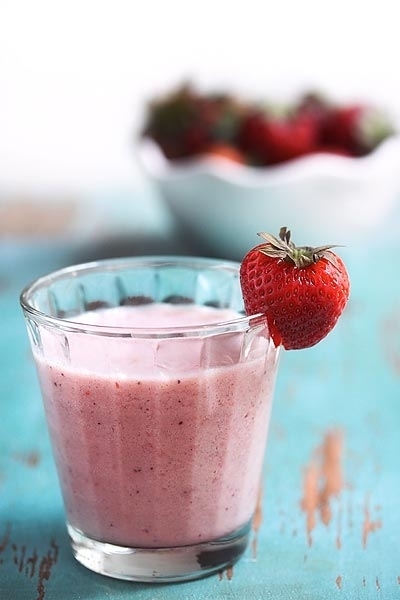 Smoothie recipes for skin aren't just about fruits and veggies, the Beauty Bonanza contains chia seeds for omega 3s, a variety of berries for antioxidants and tofu for selenium and iron! Don't get turned off by the tofu! I know it might seem odd to add it in a smoothie, but it's similar to adding a powdered protein and won't affect the other flavors in the drink!
Ingredients:
¼ cup fresh or frozen strawberries
½ cup fresh or frozen blueberries
1 orange, peeled and pits removed
1 ripe banana
½ cup fat-free plain yogurt
½ cup extra firm Silken tofu
2 tablespoons chia seeds
1 teaspoon agave nectar
Directions:
Put all ingredients into blender and whip until smooth. Sip and think youthful thoughts.
Source: youbeauty.com
---
6

Almond Milk Smoothie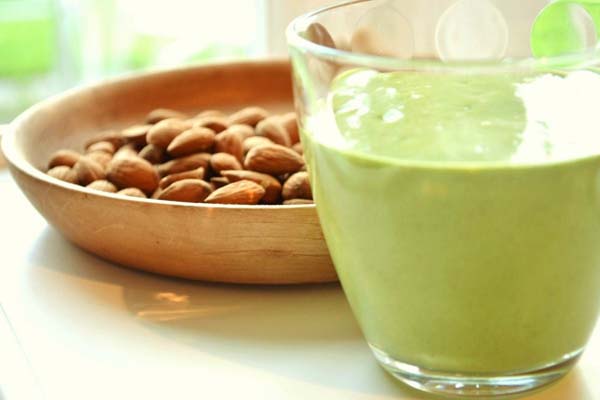 The almond milk smoothie for healthy skin claims to taste like birthday cake without the guilt-I'm sold! This recipe calls for a variety of ingredients from kale to peaches to ground almonds. Feel free to substitute this drink for a meal because it's super thick, filling and loaded with vitamins and minerals!
Ingredients:
1 1/2 Cups Water
1 Cup Almond Milk (or any other dairy free milk e.g. rice, soya, oat, hemp coconut drink or raw nut or seed milk)
1 Cup tightly packed Kale
1 Cup Peaches
1 Banana
1 Cup Oats (use raw oat groats if following a raw food diet or oatmeal if you don't have a high powered blender)
¼ Cup Apricots (or any other dried fruit)
¼ Cup Almonds (Use ground almonds if you don't have a high speed blender)
Directions:
Blend the ingredients in the order listed.
Blend the ingredients a few at a time so that your blender can cope with the work, unless you've got a high powered blender, then you might be able to add them all in at once.
If it gets too thick, add more water as necessary.
If your blender has made the smoothie too warm, you can either cool it down in the fridge or freezer, or add some ice cubes or frozen fruit to it.
Source: greenthickies.com
---
7

Simple Berry Smoothie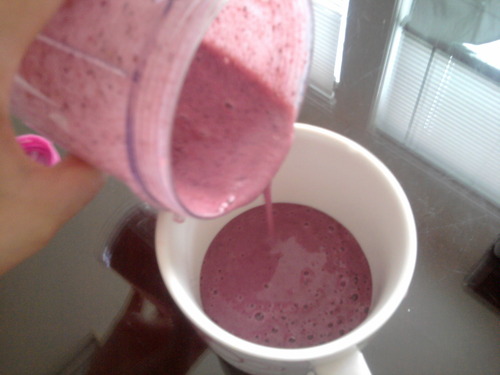 If you're not hip to some of the fancy ingredients in the other smoothies, try this simple smoothie recipe out! All you need is a blender, strawberries, blueberries, a banana and milk. Easy, delicious and filled with antioxidants, vitamins and fiber for a tasty treat anytime!
Ingredients:
4 small strawberries
1/2 of a banana
2 spoonfuls of frozen blueberries
1/2 cup of milk
Directions:
Place all your fruits into your blender cup. Add 1/2 cup of milk, fruit juice, or yogurt. If you like your smoothie sweetened, you can add honey or other sweeteners. Blend for one minute.
Source: asianskincareobsession.tumblr.com
---
8

Choco Banana Freeze

Chocolate lovers will get a kick out of this healthy skin smoothie! The chocolate, banana and almond butter will satisfy your sweet tooth and provide plenty of proteins and healthy fats for gorgeous skin! This smoothie was created by an aesthetician when her clients complained that their skin looked dull. Many of them weren't eating a healthy diet so she created some smoothies to nourish skin from the inside!

Ingredients:

1 cup soy or low-fat milk
2 bananas, peeled and frozen
1 tbs. cocoa
1tbs. almond butter

Directions:

Place ingredients in blender in order given.

Source: reviveyou.com

I hope you try and love these smoothie recipes for skin! Smoothies are a great way to get a dose of fruits and veggies while taking in tons of healthful ingredients that'll leave your skin luminous! I know it's cold out but smoothies area sweet treat you can enjoy year round! Do you have your very own smoothie recipe for glowing skin?
More