Share
Yogurt recipes are an easy way to incorporate this super food into your meal plan. It contains lots of protein as well as plenty of probiotics, which are good for your digestive health. I'm not suggesting you go granola and make your own yogurt, but it works really well in many recipes that let you reap the rewards even if you don't like yogurt on its own. Check out these yogurt recipes and you'll agree with me in no time.
---
1

Carrot and Raisin Salad
The crunch of carrots just matches the texture of raisins so well. And the two foods together don't taste half bad either. Combine them with yogurt and you've got a super tasty and healthy side dish with very little effort. This is one of the yogurt recipes that you're going to put on the top of your recipe pile.
Ingredients:
4 cups shredded carrot
1 8-ounce can crushed pineapple in juice, drained and liquid reserved
½ cup chopped pecans, toasted and cooled
¼ cup raisins
¼ cup plain 2% Greek yogurt
1 teaspoon sugar
Pinch of salt
Directions:
Combine the carrot, pineapple, pecans and raisins in a bowl. In another bowl, mix together 2 tablespoons pineapple juice with the yogurt, sugar and salt. Stir until there are no lumps. Add the yogurt mixture to the carrots and toss well to coat. Chill before serving.
Source: seriouseats.com
---
2

Bacon and Mushroom Yogurt Cream Pasta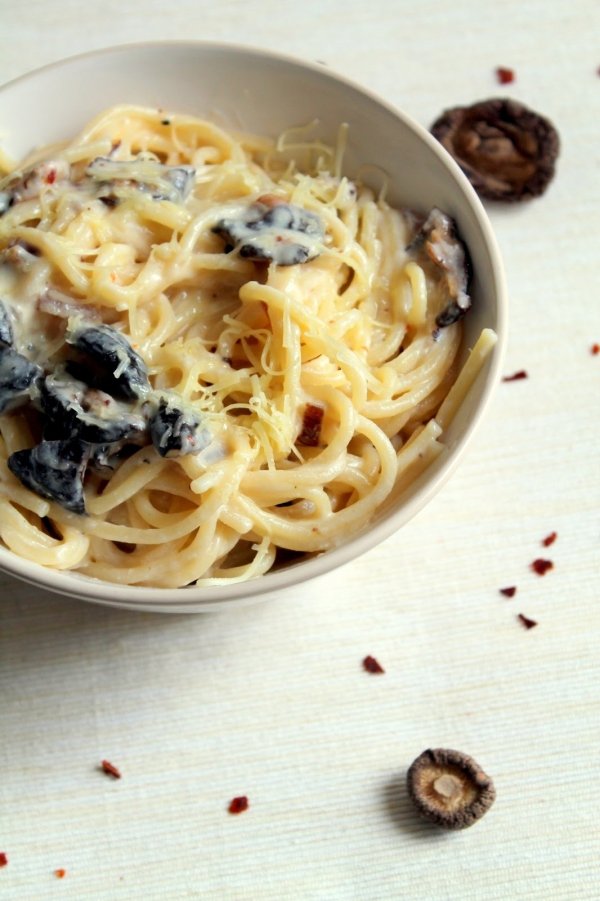 Um…there's nothing better than bacon, am I right? So anytime a recipe cuts fat and calories elsewhere so I can enjoy crispy bacon is a top one in my book. This recipe is creamy and tastes sinful, so balance it with your other choices for the day. You're going to love it, I promise!
Ingredients:
1 pound angel hair pasta
½ pound bacon, diced
¼ pound fresh mushrooms, sliced
2 tablespoons butter
2 tablespoons flour
1 cup nonfat Greek plain yogurt
1 cup heavy whipping cream
Lemon zest, to taste
Directions:
Cook the pasta as the package directs and set aside. Cook the bacon in a large skillet about 8 minutes, or until cooked and crispy. Remove half the bacon grease from the pan and add the mushroom slices. Cook the mushrooms for about 5 minutes, then add the butter to the pan. Once the butter melts, add the flour and stir to form a roux. Whisk in yogurt and cream and stir the mixture until it thickens. Toss the sauce with the cooked pasta and the lemon zest and serve.
Source: stonyfield.com
---
3

Maple Yogurt Salad Dressing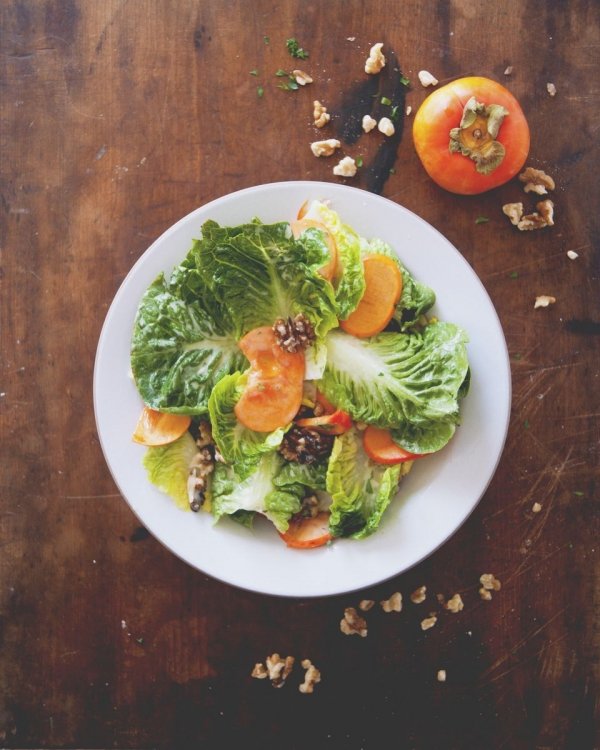 If you're looking for a tasty new salad dressing, this is the recipe for you. It's easy to make, but tastes wonderful with many fruity salad ingredients. Give this a try and having salad won't seem so boring.
Ingredients:
¼ cup 100% maple syrup
2 tablespoons light brown sugar, or to taste
1 ½ cups plain yogurt
2 tablespoons whipping cream
Directions:
Combine the syrup and sugar in a small bowl. Whip with a mixer on low until well mixed. Add the cream and yogurt and beat until the dressing gets creamy. Pour over granola or fruit salad.
Source: cooks.com
---
4

Chilled Tomato Soup with Cilantro-Yogurt Swirl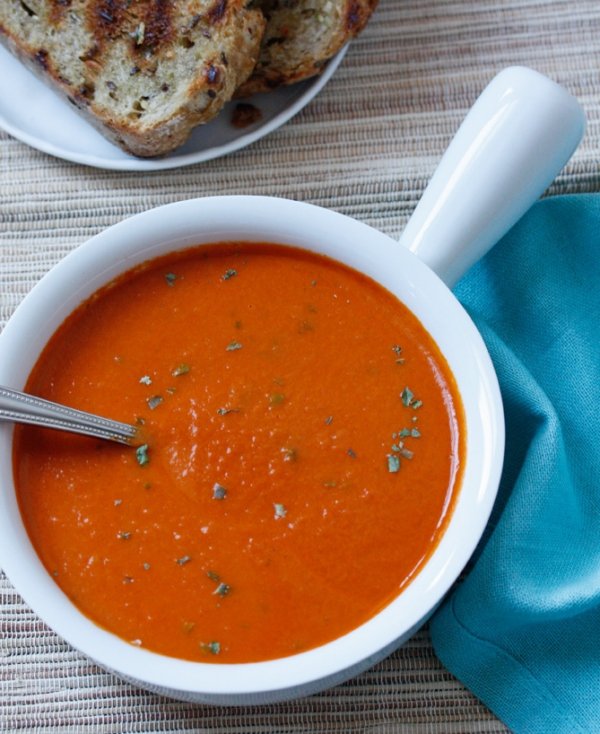 Don't let the name fool you. This recipe isn't hard to make and it tastes super yummy. It's perfect for a warm summer night, but you can eat it any time you want to. With loads of vegetables, it's got lots going for it in the nutrition department.
Ingredients:
2 teaspoons ground cumin
2 pounds ripe tomatoes, coarsely chopped
1/2 cup chopped red onion
2 tablespoons plus 1/4 cup chopped fresh cilantro , divided
2 teaspoons chopped chipotle pepper in adobo sauce
1 cup fresh corn kernels
1 cups ice water
2 tablespoons lime juice, or to taste
1 teaspoon kosher salt
1 cup low-fat plain yogurt
Directions:
Toast the cumin over low heat about 2 minutes. Put the tomatoes, onion, 2 tablespoons of cilantro and chipotle in the blender and puree until smooth. Transfer the tomato mixture to a large bowl and add the cumin, corn, water, lime juice and salt. Stir well to combine. Refrigerate at least 1 hour. Just before serving, puree the yogurt and ¼ cup cilantro in the blender until smooth. Garnish the soup with the yogurt sauce.
Source: fitnessmagazine.com
---
5

Spicy Yogurt Chicken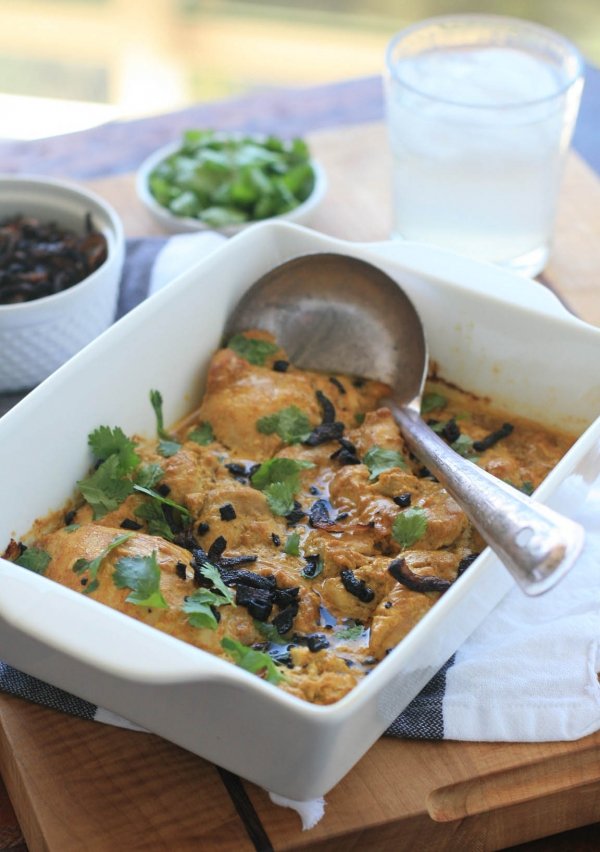 If you're looking for something substantial that incorporates yogurt, combining it with chicken is a great idea. Chicken is super healthy and versatile, so it's sure to taste great with yogurt.
Ingredients:
2 tablespoons hot water
2 pinches saffron threads, (1/2 teaspoon)
1/2 cup nonfat or low-fat plain yogurt
1 onion, very finely chopped
3 cloves garlic, very finely chopped
2 tablespoons harissa, or 2 teaspoons hot sauce or 1/2 teaspoon cayenne pepper
2 tablespoons lemon juice
1 tablespoon honey
1 tablespoon extra-virgin olive oil
1/2 teaspoon salt
1/2 teaspoon ground cumin
1/4 teaspoon ground cinnamon
8 chicken drumsticks, skin removed
Directions:
Crumble the saffron threads over the hot water and allow to steep for 5 minutes. In a bowl, combine the yogurt, harissa, lemon juice, honey, oil, salt, cumin and cinnamon and stir in the saffron water. Add the chicken and stir to coat. Marinate for at least 30 minutes. Preheat the oven to 450 degrees and line a baking sheet with foil. Place an oiled rack on the sheet. Transfer the chicken to the rack and bake for about 30 minutes, or until the chicken is no longer pink.
Source: eatingwell.com
---
6

Mashed Cauliflower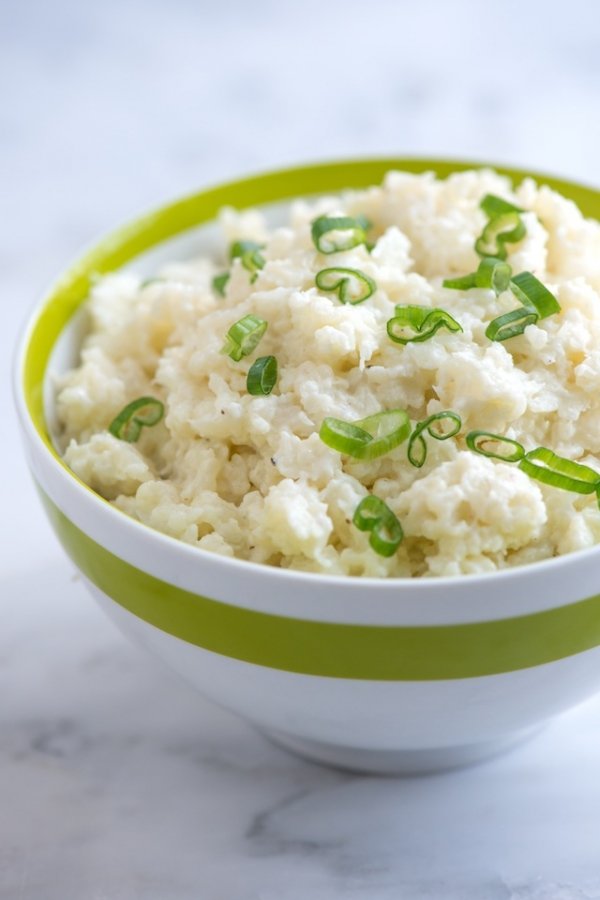 I love this recipe because it's such a great alternative to the same old side dishes I always serve. It's creamy and delicious enough to stand in for mashed potatoes, but isn't any harder to make. Indulge in this with zero guilt!
Ingredients:
1 head of cauliflower (florets only — no stems)
1 small, 6 oz container of Greek yogurt
2 tbsp butter
3 tbsp grated Parmigiano Reggiano
2 cloves of garlic chopped
1/2 small shallot chopped
1 chopped scallion for garnish
Salt, pepper and seasonings to taste
Directions:
Bring water to a boil in a medium pot and add salt, pepper and seasonings of your choice. Cook the cauliflower in the water for about 8 minutes, or until soft. Drain and add to a food processor with the yogurt, butter, garlic and shallots. Blend until smooth. Season to taste and blend again. Add the cheese and mix to combine. Garnish with scallions.
Source: sproutandpea.com
---
7

Banana Split Parfait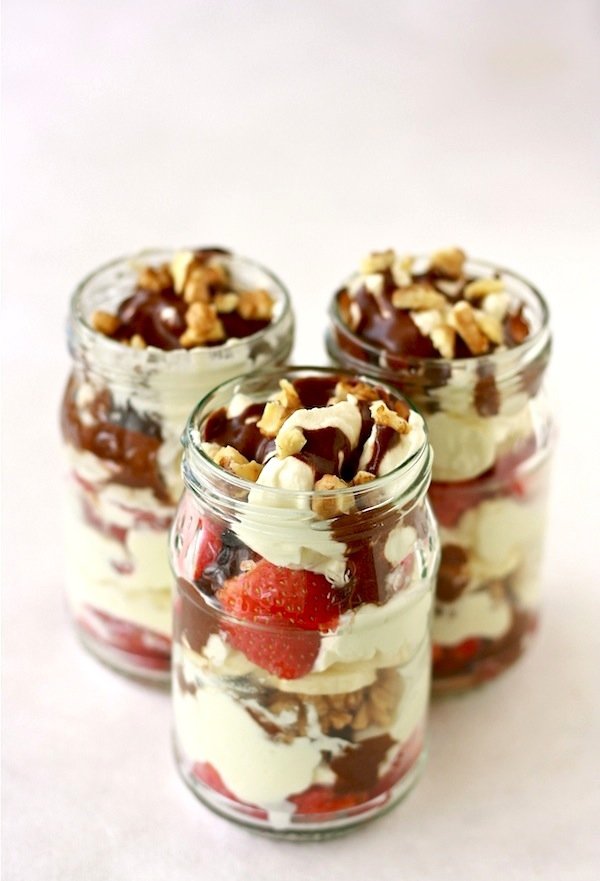 If dessert is your thing, but you want to lighten things up, using yogurt is a great way to do it without sacrificing the flavor. Try this dessert next time a sugar craving strikes and you'll be so happy you did.
Ingredients:
4 cups low-fat vanilla yogurt
1 cup strawberries, hulled and sliced
1 cup diced pineapple
½ cup chocolate sauce
1 banana, peeled and sliced
4 tablespoons chopped walnuts
2 tablespoons cocoa powder
Directions:
Line up 6 dessert glasses and place a 1/3 cup of yogurt in each. Add even amounts of strawberries, pineapple, chocolate sauce and 1 cup of yogurt. Layer the bananas and the rest of the yogurt. Garnish with walnuts, banana slices and cocoa powder.
Source: stonyfield.com
My kids love yogurt, so I always have some in my refrigerator. What recipes have you made with yogurt?
More