Share
I adore coconut on so many levels, and have tons of great coconut cookie recipes I keep on hand that I'd like to share with you. Some of these recipes are my own, while others are favorites of bloggers I like to keep up with. In order to fit into my category of being a healthy, slimming cookie, the recipe must be three things: it must contain only real foods and preferably raw foods, it must be free of added sugar, and it contains no oils whatsoever. Besides that, I'm up for anything that has coconut in it! Coconut is such a wonderful food for enhancing brain function, increasing the function of your thyroid, and it is great for your metabolism, hair, skin and nails. I adore coconut on so many levels, and especially love eating it guilt free! Try making a batch of any of these coconut cookie recipes and I bet you'll be on board the coconut fan wagon with me in no time if you're not already!
---
1

Raw Coconut Chocolate Cookies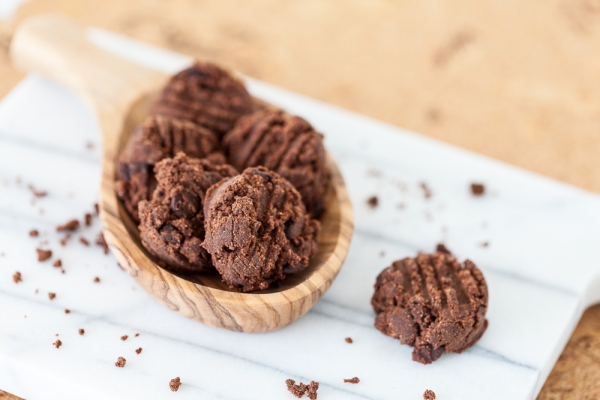 One of my latest cravings led me to create one of the best coconut cookie recipes I've made thus far. Chocolate, coconut and a few extra healthy fats are what my tired and hungry body needed. I wanted something sweet, satisfying and completely energizing, which is what these cookies provided. My Raw Coconut Chocolate Cookies are not only nut-free, but also vegan, grain-free, gluten-free and contain nothing but clean ingredients! Enjoy!
Serves: 16 cookies (1 inch round)
Ingredients:
1/2 cup unsweetened shredded coconut
4 dried figs (soaked in water one hour before hand to soften)
1/4 cup raw hemp seeds
1/4 cup raw chia seeds
1/4 cup ground, organic, cold-milled flax seeds
1/2 tsp. cinnamon
dash of powdered ginger (optional)
1 tbsp. maca powder (optional)
1/2 tsp. pure stevia extract
1/4 cup dark dutch cocoa powder ( much richer than regular cocoa and more alkaline)
2 tbsp. raw cacao nibs
Directions:
Preparation: One hour before hand, soak your figs in water to soften.
Once the figs have soaked and softened up a bit, remove them from the water, but don't discard the soaking water. It has much of the vitamins in the water, so you don't want to toss it. It also helps soften the dough too. Chop each fig into 6 smaller pieces each so they'll break down easier in the food processor.
Next, place the chopped figs, the soaking water and the rest of the ingredients into the food processor and pulse and process on high for several minutes (about 3 minutes), scraping down the sides as needed. I also had to add about 2 extra tablespoons of water because I have an old food processor that isn't too great, but it does the job for now.
Remove the blade from your food processor and scoop the dough in to small cookie-sized balls on to a piece of parchment paper on top of a baking pan. Place these in the freezer for at least 30 minutes to firm up and then serve.
I freeze mine permanently in a glass Pyrex dish, but you could also store them in a large Ziploc bag once they are frozen.
Just thaw for at least 10 minutes on the counter before serving or place them in the fridge for about 30 minutes before serving. I like to toss 3 of these in a Ziploc baggie on my way out the door somewhere and I have a perfect portable snack on the go. They won't melt, don't worry! I find mine hold up for at least 4 or 5 hours before softening up too much.
**Source: **soulfulspoon.com
---
2

Raw Coconut Snowballs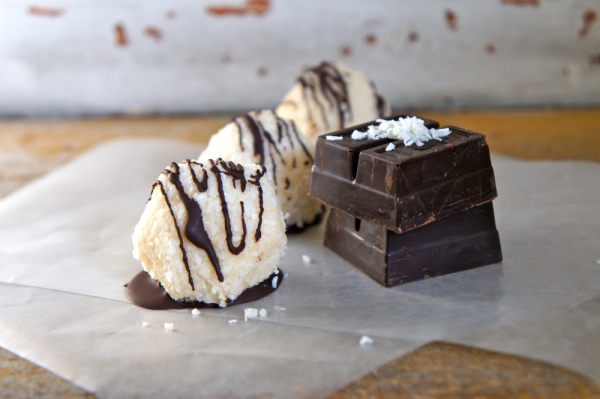 As much as I love chocolate, I've always been a vanilla kind of girl at heart. Sweet and simple, plain and nice, vanilla is highly underrated, just like the simplicity behind these cookies. They feature coconut, cinnamon, vanilla and hemp seeds, These marvelous, moist bites are full of fiber, flavor and healthy fats. They're also low-glycemic and help to keep you energized and full for hours!
Serves: 12 (1 inch) snowballs You could also shape into 3 inch bars if you wish and it would yield about 4-5 bars
Ingredients:
1/2 cup coconut flour
1/2 cup shredded, unsweetened coconut
1/2 tsp. NuNaturals pure stevia extract (or I would use 4 drops full of liquid and disperse evenly throughout)
1/2 tsp. cinnamon
1/3 cup hemp seeds or chia seeds (I used a little of both)
1 cup unsweetened almond milk or water
Optional: 1 tbsp. maca powder
Directions:
Combine all the ingredients except the milk in a bowl. Toss very well to mix evenly.
Slowly stir in the almond milk. Coconut flour is very thick so you need to stir slowly, and let it absorb the liquid. You could also do this in a blender if you want. You might need to add an additional 1/2 cup of water as well. You want the mixture to look and have the texture of cookie dough, but a bit drier.
Scoop into 1 inch balls, place on parchment paper on a baking sheet and freeze 30 minutes.
Store in a large Ziploc baggie, or store 2-3 balls each in small Ziploc baggies for easy grab and go servings.
**Source: **soulfulspoon.com
---
3

Magically Raw Chocolate Coconut Chip Superfood Cookies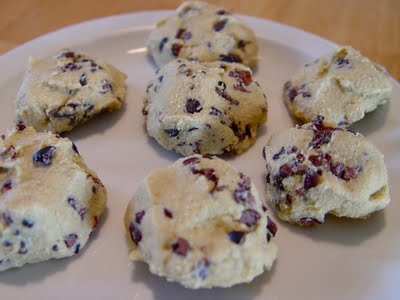 If you're craving chocolate chip cookies, these cookies will send you over the moon! I actually made a batch this week and they're already half gone. The beauty of these cookies is they are so healthy for you and they squash a sugar craving like crazy! Since they feature raw cacao nibs instead of sugary cooked chocolate chips, they are rich in iron, free from caffeine, high in fiber, zinc and magnesium, and great for your metabolism. They also satisfy you longer than standard cookies since they are low glycemic, high in healthy fats and very rich in fiber. Eat two or three next time you need a boost and you'll be energized for hours!
Serves: 20 raw cookies (2" diameter in size)
Ingredients:
1 cup raw coconut flour
1 cup hemp seeds
1/2 cup raw cacao nibs
1 tsp. cinnamon
1 tsp. vanilla extract
2 tbsp. raw maca powder
1/4 cup shredded unsweetened coconut
2 cups water
4 tsp. pure stevia extract or 8 packets of NuNaturals stevia powder (or sub in 5 soaked, chopped dates)
pinch of Himilayan sea salt
Directions:
In a bowl combine the coconut flour, hemp seeds, cacao nibs, stevia or chopped dates, cinnamon, maca powder, unsweetened coconut shreds and salt.
Toss well to combine.
Last, slowly stir in the water and add the vanilla.
Since we are using coconut here in this fabulous grain-free recipe, this dough will start to thicken up and clump us nicely, just like cookie dough.
You want to be sure all the flour blend is completely soaked up by the water. If you still see any dry flour at all after stirring, then add 1/4 cup more water until you get a consistent, thick dough.
Line a piece of parchment paper onto a baking pan.
Scoop out the dough in small cookie sized circles and freeze until solid.
Store in a Ziploc baggie in the freezer.
Source: soulfulspoon.com
---
4

Raw Coconut Chunk Cookies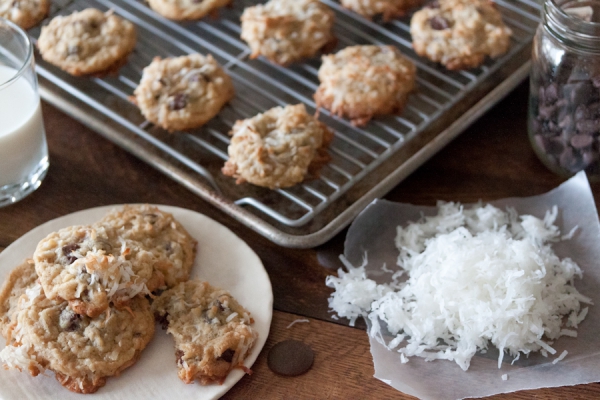 Oh, don't these look good! I adore The Vegan Project's website. The author creates wonderful, natural treats that are rich in nutrients and made from real foods. Here in this cookie recipe, she uses only whole foods to sweeten the cookies, and only healthy, raw fats to bulk them up. These are so incredibly delicious and I highly suggest you try them soon!
Serves: 12 small cookies
Ingredients:
1 large ripe banana
1 1/2 cups of coconut (shredded, unsweetened, unsulphured is best)
1 tsp cinnamon
1 tbsp fresh squeezed orange juice
3 medjool dates, de-pitted and chopped small
7 tbsp of ground flax seed
3 tbsp hemp hearts
2 tbsp sunflower seeds
1-2 tbsp of raw sugar or maple syrup (I did not sweeten them, but if you have a strong sweet tooth you may want to, keeping in mind that maple syrup is generally not raw)
Directions:
Mash the banana and coconut together with a potato masher, then add the rest of the ingredients and mix well. Make sure to add the date pieces separately so they don't smoosh together and form large pockets of sweetness in your cookies. Actually, that sounds kind of yummy. Anyways, just make sure the dates are evenly distributed.
Take a small handful of the batter, about 1 1/2 to 2 inches in diameter, roll into a ball, place on a cookie sheet, and press with a fork. Shape them if they come apart, making sure the edges are intact. I didn't use wax paper or oil, but if you're concerned about sticking just rub some coconut oil on the cookie sheet first.
Place in the fridge for at least an hour to set them. Mine were good after an hour, but better after sitting overnight. Store them in the fridge for 3 or 4 days, and distribute to all your pals as you go about your day.
Enjoy!
Source: theveganproject.ca
---
5

Two Ingredient Coconut Cookie Dough Balls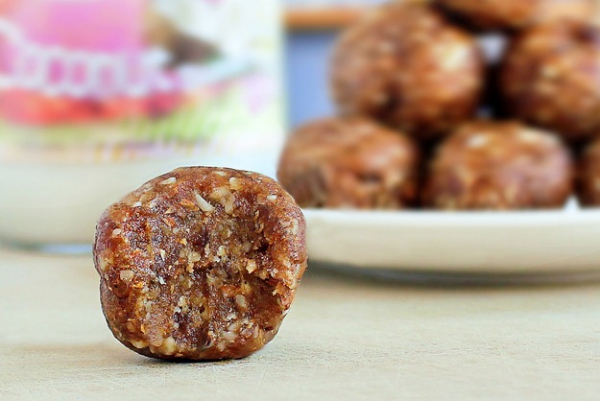 Chocolate Covered Katie is by far one of the most famous bloggers out there who makes healthy eating delicious and beautiful too! Katie's love for coconut (and chocolate) is one that is near and dear to my heart because I've never seen anyone else get so excited over these two foods besides myself. Seriously, is there anything better? Here in this recipe, she only uses two simple, whole food ingredients to make this raw cookie, which I think is pretty brilliant, and delicious!
Serves: 6 cookies
Ingredients:
Scant 2/3 cup pitted dates (80 g) (I like Sunmaid brand, because they're softer)
1 and 1/2 tbsp coconut butter or Homemade Coconut Butter
Tiny pinch salt (can be omitted if desired)
Optional: shredded coconut, chocolate chips, etc.
Directions:
Blend everything together in a food processor. This makes a small batch, so I used my Magic Bullet. If you have a bigger processor, it might be best to double or triple the recipe so everything blends more smoothly. (The recipe can be done in a blender, but the results are stickier.) Smush into one big ball, then roll into little balls or bars or cookie-cuttered shapes.
Source: chocolatecoveredkatie.com
---
6

Low Sugar Coconut Almond Macaroon Cookies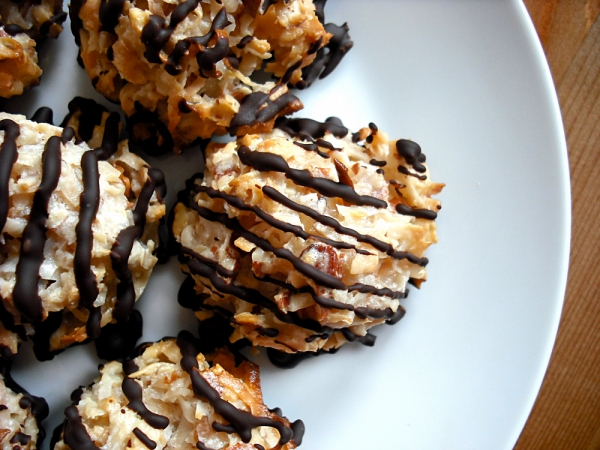 Kayln's Kitchen is another one of my favorite blogs, in case you want to check her out. This recipe is one of her best, in my opinion. This recipe has no sugar, and no grains for those of you interested in that arena of health. This cookie is slightly baked so it warms up nice and toasty and is so satisfying, you don't need many at all to satisfy you! Make these next time you get a craving for a warm, baked cookie. You'll see why those shelf stable cookies at the store are overrated in no time!
Serves: 12
Ingredients:
generous 2/3 cup slivered almonds
1 1/4 cup shredded unsweetened coconut (I used Bob's Red Mill unsweetened coconut, which I found at a health foods store)
1/2 cup Stevia-in-the-Raw Granulated Sweetener
generous pinch of salt
1/4 cup non-fat Greek Yogurt (I used Fage Total Greek yogurt)
2 egg whites (I used extra-large eggs)
2 tsp. vanilla
Directions:
Preheat oven to 325F/170C. Line a baking sheet with parchment paper or use a silicone baking mat.
Use a small food processor or the bowl attachment for an immersion blender to chop the almonds, just until they are ground but still a little chunky. Put the ground almonds, shredded coconut, sweetener, and salt into a medium-sized bowl and mix together with a spoon.
Separate 2 eggs to get 2 egg whites. (Save the yolks for something else or discard.) Add egg whites, fat-free Greek yogurt, and vanilla to the dry mixture and blend together with a spoon until the ingredients are well-combined.
Scoop out dough one tablespoon at a time and form into a round ball, then place on the baking sheet about 2 inches apart. (I used a metal tablespoon, which worked well.) Use a fork to press each ball down into a cookie slightly less than 1/2 inch thick. (The cookies don't spread out much, so don't worry about that.) I also used the fork to press the edges together because the batter is rather crumbly.
Bake cookies until they are well set and starting to get nicely brown on the edges, about 30-32 minutes. (This was quite a bit longer than the cooking time in the original recipe, but I liked the brown edges. If you want a lighter cookie, take them out sooner.)
I loved the crisp cookies when they were fresh from the oven and barely cooled. After they had been stored overnight in a plastic container they were much less crisp. I might consider only baking a few at a time (or even putting leftover cookies back into a hot toaster oven for a few minutes to crisp them.)
Source: kalynskitchen.com
---
7

Chia Oatmeal Breakfast Cookies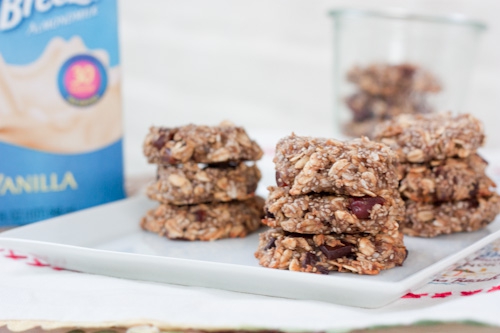 Lastly, I wanted to include one of my favorite recipes of all times by a blogger I have followed for years now. Brittany from the Eating Bird Food blog is brilliant in the kitchen and she's a whiz at making anything with oats, like these filling and delicious breakfast cookies. Think oats, coconut, chia, and only other clean, whole foods to keep you filled for hours. If you're like me, you'll find yourself making these in batches and freezing so you never run out! I use raw cacao nibs in my cookies for no sugar instead of chocolate chips as an added bonus, but feel free to use chocolate chips as the recipe calls for if you like.
Serves: 15
Ingredients:
1½ Tablespoons chia seeds
¼ cup Almond Breeze unsweetened vanilla almond milk
2 ripe bananas, mashed
¾ cup old fashioned oatmeal
¼ cup unsweetened shredded coconut
¼ cup chopped dates
¼ cup dark chocolate chunks or carob chips
1 Tablespoon creamy almond butter
large pinch of cinnamon
Directions:
Pre-heat oven to 350°.
In a small bowl, stir together the chia seeds and almond milk and let the mixture sit for about 10 minutes, or until the chia seeds have created a nice gel-like consistency.
Pour the chia seed gel into a medium sized mixing bowl and add in the mashed bananas, oats, coconut, almond butter and cinnamon until well combined.
Gently stir in the dates and chocolate chunks.
Scoop out dough (about 1-2 tablespoons worth) onto a baking stone or a greased cookie sheet and use a fork to press the dough down a little to make more of a cookie shape. You should get about 15 cookies.
Place in oven and bake for 17-20 minutes, or until the bottom of the cookies have browned a tiny bit.
Take them out, let cool and enjoy.
Source: eatingbirdfood.com
Who doesn't love a guilt-free cookie, am I right? These cookies are so naturally satisfying that you'll find you're satisfied with just a few instead of those store-bought cookies that you eat the whole bag of. Why so? Because all these sweet and slimming coconut cookies are filled with clean, whole and highly nutritious foods. Do you like coconut in your cookies?**
**
More