If you have ever tried any vegan pizza recipes, you know that you need to find delicious toppings to replace the cheese. Otherwise you will end up with a cardboard crust, boring sauce and bland vegetables. For those who have eaten this kind of pizza and disliked it, I don't blame you. The key to making great vegan pizza recipes is replacing the cheese with something amazing so that you won't be missing out on anything!
1. Cheesy Broccoli Pizza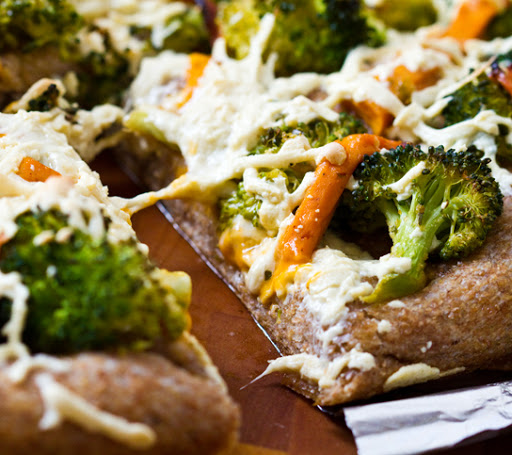 Believe it or not, this pizza is in fact vegan! The cheese is daiya brand, and I can confirm that daiya tastes amazing when melted. It is the perfect addition to any vegan pizza recipes you may try. Here is how you make this delicious little pie.
Ingredients:
1 ball of pizza dough (whole wheat, gluten-free, etc.)
olive oil, for rubbing
1 3/4c. broccoli florets
2T apple cider vinegar
2-3T olive oil
1tsp garlic powder
1tsp mixed green Italian herbs (dry or fresh)
pinch of sea salt
3/4c. daiya or other dairy-free cheese
Directions:
Preheat your oven to 415 degrees. Add broccoli to apple cider vinegar, olive oil, garlic powder, herbs, and salt. Roll out dough on a greased pan and rub olive oil on all sides of it. Cover the crust with broccoli. Top with the cheese. Bake 20-25 minutes, cool, and enjoy!
Source: kblog.lunchboxbunch.com
2. Chipotle Mac and Cheese Pizza with Kamut Wheat Cashew Crust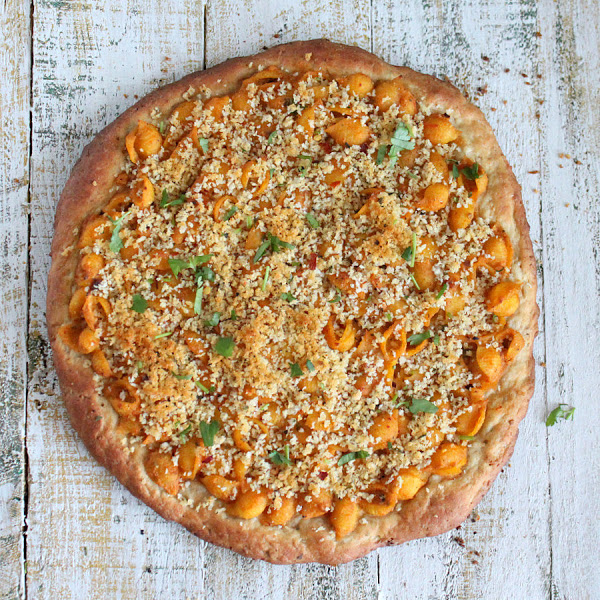 I don't know about you, but I've never even had pizza with mac and cheese on it. Now this one has mac and cheese on it, and it's vegan! If your mind isn't blown yet, just wait until you try this delicious pizza. Note: you can always make this gluten-free by using gluten-free flour, bread, etc. as needed.
Ingredients:
Crust:
1/2c. water
1tsp active yeast
2tsp raw sugar
1/4c. Kamut flour
1/4c. bread flour
1/4c. whole wheat flour
1/4c. raw cashew flour (just ground cashews)
1/3tsp sea salt
2tsp olive oil
1/4c. additional bread flour for dusting and kneading
Toppings:
1 recipe for roasted tomato chipotle mac and cheese (click on link below for this recipe as well as directions)
1/4c. bread crumbs
2tsp olive oil
1/4tsp sea salt + dried herbs, to taste
2tsp nutritional yeast (optional)
Directions:
In a bowl, add warm water, sugar and yeast and mix well. Let sit for 10 minutes.
Add the flours, salt and oil and knead for 2 minutes into a well mixed dough.
Spray top with water, cover bowl with a towel and let sit for 1.5 -2 hours, or until doubled.
Oil hands, use 2 Tablespoons of bread and gather the dough.
Knead for 2 minutes and form a ball.
Roll the ball out into a crust using some flour on the surface. Or as I do it. Sprinkle bread flour liberally on the working surface.
Place the dough, sprinkle some flour on top. Keep patting the dough from the center outwards and rotating it slowly at the same time.
Place on parchment lined sheet.
Spray water on top of the dough and let sit for 10 minutes.
Spread the Mac and Cheese on the dough.
In another bowl, mix the bread crumbs, evoo, herbs, salt and sprinkle liberally on top.
Bake in preheated 410 degrees F for 13-14 minutes.
Broil on Lo for half a minute and remove from oven.
Cool for a minute, slice and serve.
Source: veganricha.com
3. Buffalo Cauliflower Wing Pizza with Tofu Blue Cheese Spread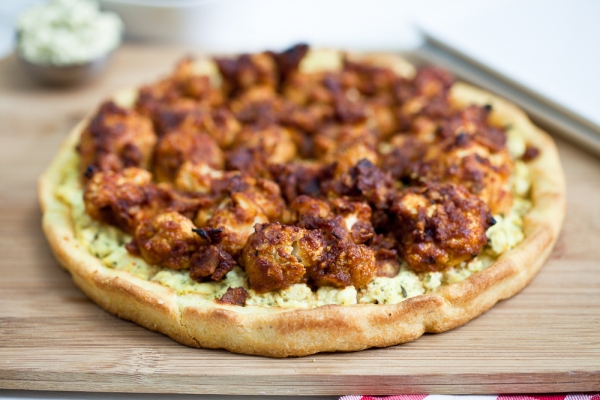 This recipe would be perfect for any party or game night. The buffalo cauliflower wings give this pizza so much flavor. In fact, if you asked one of your friends to try this pizza, they probably wouldn't be able to tell it's cauliflower from the taste. A tofu blue cheese compliments the cauliflower nicely as well. You certainly won't be missing normal pizza now!
Ingredients:
Tofu Blue Cheese Spread:
1/2 block of extra-firm tofu, crumbled
2T nutritional yeast
1T vegenaise
juice of 1 lemon
3tsp apple cider vinegar
1tsp white miso (or sea salt; you may need less than 1tsp)
1/2tsp each tahini and garlic powder
1/4tsp each dried oregano, marjoram, and kelp granules
few pinches of sea salt
Buffalo cauliflower wings:
1 head of cauliflower, broken into florets
1c. each almond milk and chickpea (garbanzo bean) flour
a few dashes of garlic powder and smoked paprika
3/4c. barbeque sauce
1/4c. Sriracha sauce or other hot sauce
1T arrowroot powder or cornstarch
1tsp sea salt
1/4tsp black pepper
1 cornmeal pizza crust
Directions:
Place tofu crumbles in a bowl. Add with rest of blue cheese ingredients and mix. Refrigerate until needed. Preheat your oven to 450 degrees. Lightly grease a 9x13 casserole dish. Mix almond milk and chickpea flour. Dip cauliflower into this, place in dish, and bake 20 minutes. In the meantime, mix barbeque sauce, sriracha, arrowroot, salt, and pepper. Once cauliflower is cooked, dip in barbeque mixture. Bake 5-8 extra minutes. Preheat oven to 475 degrees. Grease a baking sheet. Spread tofu cheese on cornmeal crust, and put on cauliflower wings. Bake 12-15 minutes. Devour.
Source: keepinitkind.com
4. Red Pepper Flax Crust, Sundried Tomato Sauce, and Pine Nut Cheese, and Veggies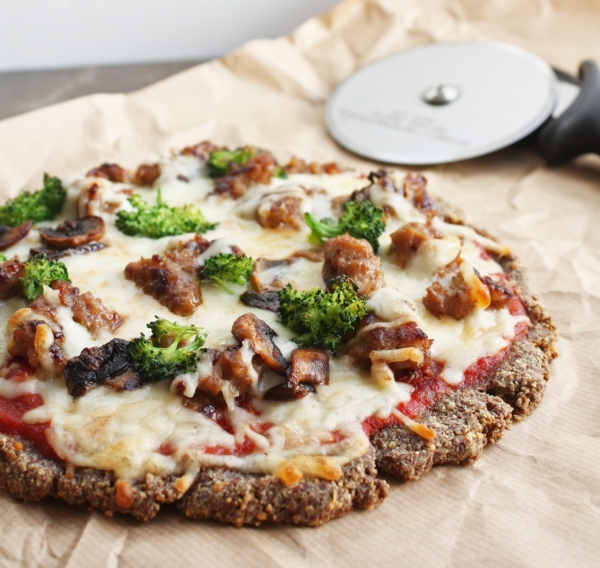 I thought it would be a good idea to include a raw vegan option in here as well. Not only is this pizza absolutely delicious, it is full of raw enzymes. However, if you do not have a low setting on your oven or a dehydrator, you can simply bake it in your oven. Either way, you will be getting a yummy pizza with cheese made from pine nuts!
Ingredients:
Cheese:
1c. pine nuts (can try macadamia nuts or cashews)
juice of 1 lemon
1 garlic clove
2tsp herbes de provence (or other herbs)
2T rejuvelac (or water)
2T nutritional yeast
salt, to taste
Crust:
1 red bell pepper
1/3c. each sunflower seeds, hemp seeds, and flax seeds
salt and pepper, to taste
Sauce:
3/4c. chopped tomatoes
3T sundried tomatoes
1/2tsp lemon juice
1-2 dates
1T miso (or less sea salt)
1 small garlic clove
Basil and oregano, to taste
Toppings:
Any vegetable you want + 1tsp each olive oil and tamari
Directions:
Blend all of the cheese ingredients. Place in cheesecloth and place in bowl. Let sit 2-5 days (can be less, but it has better flavor this way). Process all of your crust ingredients in a food processor. Bake in oven at lowest setting for 3-5 hours. Coat vegetables in olive oil and tamari, let marinade in lowest oven setting for an hour. Blend sauce ingredients, spread on crust. Top with cheese, then vegetables. Enjoy!
Source: thisrawsomeveganlife.com
5. Deep Dish Cheddar Jalapeno Popper Pizza with White Garlic Sauce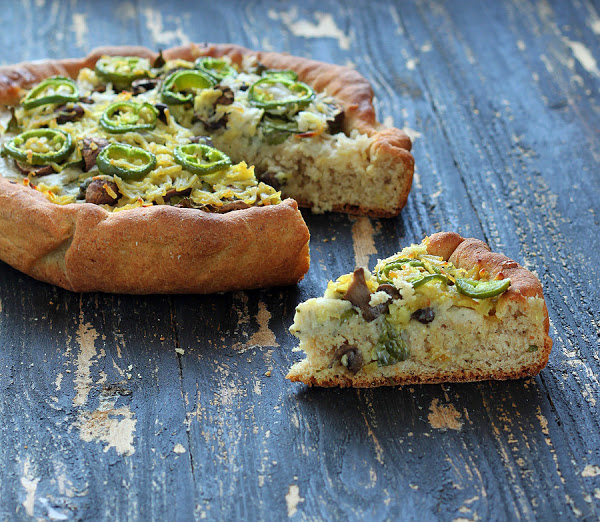 Vegan Richa has done it again with this vegan cheddar jalapeno pizza. It is deep dish for crying out loud! I had never seen a vegan deep dish pizza until this recipe. It is so unique and has so many different flavors. Your mouth will thank you for this pizza!
Ingredients:
Crust:
1/2c. water
1 1/2 tsp active yeast
2tsp raw sugar
1/2c. wheat flour
1/4c. bread flour
1/4c. semolina (cream of wheat)
1/2tsp sea salt
1T olive oil
2-3T bread flour, for dusting
White Garlic Cream Sauce:
1/4c. each cashew flour and non-dairy milk
1T flour
1/4tsp dried basil
3 cloves of roasted garlic or 1/4tsp garlic powder
1/3tsp sea salt
Method: blend all ingredients and keep ready.
Cheddar Cheese:
1c. full-fat canned coconut milk
2tsp agar agar powder
1/3tsp sea salt plus a generous pinch of black salt
3/4tsp coconut vinegar or apple cider vinegar
1/4tsp lemon juice
1T tapioca starch
1tsp cornstarch of potato starch
1 1/2 T each chickpea/brown miso and nutritional yeast
1/4tsp mustard powder and a pinch of tumeric
Toppings:
sliced button mushrooms, greens, jalapeno slices
Directions:
Cheddar:
Keep all the ingredients measured and ready.
Heat the coconut milk on low-medium heat until warm-hot. Add the agar powder and whisk continuously till it dissolves completely. 2-3 minutes. Reduce heat to low, add the vinegar, salts, lemon juice and keep whisking for a minute.
Add the starches and keep whisking for a few seconds until well combined.
Add the Miso, nutritional yeast, turmeric and mustard and whisk to combine. half a minute.
Remove from heat and pour in well oiled container. I oiled the containers with extra virgin olive oil.
(You can add herbs, and other seasonings at this point. Also taste carefully to adjust tastes if needed).
Let set in the refrigerator for atleast an hour.
Store brushed with evoo in airtight container for upto a week.
**Crust:
**In a bowl, add warm water, sugar and yeast and mix well. Let sit for 10 minutes.
Add the flours, semolina, salt and oil and knead for 2 minutes into a well mixed dough.
Spray top with water, cover bowl with a towel and let sit for 1.5 -2 hours.
Oil hands, use 2 Tablespoons of bread flour and gather the dough.
Knead for 2 minutes and form a ball.
Roll the ball out using some flour.
Place on parchment lined pan and pat and pull the edges onto the sides.
Spray water on top of the dough and let sit for 10 minutes while you prep the veggies/sauces.
Bake crust at 400 degrees F for 12 minutes.
Take the crust out. Sprinkle some mozzarella or cheddar shreds.(I used mozzarella)
Pour and spread the white garlic cream sauce. Top with kale and mushrooms or other veggies of choice. Add more sauce/cheese layers if a deeper dish.
Then top with more cheddar shreds.
Arrange some Jalapeno slices. (Top with bread crumbs mixed in with evoo and salt for an added crunch). Use thin Jalapeno or less spicy peppers per choice to reduce the heat.
Then bake for 18-20 minutes at 385 degrees F.
Broil on Lo for half a minute. Take the Pizza out, cool for 2 minutes, slice and serve.
Source: veganricha.com
**
**
6. Middle Eastern Pizza with a Minted Tahini Sauce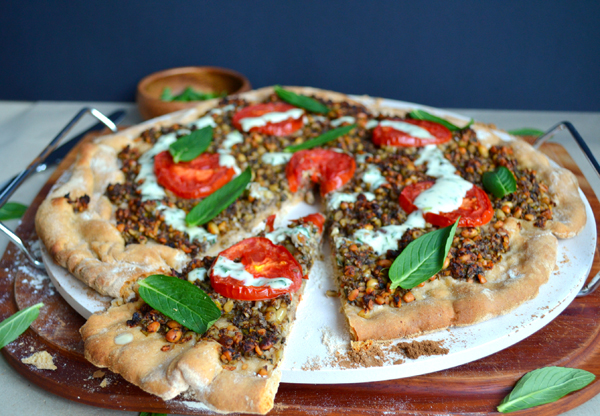 This pizza is bursting with flavors from the Mideast. The spices are great combinations, yet not too overbearing. It is a great choice for any pizza party you might have.
Ingredients:
Crust:
2 1/2 to 3c. white spelt flour
1T each active dry yeast and olive oil
1tsp sugar
1c. warm water
Middle Eastern Topping:
13 button mushrooms, washed, dried, quartered
3/4c. pine nuts
1T ground cumin
1/2tsp ground cayenne pepper
1tsp each ground coriander, cinnamon, and sea salt
2T each fresh chopped mint and fresh chopped coriander
1T lemon juice
1tsp dried mint
Minted Tahini Sauce:
1/4c. tahini
3T lemon juice
1tsp each sea salt and maple syrup
2T fresh, finely chopped mint
water to thin, as desired
Directions:
Mix sugar, water, and yeast. Let sit 10 minutes. Add olive oil. Start adding 2 1/2c. flour, adding the other 1/2c. if needed. Knead dough on floured surface until it's no longer sticky. Form into ball, place in oiled bowl, and cover. Let sit in warm place for an hour. Knead dough a little one more time, and divide into two balls. Let rise uncovered 45 minutes. Make topping by processing pine nuts in food processor until crumbly. Remove and add mushrooms. Process to same consistency as pine nuts, and add to bowl with pine nuts. Add dried spices to this mixture. Quickly sautu00e9 this in a pan with olive oil until spices are fragrant. Stir in fresh herbs with lemon. Preheat oven to 400 degrees. Press dough onto greased sheet, and cover with Middle Eastern spread. Top with tomato slices. Bake 15 minutes. Whisk all tahini sauce ingredients and swirl over pizza just before serving.
Source: justeatlove.com
7. Mediterranean Pesto Pizza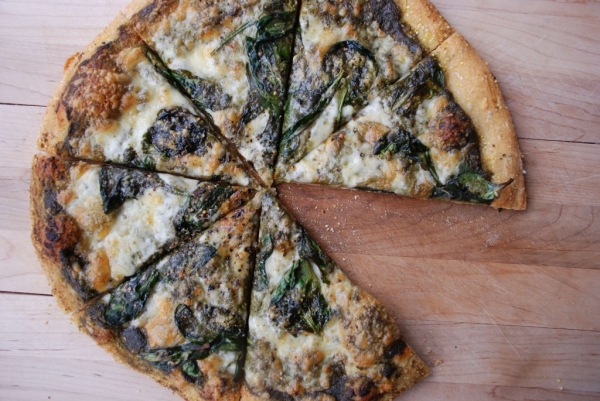 Have you ever tried pesto on pizza? If you haven't, you are in for a real treat! This pesto is especially delicious because it is homemade and fresh. However, you could use store-bought vegan pesto if you are running short on time. Just make sure it's good-quality, because pesto really makes this pizza shine.
Ingredients:
Crust:
1/2c. warm water
1tsp agave
1T active dry yeast
1c. all-purpose flour + 1/2c. whole wheat flour
1tsp dried Italian seasoning
1/2tsp onion powder
Corn meal, for dusting
2T olive oil + more for brushing
Pesto:
2c. fresh basil, chopped
2c. spinach
1/3c. pine nuts
3T water
2T each nutritional yeast and lemon juice
3 cloves of peeled garlic
1T olive oil
salt and pepper, to taste
Toppings:
chopped artichoke hearts, kalamata olives, red onion, tomatoes, and optional vegan parmesan (such as Parma)
Directions:
Mix water, agave, and yeast. Let rise 12-25 minutes. Sift dry ingredients. Mix with olive oil and yeast mixture when it's ready. Knead on floured surface for 3 minutes. Place in oiled bowl, cover for 30 minutes. Make pesto by blending all of the ingredients in a food processor. Preheat oven to 425 degrees. Knead dough another 1-2 minutes and roll to 1/2 inch thickness on a cornmeal-dusted pan. Bake 5 minutes. Spread on pesto and put toppings on. Brush on a little olive oil and bake 10-12 minutes. Cool and serve.
Source: veganyackattack.com
These scrumptious pizzas are sure to make your mouth water. I don't see how you can even think about eating traditional pizza when you have all of these delicious options! Have you ever tried vegan pizza before?