Share
It's the same every year: spring finally starts creeping in and all I want to make are yummy tomato recipes. I love tomatoes all year round, but they just seem to taste better when the weather finally starts getting warmer. Growing up in West Virginia, it wasn't uncommon to have big garden meals at least twice a month, meals filled with raw or fried tomatoes, fresh green beans, cucumber and onion salads, and roasted peppers. I still love having dinners composed of fresh produce, but there are so many other yummy tomato recipes, recipes where they're highlighted in salads, in sauces, or all on their own.
---
1

Tiered Tomato Soup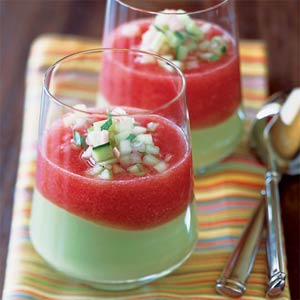 You know those hot, humid days are on the way, those days when you can't stand the thought of standing over the stove, when you don't even want to eat anything hot. Never fear! Lots of yummy tomato recipes are refreshingly cold. This soup is an ideal choice, because in addition to being absolutely gorgeous, it also layers in avocado soup. Yum!
Ingredients:
2 pounds ripe tomatoes
3 to 4 tablespoons white wine vinegar
Salt
2 firm-ripe avocados (8 oz. each)
3/4 cup fat-skimmed chicken broth
1/4 cup sour cream
3 tablespoons lime juice
1 cucumber (12 oz.)
3 tablespoons minced shallots
1 teaspoon minced fresh tarragon
Directions:
Rinse and core tomatoes; cut into chunks. Whirl in a blender or food processor until smooth, then rub through a fine strainer into a bowl; you should have about 3 cups. Discard residue. Season purée to taste with 2 to 3 tablespoons vinegar and salt. Cover and chill until cold, at least 1 hour.
Peel and pit avocados; cut into chunks. In a blender or food processor, whirl avocados, broth, sour cream, and lime juice until smooth. Add salt to taste. Cover surface with plastic wrap and chill until cold, at least 1 hour.
Peel cucumber; cut in half lengthwise and scoop out and discard seeds. Dice cucumber into 1/8-inch pieces; you should have about 1 cup. In a small bowl, mix cucumber, shallots, 1 tablespoon vinegar, and minced tarragon. Cover and chill until cold, at least 30 minutes.
To serve, stir avocado mixture to blend and pour equal portions into glasses (12 to 16 oz. each). Whisk tomato mixture to blend and gently pour over avocado. Top with diced-cucumber mixture. Clear, straight-sided glasses or wineglasses show off the layers of color best, but large martini glasses also work. You can also use soup bowls and keep the layers a surprise.
Source: myrecipes.com
---
2

Double Tomato Bruschetta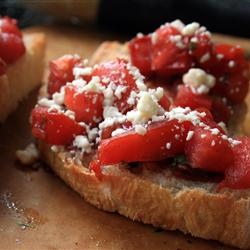 Is there anything in the world better than bruschetta? Oh yeah. Double bruschetta. This recipe relies heavily on delicious fresh ingredients (I recommend shredding your own mozzarella, by the way). You can make it a side or an appetizer, but it's hearty enough to make a meal, especially on days when you want something good but you don't want to deal with some huge bother.
Ingredients:
6 roma (plum) tomatoes, chopped
½ cup sun-dried tomatoes, packed in oil
3 cloves minced garlic
¼ cup olive oil
2 tablespoons balsamic vinegar
¼ cup fresh basil, stems removed
¼ teaspoon salt
¼ teaspoon ground black pepper
1 French baguette
2 cups shredded mozzarella
Directions:
Preheat the oven on broiler setting.
In a large bowl, combine the roma tomatoes, sun-dried tomatoes, garlic, olive oil, vinegar, basil, salt, and pepper. Allow the mixture to sit for 10 minutes.
Cut the baguette into 3/4-inch slices. On a baking sheet, arrange the baguette slices in a single layer. Broil for 1 to 2 minutes, until slightly brown.
Divide the tomato mixture evenly over the baguette slices. Top the slices with mozzarella cheese.
Broil for 5 minutes, or until the cheese is melted.
Source: allrecipes.com
---
3

Fresh Tomato Tart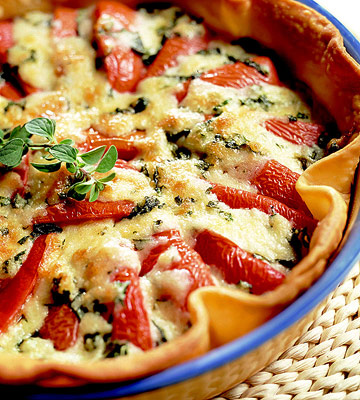 This recipe is pure decadence. I mean, it is delicious. If you're good at making your own crust, go to it – and, again, I highly recommend using fresh mozzarella instead. It definitely adds a layer of richness.
Ingredients:
1/2 15 - ounce folded refrigerated unbaked piecrust (1 crust)
1 1/2 cups shredded mozzarella cheese (6 ounces)
4 roma or small regular tomatoes
3/4 cup loosely packed fresh basil leaves
4 cloves garlic
1/4 cup grated Parmesan cheese
1/2 cup mayonnaise or salad dressing
1/8 teaspoon ground white pepper
Fresh basil leaves (optional)
Directions:
Unfold the piecrust according to package directions. Line a 9-inch tart pan with pastry (it's easier to remove the baked tart if pan has a removable bottom). Press the pastry into the fluted sides of the tart pan and trim the edges. Don't prick. Partially bake in a 450 degree F oven for 5 to 7 minutes or until pastry is slightly dry.
Remove from oven. Sprinkle with 1/2 cup of the mozzarella cheese. Cool in pan on a wire rack. Reduce oven temperature to 375 degree F.
Meanwhile, cut the tomatoes into wedges; drain the wedges on paper towels. Arrange the tomato wedges over the melted cheese in a baked crust.
In a food processor bowl, combine basil and garlic; cover and process with on-off turns until coarsely chopped. Or snip the basil and mince the garlic.
In a medium mixing bowl, combine the basil-garlic mixture, the remaining shredded mozzarella cheese, the mayonnaise, the grated Parmesan cheese, and pepper. Spread the mixture evenly over tomato wedges.
Bake in a 375 degree F oven for about 25 minutes or until cheese is golden. Let stand 5 minutes before cutting into wedges. Serve warm. If you like, garnish with additional basil leaves. Makes 8 appetizer or 4 main-dish servings.
Source: midwestliving.com
---
4

Heirloom Tomato Salad with Pomegranate Drizzle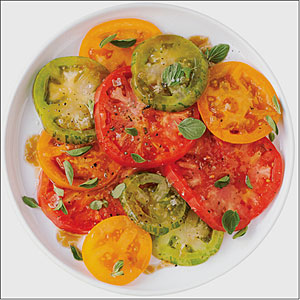 This is one of my favorite salads, ever. It's ideal for lunch but you can also serve it for your salad course or right alongside your dinner entree. The colors are so gorgeous, that drizzle is crazy good, and the source recommends adding halloumi cheese, grilled and placed between the tomatoes.
Ingredients:
3 tablespoons extra-virgin olive oil
2 tablespoons pomegranate molasses*
2 pounds mixed heirloom tomatoes, sliced 1/4 in. thick
Sea salt, such as Maldon*, to taste
1/2 teaspoon pepper
2 tablespoons fresh oregano leaves
Directions:
Whisk together oil and molasses. Arrange tomatoes on a platter. Drizzle with oil-molasses dressing. Sprinkle with salt and pepper and scatter oregano on top.
*Find pomegranate molasses and Maldon sea salt at well-stocked grocery stores and gourmet shops.
Source: myrecipes.com
---
5

Spicy Indian Tomato Shorba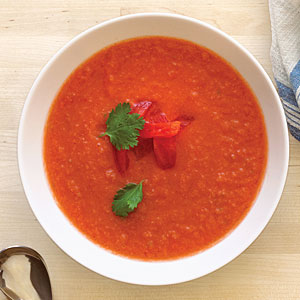 Tomatoes are just really excellent in soups, yeah? Usually, this dish is a hot soup, but this recipe calls for a cooler version, which works extremely well with the spices. It smells fantastic but it tastes even better. You'll love this on hot spring and summer nights!
Ingredients:
4 1/2 pounds ripe tomatoes
2 teaspoons vegetable oil
1 teaspoon garam masala
1 teaspoon ground cumin
1/2 cup chopped red onion
2 teaspoons minced garlic
1 serrano chile, seeded and chopped
2 tablespoons grated fresh ginger
1 to 1 1/2 cups reduced-fat coconut milk
3 tablespoons tomato paste
2 tablespoons lemon juice
1 tablespoon sugar
1 1/2 teaspoons kosher salt
1/2 cup chopped fresh cilantro, plus small cilantro leaves
Directions:
Dip tomatoes in a pan of boiling water until skins pull off easily with a knife tip, 15 seconds. Cool, peel, core, quarter, and seed.
Warm oil in a frying pan over medium heat. Add spices and stir until fragrant, 1 minute. In a blender, purée onion, garlic, chile, ginger, 1 cup coconut milk, the tomato paste, and spice mixture.
Add half of tomatoes and their juices and whirl until very smooth. Pour into a stainless steel bowl. Set aside 2 tomato pieces. Purée remaining tomatoes and stir into bowl with the lemon juice, sugar, and salt.
Nest bowl in ice water; stir often until cold, 15 minutes. Stir in chopped cilantro and more coconut milk if you like. Chop reserved tomato. Garnish bowls with tomato and cilantro leaves.
Source: myrecipes.com
---
6

Suncrest Gardens Farm's Pesto Pizza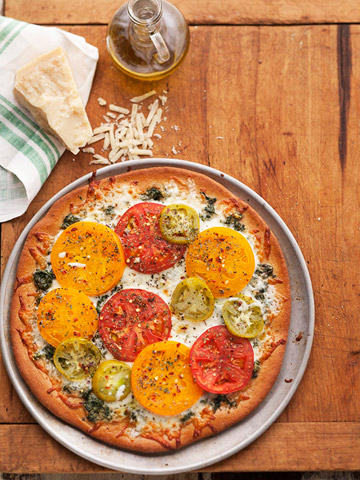 I can't even begin to describe all the layers of flavor in this pizza. It comes out of the oven gorgeous and it tastes just as amazing. When you want a colorful, flesh, flavorful meal, this is it – especially if you've got a yen for pizza but don't want to deal with all the pepperoni and grease.
Ingredients:
1 12 - 14 - inch Whole Wheat Pizza Dough (see Recipe Center) or desired pizza crust
1/3 cup Kale Pesto (recipe follows) or purchased basil pesto
1 cup shredded mozzarella cheese (4 ounces)
2 medium fresh garden heirloom tomatoes, such as Cherokee Purples, green zebras, and/or Marvel Stripe, or desired red or yellow tomatoes, cored and cut into 1/4-inch-thick slices or 1 cup mixed baby tomatoes, such as sungolds, yellow pear, and/or sweet 100s, halved
1/2-1 teaspoon pizza seasoning
Directions:
Bake whole wheat crust in 450 degree F oven 7 to 9 minutes or until light brown; remove from oven. (Or grill as directed in crust recipe.)
Spread Kale Pesto evenly over crust. Sprinkle with cheese. Arrange tomato slices over cheese. Sprinkle with pizza seasoning.
Bake about 8 to 10 minutes more or until heated through and crust bottom is crisp and brown. (Or grill as directed.) Remove from oven. Cool in pan on a wire rack for 5 minutes. Cut into wedges to serve. Makes one 13- to 15-inch pizza (four 2-wedge servings).
* If you like, substitute 2 cups firmly packed fresh basil leaves, torn fresh arugula or spinach leaves with stems removed for the kale.
Source: midwestliving.com
---
7

Tomato and Melon Salad with Scallops and Pink Peppercorns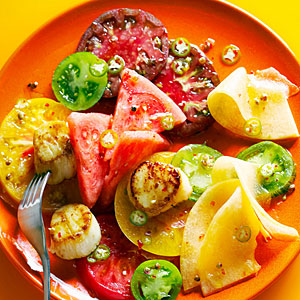 I never expected that tomatoes would pair so well with scallops, but the tartness of the tomatoes and the tender sweetness of the scallops are just incredible together. The melons lend an unexpected twist as well, making this an excellent summer time dish. Just make sure you get a good sear on those scallops!
Ingredients:
1 pound seedless watermelon, rind trimmed
1 pound cantaloupe, seeded, rind trimmed
1 medium yellow vine-ripe tomato
1 medium red vine-ripe tomato
1 medium green vine-ripe tomato
3 tablespoons lemon juice
3 tablespoons lime juice
1 or 2 serrano chiles, sliced paper-thin
1 tablespoon packed light brown sugar
2 teaspoons kosher salt, divided
5 tablespoons extra-virgin olive oil, divided
2 teaspoons finely shredded ginger (use a Microplane)
1 1/2 teaspoons pink peppercorns, crushed, divided
12 dry-packed sea scallops
Directions:
Slice melons thinly and lay on a large shallow platter. Slice tomatoes crosswise and lay on platter with melons.
Whisk together lemon and lime juices, chiles, brown sugar, 1 tsp. salt, 3 tbsp. oil, the ginger, and 3/4 tsp. peppercorns. Pour all but 2 tbsp. dressing over melon and tomatoes. Let marinate 10 minutes.
Meanwhile, heat a large (not nonstick) frying pan over high heat. Pat scallops dry and season with remaining salt and pink peppercorns. When pan is hot, pour in remaining 2 tbsp. olive oil; place scallops one at a time in pan, spacing evenly; and cook until golden brown and crusty, 2 minutes. Turn over and cook on other side, 1 minute.
Add warm scallops to platter, drizzle with remaining dressing, and serve.
Source: myrecipes.com
---
8

Heirloom Tomato and Onion Quiche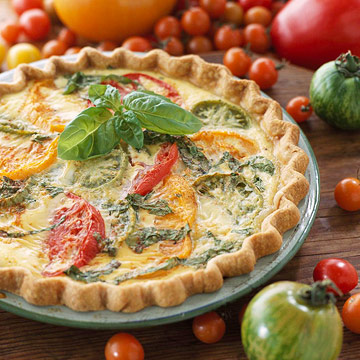 Because quiche freezes so easily, it's a wonderful meal to make ahead of time and save for a day when you don't feel like cooking. This one tastes delicious fresh out of the oven whether you eat it straight away or save it for one of those days. It's also incredibly adaptable, so you can add practically any vegetables you like!
Ingredients:
1/2 15 - ounce package (1 crust) rolled refrigerated unbaked piecrust
12 ounces assorted garden heirloom tomatoes (Cherokee Purple and/or Brandywine) or regular tomatoes, cut into 1/4-inch-thick slices
1 tablespoon butter
1/2 cup chopped onion (1 medium)
3 eggs
3/4 cup half-and-half, light cream or milk
3 tablespoons all-purpose flour
1 tablespoon snipped fresh basil or 1 teaspoon dried basil, crushed
1/2 teaspoon salt
1/4 teaspoon dry mustard
1/8 teaspoon ground black pepper
1 cup shredded Swiss, cheddar, Monterey Jack, and/or Havarti cheese (4 ounces)
Paprika
Directions:
Let piecrust stand at room temperature according to package directions. Unroll piecrust into a 9-inch pie plate. Crimp edge as desired. Line unpricked pastry with a double thickness of foil. Bake in a 425 degree F oven for 8 minutes. Remove foil. Bake for 4 to 5 minutes more or until pastry is set and dry. Remove from oven. Reduce oven temperature to 375 degrees F.
Meanwhile, place tomato slices on paper towels to absorb excess moisture. In a small skillet, melt butter over medium heat. Add onion. Cook until onion is tender but not brown, stirring occasionally.
In a medium bowl, whisk together eggs, half-and-half, flour, basil, salt, dry mustard and black pepper.
To assemble, sprinkle cheese onto bottom of the hot, baked pastry shell. Spoon onion mixture over cheese. Arrange a single layer of tomato slices over cheese, overlapping slightly. Slowly pour egg mixture over tomatoes. Sprinkle paprika over egg mixture.
Bake, uncovered, for 35 to 40 minutes or until egg mixture is set in center. If necessary, cover edge of pie with foil for the last 5 to 10 minutes of baking to prevent overbrowning. Let stand 10 minutes before serving.
Source: midwestliving.com
---
9

Fried Green Tomatoes with Bread-and-Butter Pickle Rémoulade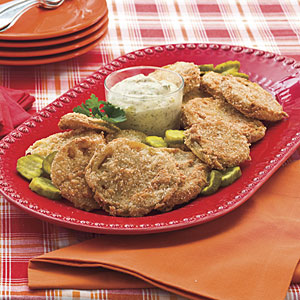 You know I had to include this Southern classic, right? Not altogether the healthiest tomato recipe, but definitely yummy. I've only ever eaten fried green tomatoes by themselves, but the rémoulade is insane – and I don't even like bread-and-butter pickles! In this case, however, they lend just the right amount of sweetness to balance out the tartness of the green tomatoes.
Ingredients:
4 large green tomatoes
2 teaspoons salt
1 teaspoon pepper
1 1/2 cups buttermilk
1 cup plain white cornmeal
1 tablespoon Creole seasoning
2 cups all-purpose flour, divided
Vegetable or peanut oil
Bread-and-Butter Pickle Rémoulade
Garnishes: bread-and-butter pickles, fresh parsley sprig
Directions:
Preheat oven to 200°. Cut tomatoes into 1/4-inch-thick slices. Sprinkle both sides of tomatoes evenly with salt and pepper.
Pour buttermilk into a shallow dish or pie plate. Stir together cornmeal, Creole seasoning, and 1 cup flour in another shallow dish or pie plate.
Dredge tomatoes in remaining 1 cup flour. Dip tomatoes in buttermilk, and dredge in cornmeal mixture.
Pour oil to a depth of 2 inches in a large cast-iron skillet; heat over medium heat to 350°. Fry tomatoes, in batches, 2 to 3 minutes on each side or until golden. Drain on paper towels. Transfer to a wire rack; keep warm in a 200° oven until ready to serve. Sprinkle with salt to taste. Serve with Bread-and-Butter Pickle Rémoulade. Garnish, if desired.
Source: myrecipes.com
---
10

Garden Tomato Bread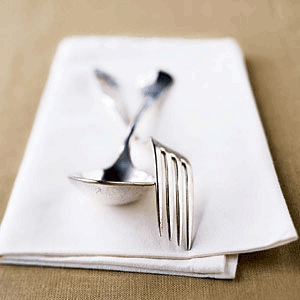 I saved the best but arguably most complicated recipe for last. Seriously, I know how crazy this looks, and it is, but if you're good at making bread or want to give it a try, experiment with this recipe. It is the most delicious, interesting bread I've ever tasted, so I promise you won't be disappointed!
Ingredients:
Biga (recipe below), at room temperature
2 tablespoons tomato paste
1/4 cup chopped parsley
2 tablespoons chopped fresh sage leaves
1 tablespoon minced garlic
1 tablespoon fresh thyme leaves
1/2 teaspoon fresh-ground black pepper
3 1/2 cups whole-wheat flour
About 3 1/2 cups bread flour
3 1/2 teaspoons salt
1/4 cup raw pumpkin seeds
1/4 cup raw sunflower seeds
About 1/4 cup cornmeal
Directions:
In the bowl of a standing mixer or another large bowl, sprinkle yeast over 1/4 cup warm (100° to 110°) water. Let stand until foamy, about 10 minutes.
Meanwhile, rinse and core tomatoes; cut each in half crosswise. Squeeze juice and seeds into a bowl; cut tomatoes into 1/2-inch chunks. You need 1/4 cup juice with seeds (if you have less than 1/4 cup, add water to make up the difference; if you have more, discard extra) and 3 1/2 cups tomato chunks.
Add biga, tomatoes and juice, tomato paste, parsley, sage, garlic, thyme, pepper, whole-wheat flour, 2 cups bread flour, and salt to yeast mixture. Beat with paddle attachment on low speed, or stir with a heavy spoon,until well blended. Gradually beat or stir in 1 1/2 more cups bread flour, 1/4 cup at a time, until mixture forms a soft dough.
Switch to a dough hook and beat on medium speed until dough is smooth and elastic and pulls cleanly from sides of bowl but is still slightly sticky, 6 to 8 minutes; or scrape dough onto a lightly floured board and knead by hand until smooth and elastic but still slightly sticky, 7 to 10 minutes. Add pumpkin and sunflower seeds and beat in with dough hook or knead in by hand just until incorporated (after mixing in by hand, place dough in a bowl).
Cover bowl with plastic wrap; let dough rise at room temperature until doubled, 2 to 2 1/2 hours. Punch down with your hand to expel air.
Re-cover dough with plastic wrap and let rise again until doubled, 1 to 1 1/2 hours. Or for a slow rise, chill at least 8 and up to 12 hours; let come to room temperature, about 3 hours.
Scrape dough onto a well-floured board and knead briefly to expel air. Divide in half. With lightly floured hands, gather each half into a ball, then stretch and tuck edges under to shape into a smooth round ball. Place loaves on a well-floured surface, dust lightly with flour, cover loosely with plastic wrap, and let rise at room temperature until they're slightly puffy and hold the imprint of a finger when lightly pressed, about 1 1/2 hours.
Sprinkle a 13- by 17-inch baking sheet generously with cornmeal. Transfer loaves, one at a time, to sheet, spacing 2 to 3 inches apart. With a sharp knife, slash a 1-inch-deep X on top of each loaf. Place sheet on rack in lower third of a 450° regular or convection oven.
Or, if using a baking stone, gently slide edge of cornmeal-covered baking sheet under one loaf and lift it onto end of sheet. Slash as directed above, then gently slide loaf onto one side of stone in oven, leaving room for second loaf. Repeat to slash and transfer second loaf.
Spray 3 to 4 squirts of water on floor or sides of oven, taking care not to spray near heating element or lightbulb, then quickly close door.
Bake bread, spraying twice more at 5-minute intervals during the first 10 minutes of baking, until crust is well browned, 35 to 45 minutes total.
Transfer loaves to a rack to cool for at least 1 hour. Store in paper bags at room temperature up to 2 days. To recrisp the crust, place loaves directly on a rack in a 400° oven and bake for about 5 minutes.
Biga: In a bowl, sprinkle 1/4 teaspoon active dry yeast over 1/4 cup warm (100° to 110°) water. Let stand until foamy, about 5 minutes. Add 1/2 cup cold water. With a wood spoon, stir in 1 1/2 cups bread flour until mixture forms a soft dough. Cover with plastic wrap and chill 12 to 24 hours. Let come to room temperature before using, about 1 hour.
Shortcut: Without the biga, our recipes still produce great loaves. In the basic recipe, just increase the yeast by 1 1/4 teaspoons, the bread flour by 1 1/2 cups, and the water by 3/4 cup.
Source: myrecipes.com
Of course, tomatoes are also great all by themselves, sliced open into quarters or bitten into like an apple. A sweet ripe red tomato, a tart green one, the earthy flavor of a yellow one … there are so many ways to enjoy them! Do you have any tomato recipes you'd like to share? Share your sauces, salads, smoothies, and cocktails!
More